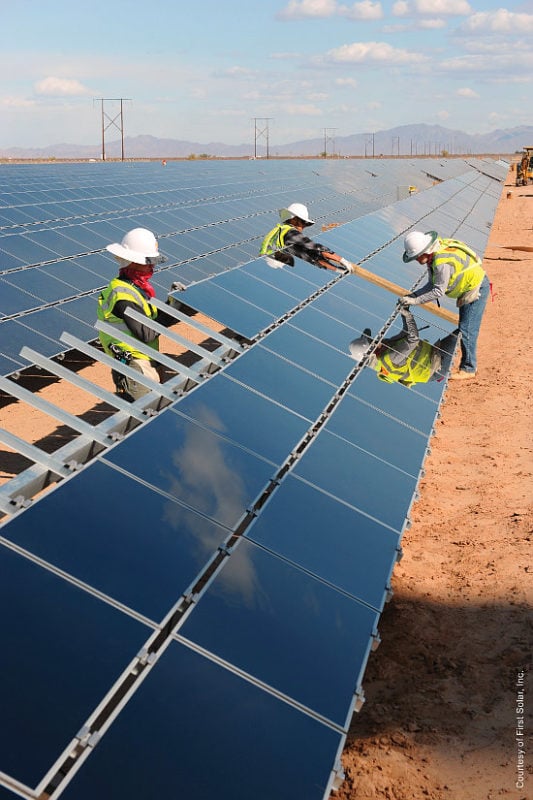 US integrated PV firm First Solar has reached financial close on a 48.5MW(ac) solar project in New South Wales, Australia.
The Manildra Solar Farm has received AU$9.8 million (US$7.5 million) of grant funding from the Australian Renewable Energy Agency (ARENA) under its large-scale solar funding round. A 13-year power purchase agreement (PPA) has also been signed with EnergyAustralia, a major utility that is set to sign PPAs for 500MW of wind and solar projects across eastern Australia.
The project will use 466,000 First Solar thin-film modules and single-axis trackers to produce more than 120GWh per year for the equivalent of 14,000 households.
Jack Curtis, First Solar regional manager for Asia Pacific, said: "We have witnessed unprecedented cost reductions in large-scale solar in recent years. As the appetite for this asset class continues to grow, timely and reliable project delivery will be the strongest driver of future cost reductions, cementing solar as a competitive energy source in Australia."
First Solar has also appointed local engineering firm O'Donnell Griffin to provide EPC services for the project. Construction is scheduled to commence in the first half of 2017 and once complete in 2018, First Solar will have more than 400MW(ac) of solar PV installed in Australia.
ARENA chief executive Ivor Frischknecht said: "By supporting innovators like First Solar, ARENA has fast-tracked the development of substantial new Australian industries like the large-scale solar sector, which is now on the cusp of being commercial."