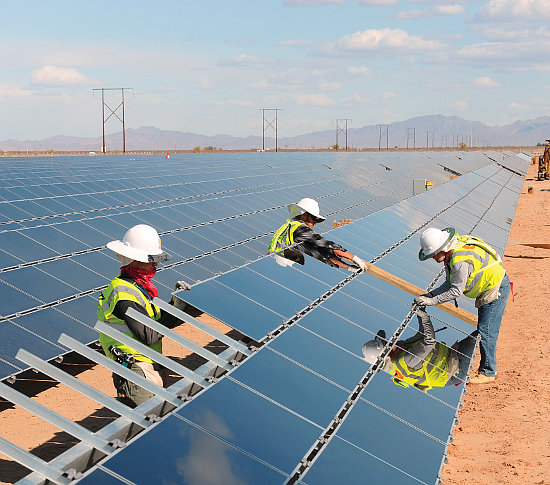 Leading CdTe thin-film producer First Solar is undertaking a further round of restructuring that targets its EPC and O&M operations after its decision to shutdown its TetraSun crystalline silicon operations in Malaysia in early July.
During a conference call to discuss second quarter financial results, Mark Widmar, CEO of First Solar said that its planned manufacturing and business shift to Series 5 thin-film modules and greater emphasis on module sales compared to project development and EPC work, would mean the company would reduce its internal EPC workforce.
"Historically, we have self-performed EPC on the majority of our systems projects as well as provided EPC services to third-party developers using First Solar module technology," noted Widmar in the earnings call. "The evolution of our module form factor combined with the lower line of system projects in 2017 implies a reduced need for internal EPC services and requires a reduction in our EPC workforce. While these decisions are difficult and will impact a number of dedicated associates, this is a necessary step."
However, Widmar also said that "re-focusing efforts" would include exploring opportunities to sell its O&M business unit, skytron energy. First Solar acquired skytron energy from AEG Power Solutions in 2014.
"Our original intent in acquiring skytron was to expand our global O&M footprint into Europe and supplement our existing capabilities. Over the past two years competition for O&M contracts in Europe, combined with the progression of First Solar's internal O&M capability, particularly as it relates to smaller scale solar plants, has changed how skytron fits into our strategy going forward. Altogether we expect charges of US$105 million to US$120 million related to TetraSun and the actions we are announcing today," added Widmar.
First Solar's CEO also highlighted that its leaner EPC operations would continue to develop next-generation BOS (Balance of Systems) technologies, such as MVDC (Medium Voltage Direct Current) systems for utility-scale PV power plants as this was a key part of its future project development business.