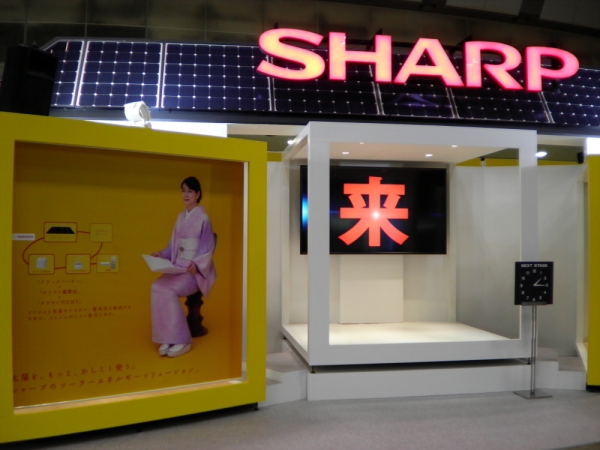 Original equipment manufacturer Foxconn has acquired a 66% stake in Sharp at a reduced price, with the two parties set to hold a press conference this Saturday, 2 April.
Based in Taiwan, Foxconn assembles devices including Apple's iPhones at its factories. The company was set to acquire a stake in the Japanese consumer electronics maker in February for around US$6 billion but stalled for time, with Japan-based news outlets citing the discovery of "new material information" that could affect the deal.
It has now gone through for around ¥388.8 billion (US$3.46 billion), comprising ¥288.8 billion in Common Shares and ¥99.9 billion in Class C Preferred Shares.
PV Tech approached Foxconn to ask what the impact of the deal was likely to be on Sharp's Energy Solutions business segment. The segment includes energy management, PV modules, stationary energy storage and LED lighting.
The Foxconn spokesman told PV Tech that he was not able to respond to specific enquiries regarding the business segments. He did confirm that the press conference will be held in Japan this weekend and said he expected many questions from members of the press would be answered at the event. Media attention has focused on Foxconn's greater interest in other areas including Sharp's panel display business for devices such as smartphones and televisions.
A joint statement from the two companies issued today called the deal a "strategic alliance", highlighted the fact that the pair have worked together since 2012, and their goal of returning Sharp to profitability.
"I am thrilled by the prospects for this strategic alliance and I look forward to working with everyone at Sharp. We have much that we want to achieve and I am confident that we will unlock Sharp's true potential and together reach great heights," Foxconn founder and CEO Terry Gou said.
"I am pleased with our decision today to form a strategic alliance and merge both forces between Sharp and Foxconn to accelerate innovation with the 'creativity and entrepreneurial spirit' of both our companies," Sharp president and CEO Kozo Takahashi said.
At this year's PV Expo show in Tokyo at the beginning of March, Sharp appeared to be exhibiting its energy solutions products at the show as normal, with a heavy emphasis on residential PV and storage. However, in releasing its most recent financial results in February, Sharp said revenues from the segment had fallen year-on-year by more than 40% for the first nine months of the last financial year. Japan's financial year ends on 31 March, with Japanese companies including Sharp commonly reporting their annual results towards the end of April or at the beginning of May.
Expert view: Finlay Colville, Solar Intelligence
Sharp has a heritage in solar that is unrivalled within the industry, spanning decades of R&D activity and manufacturing. Indeed, Sharp's role as a front-runner in PV was accompanied by top manufacturer ranking by megawatt-output year after year in the early days of the industry.
Alongside Kyocera, Sanyo (now Panasonic) and Mitsubishi, Sharp was the leading voice then in Japanese solar cell manufacturing that became the first real powerhouse of the industry – at exactly the same time as the industry went into 'commercial' mode as FiTs in Europe created multi-gigawatt annual demand levels.
Sharp was also an early adopter of thin-film solar manufacturing, opting to put its solar R&D resources into a-Si based technology and further having participation in joint-venture activity within Europe.
However, when the Chinese entered the industry, annual demand moved to >10GW, and global pricing collapsed, Sharp's proposition within the solar industry was impacted considerably. Around the same time, the value-added proposition for a-Si thin-film panels also vanished, leaving Sharp with outdated cell and module capacity in Japan that was likely loss-making in the new low-cost environment of China mass production.
Module assembly lines that had been established outside Japan were closed down and a large portion of Sharp's legacy c-Si capacity in Japan was also taken offline, in addition to the company exiting thin-film manufacturing.
The rebound in the Japanese market a few years ago offered Sharp a lifeline however, with the company able to fall back on its strong brand rating and once again become a major module supplier to the industry, reaching GW levels of shipments for the first time. However, this approach was based largely on outsourcing cell and module production to China and Taiwan, and was ultimately based on the local market remaining robust with higher than average ASPs to absorb the outsourcing costs.
What is left with Sharp and solar at the start of 2016 is a completely different proposition to what had originally propelled Sharp to the top of the manufacturing leaderboard ten years ago, and mainly based upon a credible and trusted brand name. While this accounts for something in the market, ultimately solar manufacturing has to meet cost targets, efficiency levels and be matched with a somewhat cutthroat global sales and marketing strategy, and in this regard, Sharp has been decidedly behind the curve in the past few years. As such, this places limitations on what could be done going forward, in an industry that is constantly leaving behind companies not operating in best-of-class basis as manufacturers.
Ultimately however, the industry as a whole today owes Sharp and all its R&D and manufacturing teams over the years with a massive debt of gratitude for establishing what was probably the single most important company in solar, laying the foundations for a manufacturing base that would ultimately drive solar PV into the public's attention ten years ago.