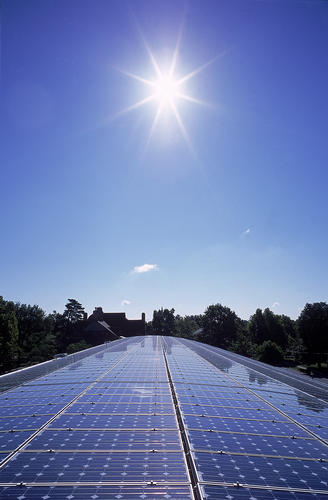 Accra-based developer Strategic Power Solutions (SPS) has launched a new PV module manufacturing plant following a US$50 million investment in Kpone, a commercial hub just outside the country's capital.
SPS is a subsidiary of Strategic Security Systems International (3SIL), an independent Ghanaian conglomerate specialising in the procurement of solar products. According to numerous reports, SPS' motivation for the project included a desire to make Ghana more independent with its energy and provide a clean and stable solution to the national grid.
Ghana's first ever PV manufacturing plant will mainly produce crystalline PV modules at a rate of 30MW a year. It also provides off-grid components, PV systems, and installation products including both micro and macro solar grid systems. The plant also is home to a 50kW PV system that supplies energy to the grid, with designs to install a 100KW system which will eventually power the entire factory.
Equipment for the plant was supplied by many notable international PV players, according to Gerardo Capilupo, a PV consultant with Italian firm Suntime, which advised on the project. Boostsolar China, a high-tech automation enterprise, provided N.2 laminators that used thermal oil technology. Similarly, NPC Japan contributed a visual inspection trimming station, framing station and both a flash tester and EL tester. Italy's Panamac supplied automatic film and ribbon cutters.
Whilst most of the plant's materials are sourced directly from Europe, the main target audience is to be the home market:
"The plant is mainly relying on the domestic market – West Africa," said Capilupo. "The challenge is to find distributors so the products can reach the global market."
Oheneba Ofori Boateng and Francis Akuamoah-Boateng, the respective CEO and chairman of SPS, have told the media they hope the new PV plant will set a precedent for a drive towards a greater contribution to the renewable energy market in Ghana.
Public support for the new project was highlighted by the high-turnout at the official launch. Influential authority figures that attended included former president John Agyekum Kufuor, Emperor of Ashani, Otumfuo Osei Tutu II and Mensah Otabil, founder of the international central gospel church. The overarching message exuded at the launch was for Ghana's private sector to not only inspire change within the country, but to demonstrate Ghana's potential worldwide.
The opportunities and challenges for solar in West Africa will be under discussion at the Solar & Off-Grid Renewables conference on 19-20 April in Accra, Ghana. Hosted by PV Tech's publisher, Solar Media, the event will feature a high-level panel of speakers from industry and government. For further details, click here.