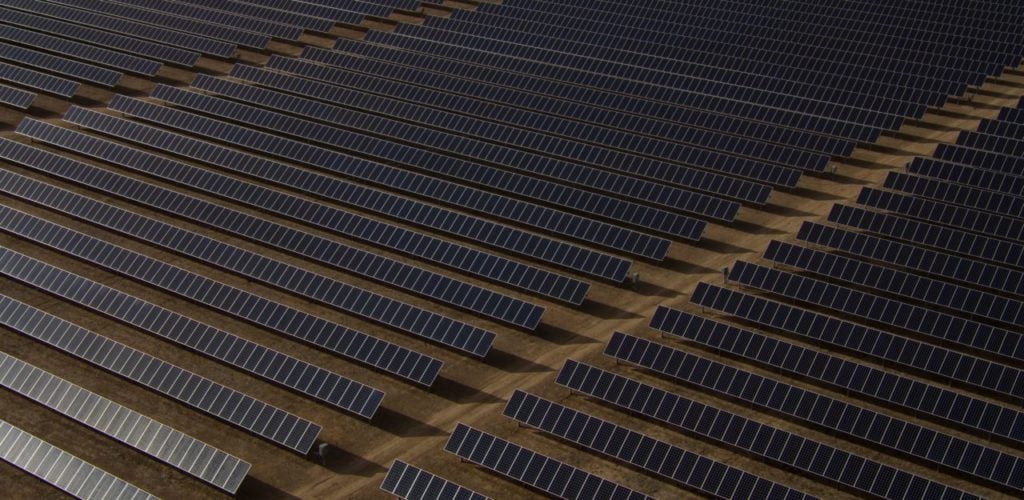 The global cumulative capacity of installed and commissioned PV increased by more than 25% last year thanks to post-Covid price hikes and geo-political strife. It reached about 1.2TW by the end of 2022, while China continued to be the country with the largest installed capacity, according to the Snapshot of Global PV Markets 2023 issued by the International Energy Agency (IEA). 
Last year, a total of 240GW of new solar PV systems were installed and commissioned worldwide, which resulted in the cumulative capacity reaching 1,185GW. China continued to dominate both new and cumulative capacity, as it added 106GW of capacity last year, or 44% of the global additions, with its cumulative installed capacity reaching 414.5GW. This growth followed that of previous years – 54.9GW in 2021 and 48.2GW in 2020.
The European Union (EU) installed 38.7GW of solar capacity last year, increasing from the 27GW registered in 2021 and 20GW in 2020. Led by Spain (8.1GW), Germany (7.5GW), Poland (4.9GW) and the Netherlands (3.9GW), the EU was the second largest market in terms of cumulative capacity with 209.3GW.
The US installed only 18.6GW last year, down from 27GW in 2021, under the combined influence of trade issues and grid connection backlogs which reached 1TW of solar projects waiting for interconnection access.
India's annual installed capacity reached 18.1GW, but its cumulative capacity only totalled 79.1GW, lagging behind Japan's 84.9GW despite the East Asian country only adding 6.5GW of capacity in 2022.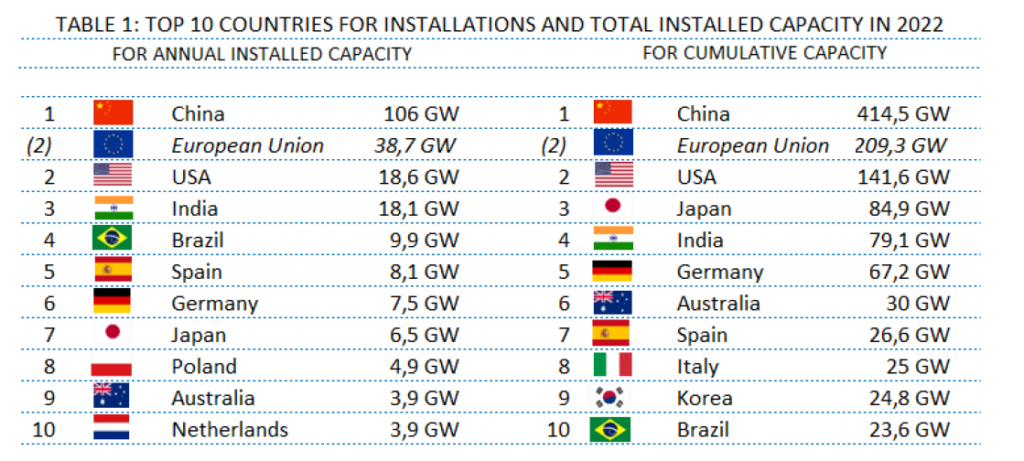 The study also examined electricity production from PV per country. Last year, nine countries had penetration rates over 10%, up from seven in 2021.
Spain topped the list with 19%, followed by Greece (17.5%) and Chile (17%), and the Netherlands (15.9%). Australia (15.7%) and Honduras (12.9%) ranked fifth and sixth respectively, while Germany (12.4%), seventh on the list, was slightly higher than Israel (12.3%) by 0.1 percentage point. Japan was the last country with its PV penetration rate reaching 10.2%.
The report added that PV contribution amounted to 6.2% of the electricity demand in the world in total, while the penetration rates of the EU and China were only 8.7% and 6.5% respectively.
Regarding market segmentation, both rooftop and utility-scale segments grew in 2022, with 48% of new capacity on rooftops. The share of the rooftop segment has been growing since 2018 thanks to new countries opening their markets and decreasing costs, making it more accessible for residential and commercial investors.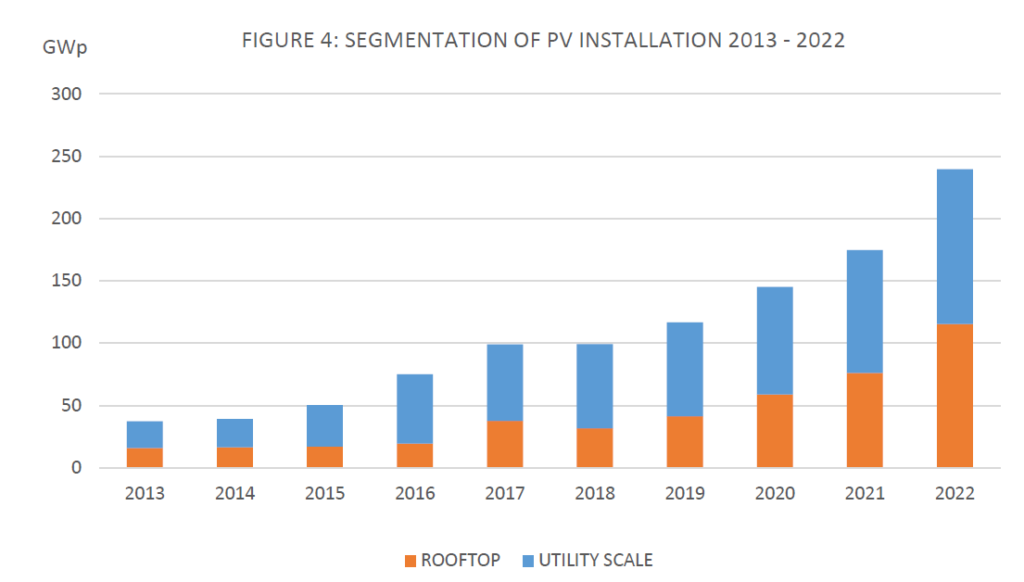 Previously, PV Tech also reported that solar energy accounted for about 65% of global renewable energy capacity growth in 2022, according to a study conducted by the International Renewable Energy Agency (IRENA).

IRENA's Renewable Capacity Statistics 2023 showed that a total of 192GW of solar capacity was installed in 2022, up 22% year-on-year. Last year, renewable generation capacity increased by 295GW (+9.6%), meaning solar capacity accounted for 65.1% of the global renewable power capacity growth.