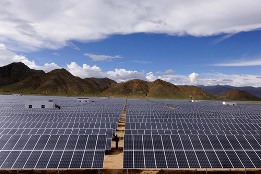 Africa-focused independent power producer Globeleq is to acquire Brookfield Asset Management's interests in a South African renewable energy portfolio, involving six projects with a cumulative capacity of 178MW.
The agreement is subject to various closing conditions. Once complete, Globeleq will have a majority shareholding in the projects, as well as ownership in Brookfield's South African asset management company.
The assets include five solar projects: Aries (11MW), Boshoff (66MW); Konkoonsies (11MW); Soutpan (31MW), and Witkop (33MW) and the Klipheuwel wind farm (27MW). The six projects were part of rounds 1 and 2 of the South African Government's renewable energy programme and reached commercial operations in 2014. All plants have a 20-year power purchase agreement (PPA) with Eskom.
In South Africa, Globeleq already owns, operates and manages 238MW of solar and wind projects.
Paul Hanrahan, Globeleq's CEO stated: "Our team is working hard to complete this very exciting transaction. The expertise of our South African team will be able to enhance these assets by driving operational improvements and improve the existing social and economic development programmes."
In recent news, UK development finance institution CDC, together with Globeleq, in which it holds a majority interest, are providing US$66 million in debt financing for Malindi Solar Group to build a 52MW solar PV plant in Southeast Kenya.