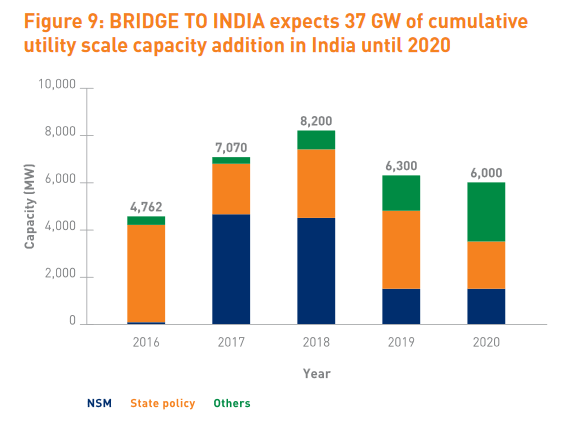 Grid integration and availability are the key challenges ahead for India's solar sector, according to the latest report from consultancy firm Bridge to India.
The 'India Solar Handbook 2016', which included a survey of chief executives for the first time, reported that grid issues are the major bottleneck to the country's 100GW by 2022 target and as a result the country is expected to deploy just 40-60GW instead.
Maintaining investment and lending appetite at aggressive tariff levels was another main challenge and Bridge to India said that policy intervention would be key to sustaining its growth in the sector.
In any case the country is still expected to become the fourth largest solar market globally in 2016 behind China, the US and Japan with 5.4GW of expected capacity addition in the year.
Despite the bottlenecks cited, Bridge to India described the sector as in "full bloom", including:
Various key policy changes being introduced
25GW of projects under development
35 new tenders with a cumulative capacity of 15.5GW announced in the last year
5GW of new tenders awaiting release in the coming months
burgeoning investment interest from Indian and international developers
However, financing capacity remains an issue with tariffs reaching well below five rupees per unit of late and many developers struggling to raise capital with banks seemingly reluctant to lend to projects with these tariffs. As a result, progress in 2017 and 2018 will not be as fast as expected.
The report stated: "In contrast to Ministry of New and Renewable Energy (MNRE) target of 12GW of utility-scale solar projects for FY 2016/17, Bridge to India estimates that actual capacity addition will be only about 5-6GW in FY 2016/17."
The vast solar parks policy, which aims to help developers by providing large tracts of land with most transmission, off-taker and permit issues handled in advance, was hailed as a success.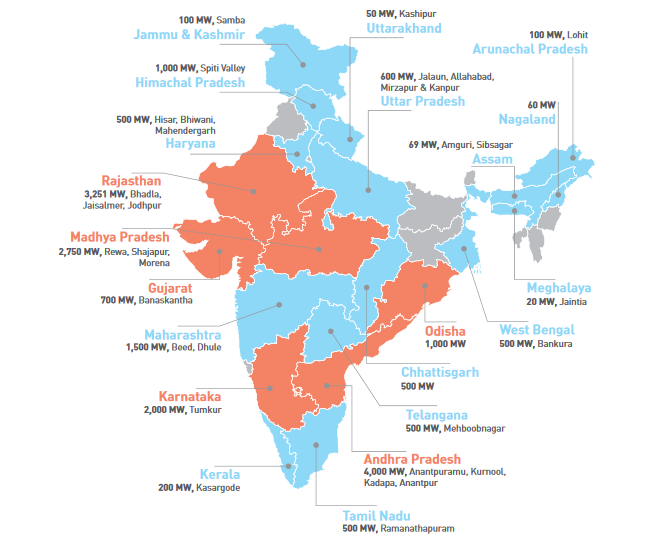 Chief executives were also generally positive about the potential for the UDAY scheme to bring some financial stability to the country's heavily debt-laden Discoms.
The executives were also bullish in their expectation of growth in their own company on average forecasting a three-to-five fold growth in their businesses by 2022. Roughly 37% of participants believe that their business will grow by more than 10-fold in this period.
The biggest challenges ahead for the 100GW were ranked in the following order:
Grid integration and availability
No feed-in tariff (FiT)
Poor operating environment
Lack of policy certainty
Poor offtake
The Solar Handbook stated: "As the Indian solar market grows and project sizes increase, international utilities and IPPs with strong balance sheets and lower cost of capital are likely to play a greater role."
This trend has already been witnessed in the last year.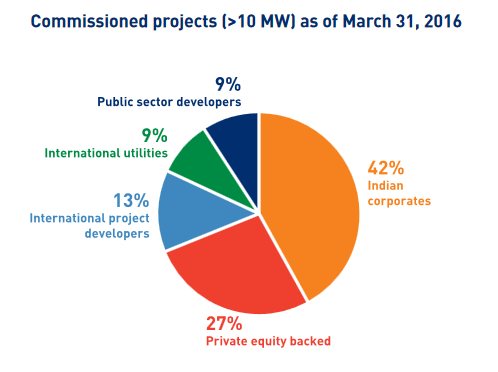 The Solar Handbook cited the rooftop sector as a "major disappointment" once again describing the 40GW target as "very remote". With an installed rooftop capacity of just 740MW, the market requires more focused policy support to ensure effective net-metering implementation and attraction of financial investors, however, economic fundamentals for adoption of rooftop solar in India are improving rapidly.
The chief executives said the rooftop sector needs a much stronger push and must overcome challenges such as ineffective net metering policy frameworks.
They were also generally positive about the prospects of domestic manufacturing and they forecast India to have an annual cell and module manufacturing capacity of 5GW by 2022.