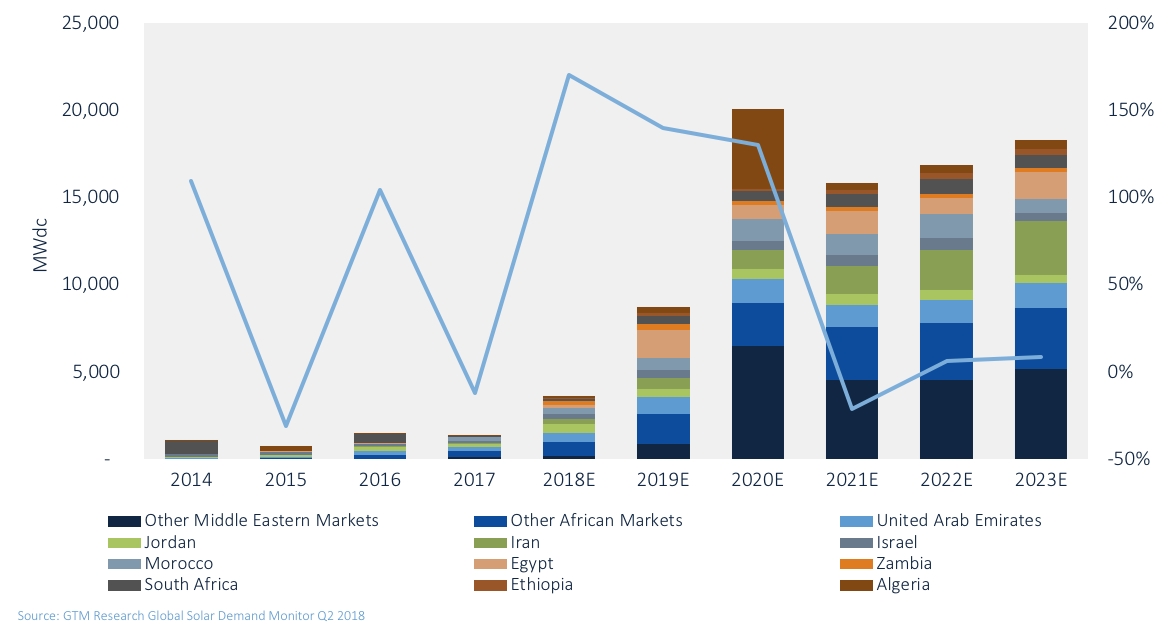 The Middle East and Africa is set to enjoy a year-on-year PV demand increase of 170%, according to GTM Research.
In its latest regional breakout, deployment is expected to land at 3.6GW this year spiking to 20GW in 2020. Cumulatively the region will install 83.7GW in the period 2018-2023.
According to the report's author, Ben Attia, there are currently 12.3GW of utility-scale solar contracted or under construction and a further 21GW in the pre-contract phase.
Major utility-scale tender programmes in Saudi Arabia, Egypt and the UAE have boosted numbers and Attia expects Africa to contribute more than 6.4GW from 2020 onwards. Saudi and the UAE are expected to account for half of all the additional solar capacity installed out to 2023.
GTM Research expects the global solar market to decline to 85.2GW in 2018, driven by China's decision to cap its two largest markets, utility-scale and Distributed Generation (DG) at the end of May.
6/ Levelized costs for both utility-scale and DG solar will decline ~30% by 2022 in key markets. Already host to a few ultra-low bids, Saudi Arabia, the UAE, Egypt, and Kuwait could see more sub US $30/MWh bids.

— Benjamin Attia (@solarbenattia) August 16, 2018