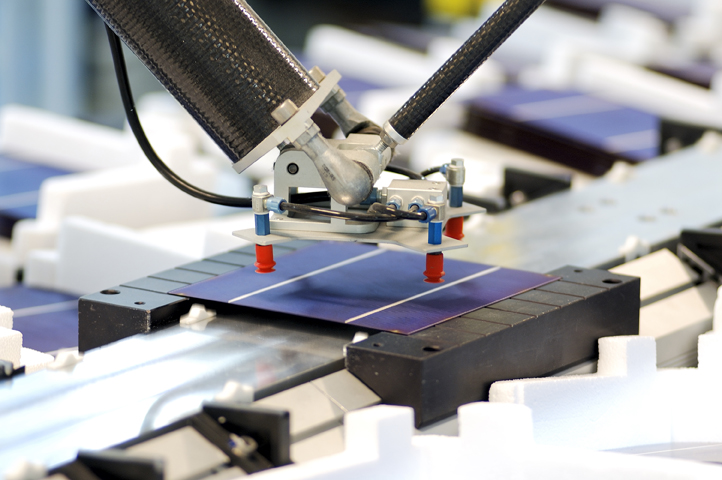 'Silicon Module Super League' (SMSL) member Hanwha Q CELLS has said it expects to reach nameplate capacity of 5.2GW for both solar cells and modules by the middle of 2016 as the company continues major expansions in 2015.
In reporting third quarter financial results, Hanwha Q Cells noted that in-house production capacities for solar cells and modules had both reach 3.55GW and that the company was on target to reach 4.3GW by the end of the year.
Further expansions underway would mean both cell and module production would reach 5.2GW by mid-2016, the company added. It reiterated that 600MW of new solar cell capacity expansions would come from Hanwha Q CELLS Korea, an affiliate of Hanwha Q CELLS in 2015, while a further 900MW of new cell capacity would also come on stream for the affiliate in 2016.
The company also noted that in-house ingot production stood at 1.35GW and wafer production stood at 900MW at the end of the first nine months of 2015.
Seong-woo Nam, chairman and CEO of Hanwha Q CELLS, said: "Our aggressive capacity expansion plans in order to meet anticipated demand in 2016 and beyond are progressing on schedule. We expect to close this year with an estimated 4.3 GW of both cell and module capacity and 5.2 GW of both cell and module capacity by mid 2016, with approximately half located in Korea and Malaysia where we can ship modules duty free into the US."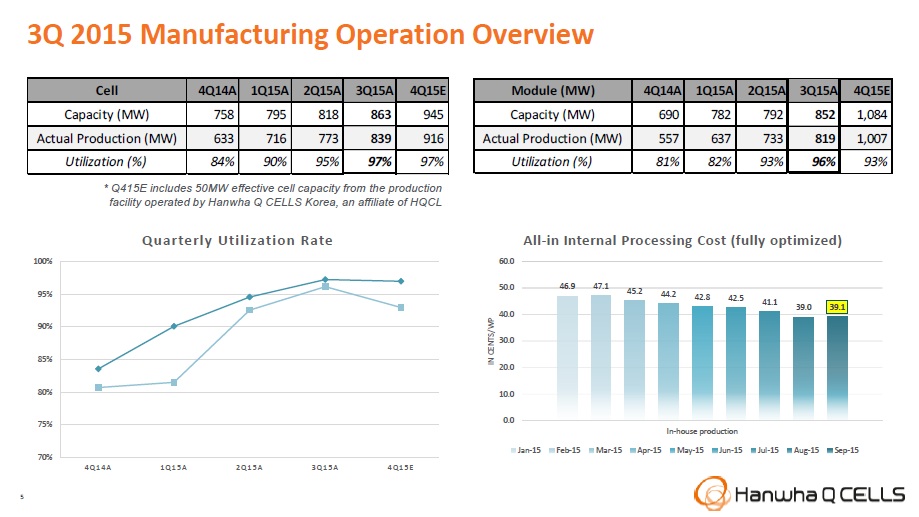 Financial results
Hanwha Q CELLS reported third quarter revenue of US$427 million, an increase of 26.4% quarter-over-quarter.
Gross profit increased 59.2% to US$93.0 million from US$58.4 million in 2Q15, said to be due to higher revenues and further improvements in cost structures. Gross margin improved to 21.8% from 17.3% in 2Q15, due to continued high manufacturing utilization rates and a reduction in processing costs.
Utilisation rates were 97% for cell and 96% for module production in the quarter.
Operating profit was US$40.3 million, compared with an operating profit of US$1.0 million in 2Q15.
"This quarter was one of the most significant milestones for the company highlighted by a return to net profitability, accelerated shipment growth, all-in internal processing cost reduction to below US$0.40 per watt, expansion in gross margins to well over 20%, a downstream pipeline in excess of 1.2 GW, and a one-time $51.2 million arbitration award relating to inventory valuation during the Q.cells acquisition in 2012. We are now more fully benefiting from the merger between Hanwha SolarOne and Hanwha Q CELLS in February of this year, including the elimination of redundant costs as reflected in the improvement in our operating expenses as a percentage of revenues. The final quarter of 2015 looks equally bright with shipments expected to rise by 50% or more quarter-to-quarter. We expect to have a more meaningful contribution in the fourth quarter from sales of downstream projects up to 150 MW, bolstering both revenues and profits," added Nam.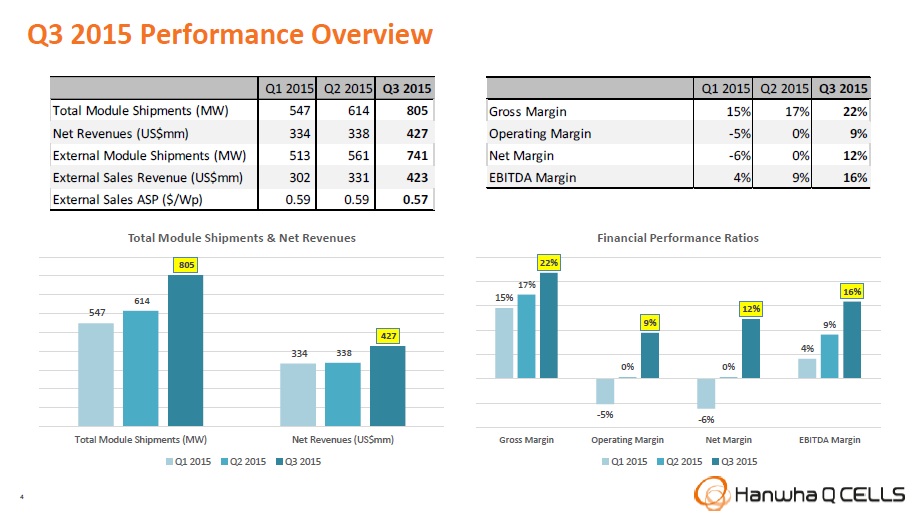 Shipments
The company reported total solar module shipments of 805MW an increase of 31.1% quarter-over-quarter and inline with expected quarterly production run rates has the company expands capacity.
Total shipments include 742MW of external shipments, 11MW of OEM and 52MW of shipments to own downstream PV projects.
Total external module shipments were 741MW at an ASP of US$0.57 per watt.
The company noted that module shipments to the US, Japan and EMEA accounted for 75% of total shipments in the quarter.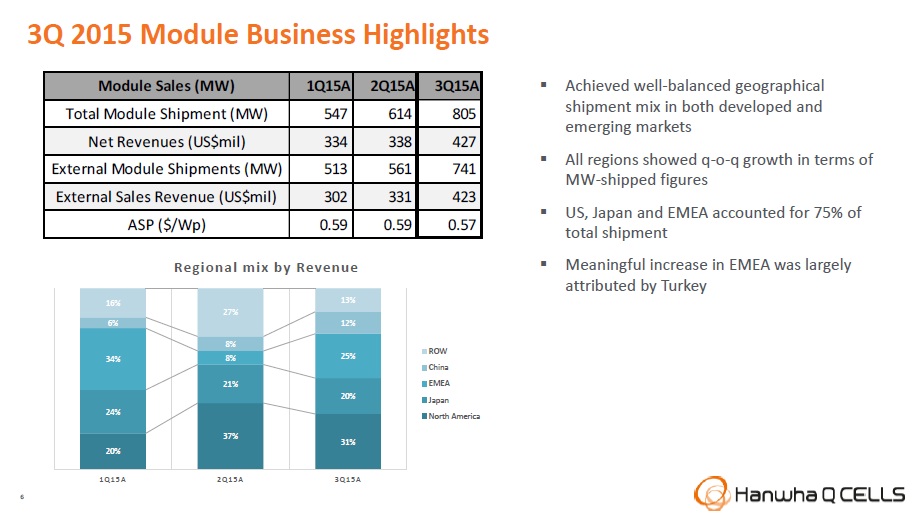 Guidance
Hanwha Q CELLS guided fourth quarter module shipments to be in the range of 1.2GW to 1.4GW with gross margins of over 20%. The company reiterated full-year shipment guidance unchanged since the beginning of the year of 3.2GW to 3.4 GW and gross margins of 19% for the year.