New research undertaken by PV Tech can exclusively reveal that Hanwha Q CELLS is on track to become the leading c-Si cell producer (by MW volume) in 2015.
This article presents the likely top 10 c-Si cell producers of 2015, reveals the big-three cell makers we are forecasting to produce in excess of 3GW in 2015 and maps out the strategies of the top 10 and how they are seeking to shift the curve with regards market-share dominance in the midstream silicon solar manufacturing space. The data is sourced from primary research undertaken by the PV Tech team.
The full analysis is currently being finalised and will be available January 2016 within PV Tech parent company Solar Media's forthcoming PV Manufacturing & Technology Quarterly report.
Asian companies now occupy top 10 solar cell production rankings
Top 10 rankings lists are typically of most use to marketing departments. What is often more interesting is to look at the collective trends of the top 10. For solar, few would dispute the value of the top 10 silicon solar cell producers (compared to logging module suppliers shipping rebranded and outsourced components for example as a short-term tactic).
For clarity, the PV Tech analysis here is based on extracting the in-house cell production data by company: no OEM supply, outsourcing, tolling, etc.
While the list is preliminary of course, at October 2015, the full-year rankings are coming together, and it is unlikely that the companies making up the top 10 will change by the time the final counting is done early next year. What will change are the rankings within the top 10 and, very possibly, which cell manufacturer can lay claim to the Number 1 Solar Cell Producer of 2015, an accolade that any company in the solar industry would be excited to own at any time.
In alphabetical order, here is the forecasted top 10 (by MW c-Si cells produced) group of companies for 2015.

The table below has been kept specific to c-Si manufacturing, with thin-film manufacturing starting to look increasingly more like a customised solution offering from one-off providers.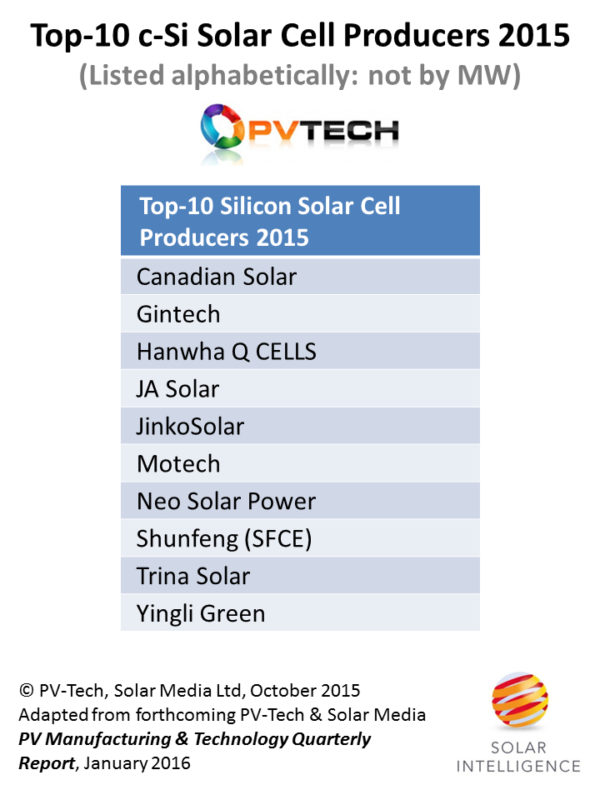 However, the more striking takeaway from the table is the omission of European- or Western-run manufacturers. No place for SunPower in the top 10 lists anymore it would appear, and similarly of course for Japanese manufacturers.
Indeed, only the Korean ownership of newly branded Q CELLS operations (combining legacy Q CELLS and Solarfun cell production) prevents a complete China/Taiwan whitewash. For the record, the top 10 c-Si cell producers are likely to provide just over 40% of all solar cells shipped within modules (silicon and thin-film included) during 2015.
Three-horse race for Number 1 position
Last week, we revealed exclusively in PV Tech that three cell producers were on track to manufacture more than 3GW of cells in 2015. We can now name the three companies: Hanwha Q CELLS, JA Solar and Trina Solar.
Based on current monthly production run-rates, and capacity addition rates, Hanwha Q CELLS would just about grab the top position, but year-end productivity could easily have the final say in the top rankings.
While production rankings don't tell us about margins and long-term strategy, if Hanwha Q CELLS was to be crowned as the Number 1 Solar Cell Producer of 2015, it would likely be a massive coup for the Hanwha management team in Korea, and square-the-circle that involved acquiring – and integrating – Solarfun and Q CELLS, when each was somewhat in trouble within the industry.
In addition to the three cell producers named above, which are each expected to produce more than 3GW of cells in 2015, five of the top 10 are forecast to produce more than 2GW, with the final two in the 1.5-2GW range. So entry to the top 10 list – collectively manufacturing in the range of 25GW – now needs in-house cell capacity at the 2GW level and capacity conversion rates above 80%.
Differing strategies for cell production across the top 10
It may still be in vogue today for companies involved in both manufacturing and downstream projects to prioritise site acquisition and project-build capex, but this is likely to be a passing phase in the industry. Certainly, when we isolate cell manufacturing activities of the top 10, we can largely split them up into three categories based on strategy:
• Organic growth: here organic refers to adding in-house manufacturing capacity by setting up new cell production capacity outside China/Taiwan, in Southeast Asia, as well as line upgrades and productivity enhancements.
• Acquisition based: adding capacity by virtue of M&A. Note, we have excluded the low-cost addition of distressed Chinese cell fab assets here as being a well-defined long term strategic growth route.
• Status quo: for want of a better term, used to group companies that have been largely treading water over the last couple of years, in part due to prioritising downstream growth over cell production or simply due to cashflow issues in general impacting on the business.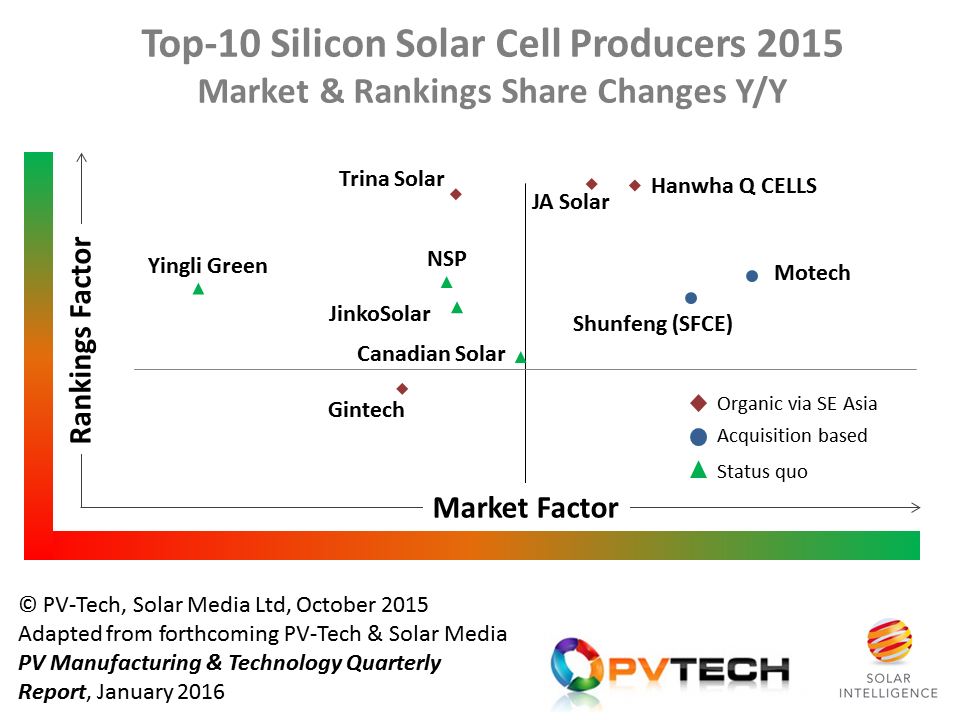 The graph above shows each of the top 10 cell producers within a quadrant plot, with the labels highlighting which of the three strategic directions have been chosen over the past 12 months. The x axis shows a 'Market Factor', that captures cell production growth year-on-year relative to the overall end-market growth. The y axis captures a comparative 'Rankings Factor', or how much companies have lost ground to the expected cell production leaders in 2015.

The effects of acquisition-based cell growth are seen clearly through Shunfeng (SFCE) (incorporating acquired capacities from Wuxi Suntech during 2014 and Suniva during 2015) and Motech (adding TopCell in 2015).
This contrasts with the big-three producers (Hanwha Q CELLS, JA Solar and Trina Solar) that are growing production organically via Southeast Asia, with Gintech adding to this list but with ramped capacity yet to impact numbers this year.
The remaining companies, placed into the status quo placeholder, are most clearly highlighted by Yingli Green, where despite cell production levels still meriting top 10 inclusion, market-share losses will be the greatest of the 10 companies discussed in this feature.
Other key trends for the top 10
Manufacturing and technology studies by the PV Tech team in the past few weeks have outlined the collective trends of the big-six Silicon Module Super League (SMSL) module suppliers and the big-three cell makers set to produce more than 3GW of cells each in 2015.
A similar analysis of the top 10 will be featured later this week on PV Tech, but just as a teaser, don't expect any earth shattering news on the technology front! It is almost certain that diving into the cell makers that occupy ranking positions 11-20 will finally uncover the real happenings at the n-type and p-type mono side
The top solar cell producers inlcuding six SMSL members are all presenting at the PVCellTech conference in Malaysia in March, 2016. Further details here.