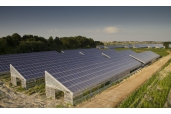 Hareon Solar and Azure Power announced this week that they are both investing in a 118MW PV project in India.
Both companies have already signed off on a 25-year power-purchase agreement with Indian power producer National Thermal Power Corporation (NTPC).
Hareon Solar announced that it expects to invest around US$11.1 million in the new project — with the company also acquiring a 45% stake in the installation.
This is not Haeon Solar's first foray into the Indian solar market, as the company signed sales contracts with India's ReNew Mega Solar for up to CNY170 million and CNY500 million, respectively, last year.