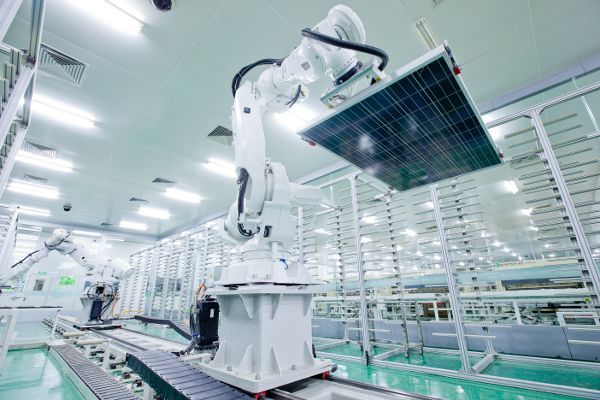 Major 'Solar Module Super League' (SMSL) member JinkoSolar is targeting a significant manufacturing capacity increase, focused on accelerating its move to an 'integrated' production business model after many years of reliance on an 'asset-lite' model.
The manufacturer had become the market leader on the back of focusing capacity expansions almost exclusively on the PV module assembly segment of manufacturing, limiting wafer and solar cell expansions to keep capital expenditure low while rapidly increasing module assembly capacity in an attempt to offer low Average Selling Prices (ASPs), gaining market share as global market demand increased.
Despite the impact of COVID-19, the downstream market demand in 2020 proved to outstrip upstream capacity expansions, felt most notably in the polysilicon and solar flat glass manufacturing segments.
The price hikes of polysilicon and solar flat glass put increased pressure on manufacturing margins in 2020, compounded by a limited number of large and market dominant ingot/wafer and solar cell merchant manufacturers able to pass on to module manufacturers a string of price increases that have continued into the first quarter of 2021.
In the chart below, we have plotted JinkoSolar's manufacturing capacity expansions across ingot/wafer, solar cell, and module assembly to visualise the SMSL member's changing manufacturing business model.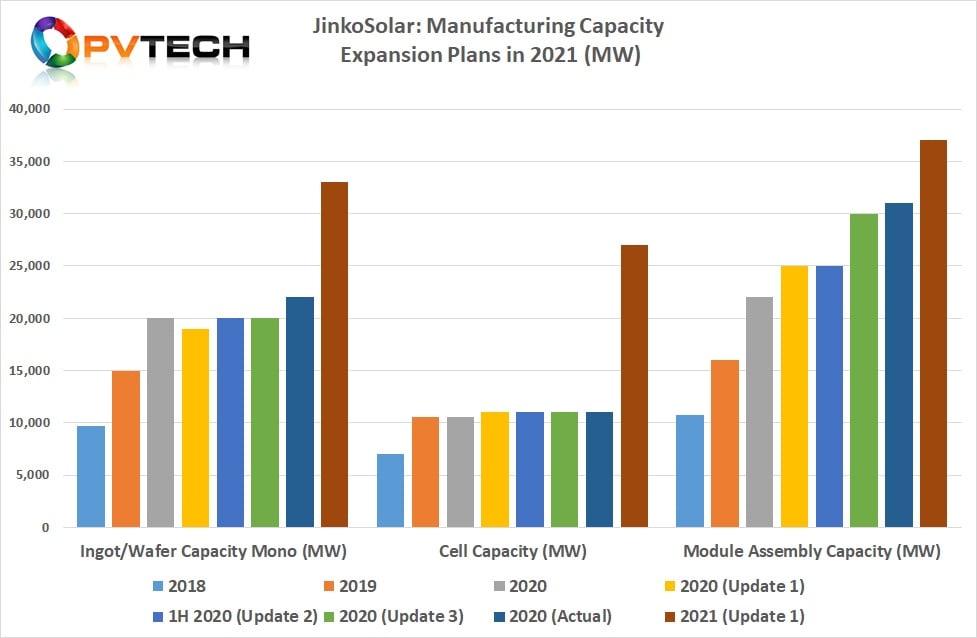 JinkoSolar's capacity expansions in recent years have focused heavily on increasing module assembly capacity, even in updated plans through a given year.
In 2018, JinkoSolar increased module assembly capacity to 10.8GW, the first company to exceed the 10GW milestone. This was up from 8GW in the previous year.
In 2020, JinkoSolar officially updated its module assembly capacity plans three times within the year, taking capacity from 16GW in 2019 to 30GW by year-end, a 90% increase year-on-year.
However, in releasing its 2020 financial results, JinkoSolar revealed it had actually added a further 1GW of nameplate capacity that had not been publicly announced, resulting in a 95%, year-on-year, increase.
Wafer capacity was also expanded as part of plans already in place to limit wafer pricing volatility and take greater control of in-house wafer production cost reductions that could be transferred directly to lower PV module costs and continued price competitive module ASPs.
Wafer capacity in 2018 was almost 10GW and increased to 15GW in 2019 and was pegged at reaching 20GW by the end of 2020. In actuality, wafer capacity reached 22GW by year-end. It should be noted that the wafer capacity additions in 2019 through 2020 were mainly focused on large-area p-type mono-wafer sizes through to 182mm formats.
The company still retains around 3.5GW of legacy p-type multicrystalline ingot/wafer capacity and projects this capacity to remain in place through 2021.
The picture is completely different when we analyse solar cell capacity expansions. Other than an increase in solar cell capacity in 2018 from 7GW to 10.6GW in 2019, JinkoSolar added only 400MW of new cell capacity in 2020. Subsequent expansion plan updates the company made in 2020 did not include any solar cell segment increases.
The manufacturer has been relying on merchant cell producers for many years and even wafer capacity expansions were falling well behind module assembly expansions in 2020.
If simply analysing nameplate capacity from 2018 through to the end of 2020, concluding that JinkoSolar was simply reinforcing its asset-lite manufacturing business model may have been correct.
Integrated production business model in 2021
Instead, JinkoSolar has detailed a major change towards an integrated manufacturing business model in 2021 and beyond.
Although the SMSL member has just announced increase module assembly capacity from 31GW in 2020 to reach 37GW by the end of 2021, an 18% increase year-on-year, its in-house wafer capacity will increase by 48% in 2021, up from 22GW in 2020 to 33GW by year-end.
However, solar cell capacity is expected to reach 27GW by the end of 2021, up from 11GW in 2020, a 145%, year-on-year increase. This alone will have a significant impact on reducing solar cell purchasing costs in 2021 and beyond.
JinkoSolar noted in its latest earnings call that capital expenditure (capex) in 2020 had been around US$500 million with the emphasis on module assembly expansions.
However, forecasted capex in 2020 was initially put at around US$350 million before multiple expansion updates were announced in the year.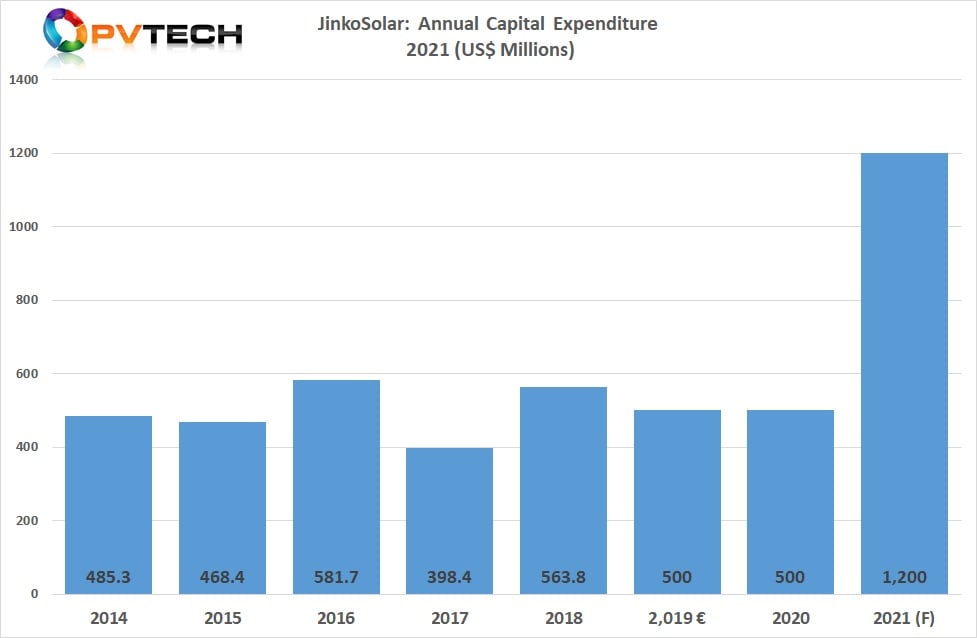 In 2021, JinkoSolar has guided capex to be in the range of US$1.0 billion to US$1.2 billion in 2021, due to a massive solar cell capacity increase and further wafer expansion plans. This is the most dramatic increase in capex for the company, again reiterating its transition away from the asset-lite to integrated manufacturing business model.
As with the increase in wafer capacity in the last few years that focused on larger mono-wafer sizes and the consolidation to the 182mm format, JinkoSolar expects to benefit from adopting proven mono-PERC high-efficiency cell technology and process equipment sets that can be used to transition to N-type Tunnel Oxide Passivated Contact (TOPCon) cell technology, minimising capex requirements.
JinkoSolar had previously set a new record conversion efficiency of 24.90% for its N-type TOPCon solar cell that was independently verified by the Institute for Solar Energy Research in Hamelin (ISFH), Germany.
The 16GW on new cell capacity is therefore expected to be TOPCon-ready with the transition possibly set for 2023, although management were reluctant to be specific. The company is set to continue to operate its 800MW of existing N-type capacity through 2021.
The company also highlighted that it was targeting maximum laboratory-produced N-type solar cell conversion efficiencies to reach 25.5% within the next 24 months. The company is also targeting conversion efficiencies of laboratory-fabricated multijunction solar cell to reach 29% in the same time period.
JinkoSolar seems less convinced of the production costs competitiveness of heterojunction technology (HJT) over the next few years in comparison with TOPCon.
Like many PV manufacturers, next generation cells and module technology R&D has increased in recent years. In 2020, JinkoSolar reported R&D expenses of US$59.64 million, up from US$46.6 million in 2019, an increase of almost 28%, year-on-year, a new record R&D spend for the company.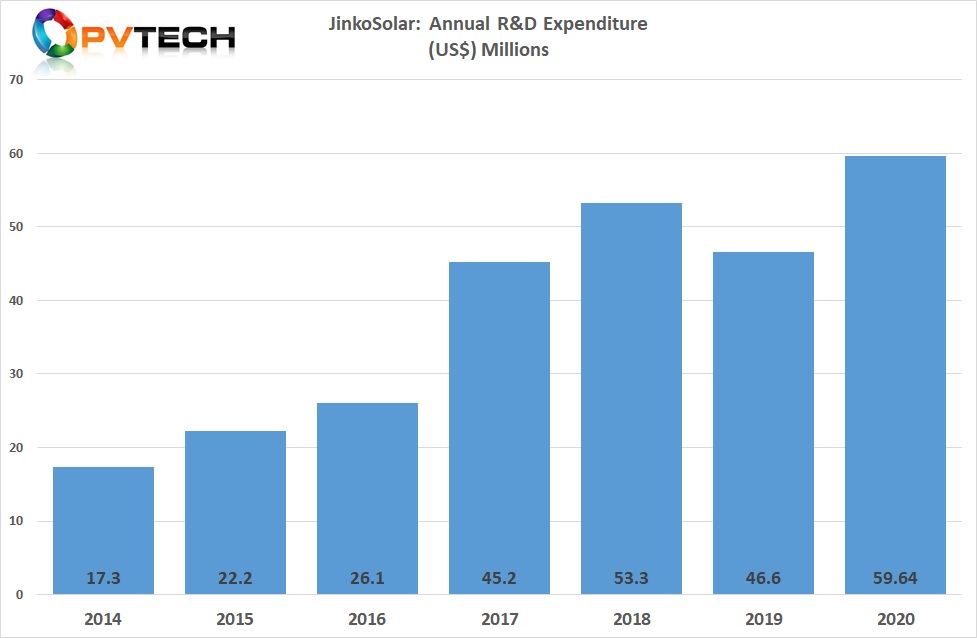 Despite the supply constraints of polysilicon and solar flat glass, amongst others JinkoSolar confirmed that it had secured sufficient supply of all raw materials and components to potentially meet full year 2021 shipment guidance of PV modules, solar cells and wafers of between 25GW to 30GW, compared to just module shipments of 18.7GW in 2020.
A key metric will be if the manufacturer can limit margin compression and protect net profits in 2021 due to the manufacturing business model change, which could propel shipments and improve margins in 2023.