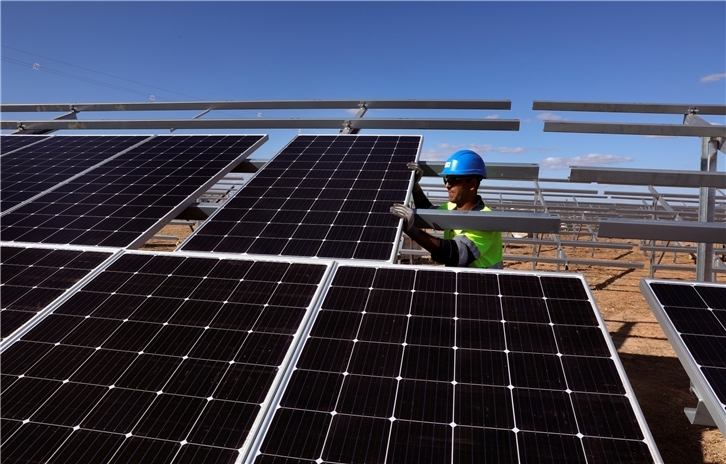 Spanish renewable energy provider Iberdrola has secured a €150 million (US$160 million) loan from the European Investment Bank (EIB) to develop 400MW of PV and wind projects in Italy.
The EIB money will go towards the development of small and medium-scale solar PV and wind projects and their accompanying grid connection infrastructure, predominantly in southern regions of the country. Most of the projects are in regions already receiving cohesion funds from the European Union, which are designed to support interconnection and cross-border networks of transport and technical infrastructure for member states.
Access roads, substations and other ancillary infrastructure will also be included in the EIB funding.
Iberdrola said that the 400MW project portfolio will require a total investment of €300 million (US$321 million).
Ignacio Galán, Iberdrola executive chairman said: "This new green loan signed with the EIB enables us to increase our contribution to a Europe capable of meeting its climate targets and increasing its energy independence. The European Investment Bank's leadership is essential to achieve it."
The company recently received environmental approval to begin developing what will be Europe's 'largest' solar PV plant in Portugal, part of the plans it announced in November to reach 52GW of deployed renewables capacity by 2025 backed by a €17 billion investment target.
As the investment arm of the EU, the EIB has been investing heavily in energy security and renewables deployment under the bloc's REPowerEU scheme designed to relieve its dependency on Russian gas supply.
In November 2022 it committed €30 billion (US$32.1 billion) in loans and equity financing over the next five years to mobilise renewables, storage, grid and electric vehicle infrastructure across the continent.
EIB vice-president Gelsomina Vigliotti said: "Securing financing to ensure a resilient and sustainable energy supply is a priority for the EU Climate Bank. We are pleased to collaborate with Iberdrola in the development of its first renewable plants in Italy, and our commitment to achieving climate targets".