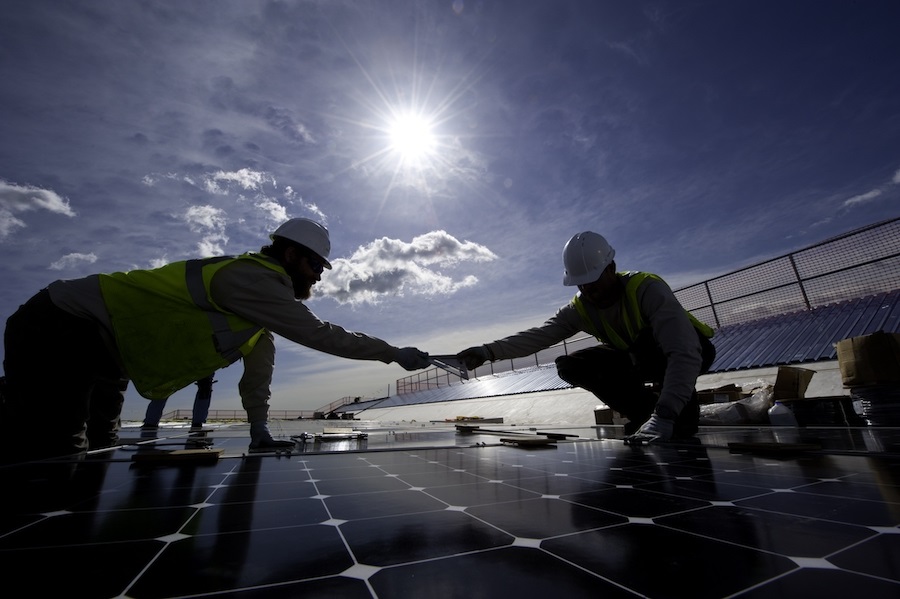 The International Energy Agency yesterday published new guidance for renewables installations in the coming years, upgrading them by some 25% on the last guidance it gave in November of last year. The agency now states that around 135GW of solar PV was installed globally last year, to be followed by a further 145GW installed this year and 162GW in 2022.
Solar will, the agency states, have smashed all records in those three years and by the time 2022 rolls around, account for the majority – 55% – of total renewables deployment worldwide. As we've written previously, solar has snatched the crown as the new king of electricity markets and does not intend to relinquish that title anytime soon.
But are those new forecasts by the IEA, despite the revision upwards, still on the pessimistic side? Historically the agency has downplayed solar deployment forecasts – we have also written about this in the past – but despite signs that forecasters may be catching up, it is perhaps also true that the solar industry is accelerating, or at least has shown all the signs of accelerating, beyond those estimates once again.
In forecasting 162GW of solar to be installed in 2022, IEA's guidance echoes almost exactly that of BloombergNEF's conservative forecast for the year, which currently stands at 163GW after a similarly-motivated revision published by the research firm in February of this year. If the IEA's forecasts are designed to be conservative, then there would appear to be a consensus forming that next year, just over 160GW of installed solar would be the least we could expect.
But in suggesting that 145GW of solar is to be installed this year, the IEA would still appear to be downplaying solar's potential. BloombergNEF's conservative forecast is for 160GW of solar to be deployed in 2021, while its optimistic view is that as much as 209GW could be installed, the broad range indicating the potential for key markets such as China and the US to stretch deployment towards the end of the year. IHS Markit's 2021 forecast of 181GW falls broadly in line with BloombergNEF's numbers as well.
BloombergNEF's optimistic solar deployment forecast for 2022 indicates a further leap, rising to 221GW as deployment shifts gear once again, aided by massive expansions in solar manufacturing capacity – right the way through from polysilicon to module assemble – that are to come onstream between now and then. Indeed, with polysilicon supply emerging as a particular bottleneck in recent months, significant quantities of new supply are slated to come onstream in Q1 2022.
The reality is that market forecasters have struggled to keep pace with solar deployment trends, and the IEA is not alone in that. In 2019 BloombergNEF's forecast for installs in 2021 ranged from a low figure of 124GW to a high forecast of 157GW. It now stands at 160 – 209GW, and the research firm's most recent report notes that it has (almost) always forecasted close to or significantly under solar's actual trajectory. Likewise projections from WoodMackenzie issued in the same year figured that annual solar installations would top out at between 120 – 125GW through 2024 – the industry has already topped those numbers comfortably, installing ~135GW last year in spite of a global pandemic.
Forecasting solar installs is, evidently, extremely difficult amidst a frequently shifting landscape, especially one in which a country's forecasts can move significantly on the back of one flick of a politician's pen. The Biden Administration's decision to extend investment tax credits in the US by two years at the end of 2020 triggered a 17% increase in WoodMackenzie's solar deployment forecast through 2021 – 2024, equivalent to an extra 17.7GW. A more permanent extension, as included within Biden's ambitious infrastructure bill, could be even more significant for deployment.
The IEA's upwards revision has been attributed to surging auction and corporate contracting activity in numerous markets, with Europe's power purchase agreement market – particularly in Spain – said to be booming. However the report also notes the importance that governments do all they can to foster supportive environments for renewables to grow even further, highlighting grid infrastructure improvements that are pivotal the world over. Should even a handful of governments heed the agency's advice then there could be further revisions yet.