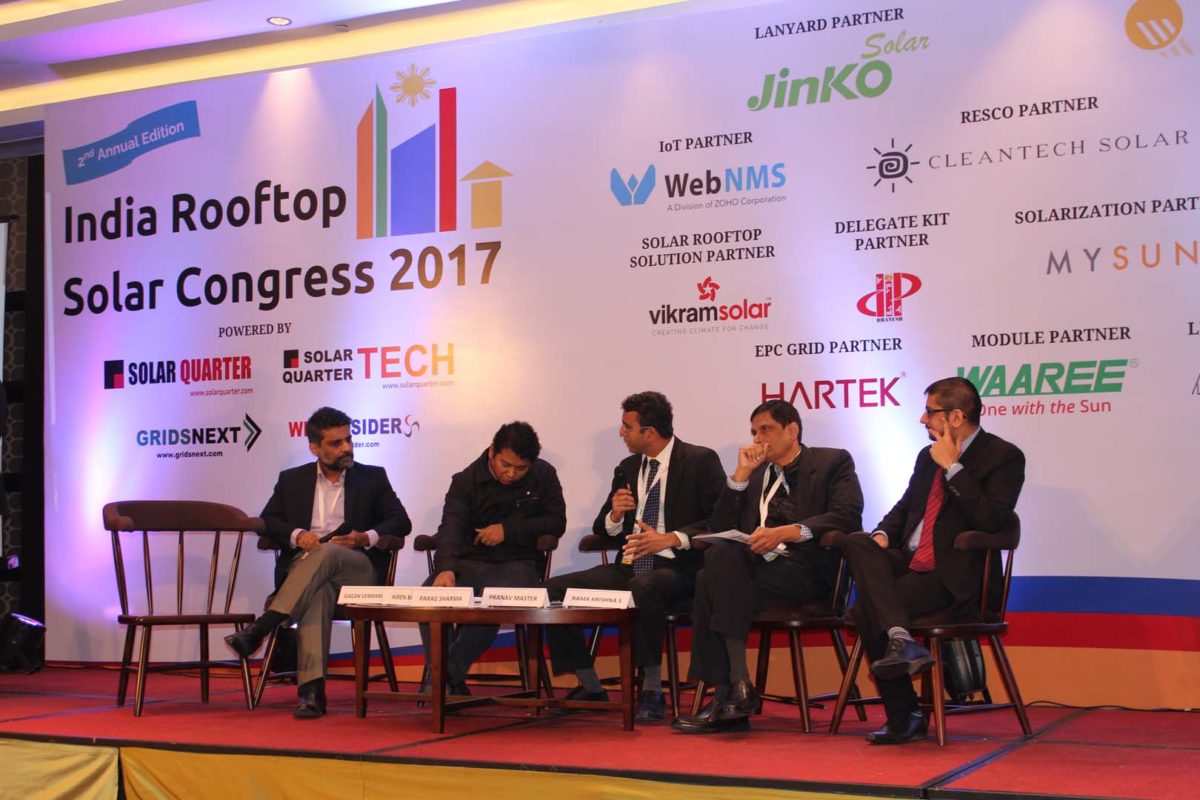 India is expected to reach just 12-13GW of rooftop solar by 2022, well short of its 40GW target, despite a huge leap in the next five years, according to a new report by global analysis firm Crisil Research.
Launching the new data while speaking at the India Rooftop Solar Congress 2017 in New Delhi, Pranav Master, associate director, Crisil, said that rooftop solar in India currently stands at 1.1GW and needs to grow 36-fold to reach the 40GW target on time.
In response, Ministry of New and Renewable Energy (MNRE) scientist Hiran Borah said that the 40GW target is "huge, but achievable". He said the ministry is focusing on bringing the sector online to make the process easy for consumers and highlighted that every government building is under pressure to be solarised by March 2017. Solar Energy Corporation of India is also tendering 500MW and 1GW of rooftop, while more tenders are due from the utility NTPC and others. The government is also working on getting cheap loans for rooftop PV.
Crisil research also said the current trajectory of 12-13GW by 2022 could be increased by removing bottlenecks on the grid, improving the weak infrastructure of the distribution companies (Discoms) and widening the availability of cheap finance.
Falling this year
However, annual rooftop installations are even expected to fall this financial year, from 740MW in 2015/16, to just 550MW in 2016/17. Installations will only start rising again the following year:
2017/18 – 900MW
2018/19 – 1.6GW
2019/20 – 2.2GW
2020/21 – 3GW
2021/22 – 3.7GW
Master said: "In 2016/17 we still believe that there are significant challenges. A lot of Discoms are in the process of ironing out administrative and procedural issues and hence we believe there is going to be some amount of slowing down. Pickup will happen say a year or two down the line."
The industry remains optimistic. Parag Sharma, COO of major Indian solar firm ReNew Power said that 80% of delays in solar development in India come from challenges around land, but rooftop solar negates this issue. Meanwhile, rooftop solar self-consumption also bypasses the other biggest problem for ground-mount systems, which is rising curtailment.
Master said electricity tariffs for commercial and industrial consumers in several states including Karnataka, Andhra Pradesh and Maharashtra are as high as INR 7-8/kWh, whereas the LCOE of rooftop in these cases is INR5-5.50/kWh so it makes sense for C&I customers to adopt solar. He said this segment is where the main growth is.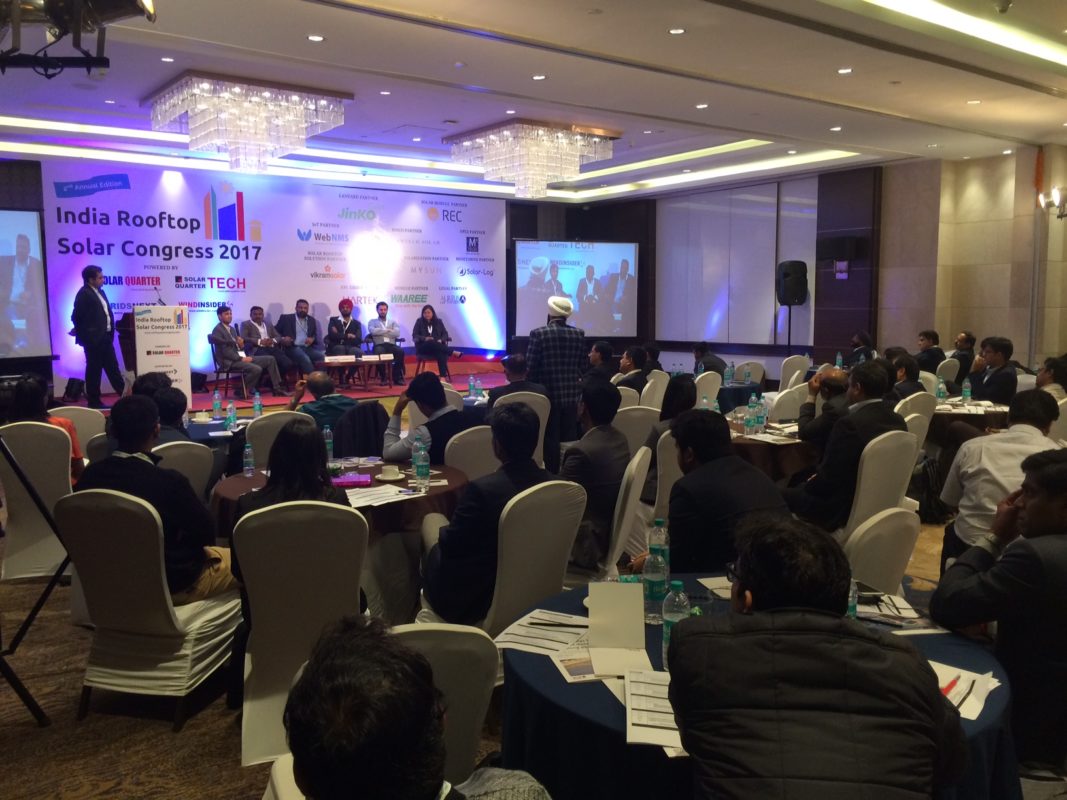 Slow residential PV
In contrast, rooftop PV in the agricultural and residential segments has seen very slow growth and will continue this way for 3-4 years, until generational and operational issues are addressed.
However, combined with the 30% capital subsidy for rooftop (70% for special states), and a feed-in tariff in certain states, Master said agricultural and residential segments will reach an inflection point around 2019-20 and will significantly take off once operational issues around battery-based energy storage have been sorted. Affordable storage coming in 2020 will therefore drive the residential market.
Rama Krishna S, executive vice president of Tata Solar Power, said the most important policy for rooftop at present is this 30% subsidy, but there is a "need to ensure the process of disbursement is transparent and fast".
He added: "If they get that right, this could be a very interesting year for rooftop."
RESCO to dominate
Crisil also found that the RESCO model, where the developer leases the rooftop system with the rooftop owner, will be adopted more as the market matures, with the benefits of no upfront costs to the consumer and O&M services being carried out with technical knowhow.
Borah said that in order to popularise the RESCO model, MNRE is also working on finalising a model PPA with help from the ministry of Law and Justice and the Ministry of Finance. A PPA is also being finalised for the CAPEX model where the developer of the project owns the rooftop.
Rama Krishna S said: "It's a no brainer that the RESCO model is the future."
He predicted that RESCO systems would take a 60-65% market share as the sector moves forward and was highly supportive of attempts to create a model PPA because at present PPAs have a tendency to "fall between the cracks" of various organisations.
Generating consumer demand
Gagan Vermani, founder and CEO of MYSUN, agreed that if the status quo is maintained then 40GW will not be achievable, while claiming that even 12GW would be a "Herculean task". Instead the industry offer needs to be portrayed not just as an industrial product, but also as a consumer product. Consumers are highly curious about solar but they are not aware of the availability of rooftop solar. As a result, the industry needs to "shift mind-sets" to create more consumer demand. If demand is improved then 40GW is "highly achievable".
Vermani added: "Today buying solar is a big hassle for a lot of consumers."
This is why MYSUN has started using the internet for marketing. The internet marks a step away from the traditonal door-to-door approach and reduces the cost of customer acquisition.
Rama Krishna S agreed that to reach 40GW, the industry needs to convert consumer curiousity into demand. Rooftop solar needs to be convenient to customers, but this is uncertain as net metering customers are not always getting connected in the right time frame.
Master added that net metering has not been very effective so far and amendments to the policy would be useful.
Discom challenges
The Crisil report said there is also a major gap concerning Discoms, which are not always clear on interconnectivity. As a result some of the smaller consumers at residential level are "getting stuck in procedural delay".
This is why the government has been pushing to set up a 'cell group' of Discom officials to ensure off-take happens at rooftop level.
Other challenges facing the rooftop sector in India include Discoms being afraid to lose valuable C&I customers, unsuitable roof designs and uses, as well as worries around the credit profile of certain consumers when it comes to financing. The proliferation of ground-mount solar may also lead to a point where it is competing with rooftop solar.
Finally, Crisil forecast that seven states would acoount for more than half of the 12-13GW installations forecasted: Delhi, Gujarat, Maharashtra, Andhra Pradesh, Telangana, Karnataka and Tamil Nadu.