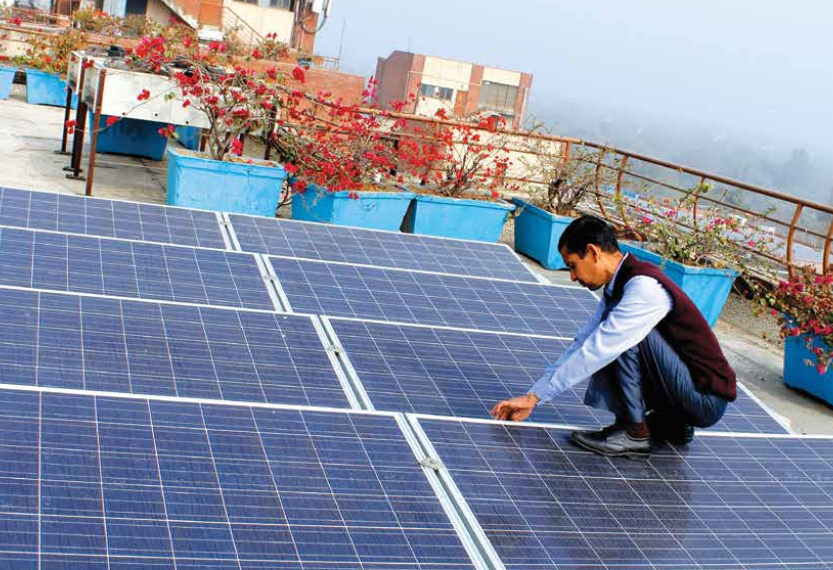 India has proposed providing a grant of up to INR3.75 million per MW (US$54,100) to encourage distribution companies (Discoms) to support net metering of rooftop solar on their networks.
In a 'Concept Note', the Indian government described a performance-based incentive scheme for Discoms to boost the implementation of grid-connected rooftop solar systems by supporting 1,350MW in various sectors.
The grant's other main objective is to help Discoms upgrade and modernise their distribution networks, facilitate demand aggregation, and develop consumer awareness.
Jasmeet Khurana, associate director, consulting at Bridge to India, told PV Tech: "The primary purpose of the grant is to upgrade the Discom's network to support more renewables."
Indeed, last November, Bridge to India reported that poor implementation of net-metering policies is posing a major challenge for the rooftop solar sector.
The government has identified that Discoms could be at the forefront of driving rooftop solar as they give approvals for installations, provide electricity balancing services and manage the distribution network. Thus, with the approaching '40GW rooftop PV by 2022' target, the government proposed the new grant as an "urgent need".
All Discoms are eligible for the proposed grant, however, they must fulfil a range of conditions. For example, the Discom must have a well-defined and functional implementation process for rooftop PV and create a special 'Cell' dedicated to this technology. It must also reach its annual rooftop targets and provide a year-on-year plan for the requirement of the proposed grant funds.
The government also put forward 20 mandatory reforms to be undertaken by the Discoms. These included defining rooftop solar to include small plants on the ground, within the boundary of a facility of up to 2,000kW. The time between a consumer application and plant commissioning should also be no more than three months. These were just two examples of the 20 mandates.
The government listed challenges for Discoms to bring in net metering such as concerns over reduced electricity sale, decreased revenues from paying customers and operational issues. Furthermore, design and implementation of rooftop projects requires substantial coordination between multiple agencies and there is a lack of awareness among different stakeholders – particularly Discoms and rooftop owners.
On the other hand, MNRE also listed a several advantages that rooftop solar can offer Discoms:
no requirement of pooling of land or separate transmission facilities
minimal technical losses.
help Discoms meet their Renewable Purchase Obligation
helps manage daytime peak loads, which are expected to increase as the Indian economy grows
rooftop plants help improve tail-end grid voltages and reduction in system congestion
decentralised generation reduces pressure on grid
Government figures claimed that out of present solar capacity of 8GW, only 4% is from rooftop systems. However, Bridge to India has reported late last year than India has surpassed both 1GW of rooftop solar as well as 10GW of overall solar capacity.
SECI lists 500MW rooftop winners
In other news, Solar Energy Corporation of India (SECI) has released the names of the winning bidders of its 500MW rooftop solar auction, the tariffs of which have been known for some time. The lowest tariff came in from Amplus Energy at INR 3/kWh.
Indian rooftop solar tariffs are expected to reach an all-time low under SECI's next 1GW rooftop tender, according to forecasts from Bridge to India.
Read here for the big moments of India's solar industry in 2016.