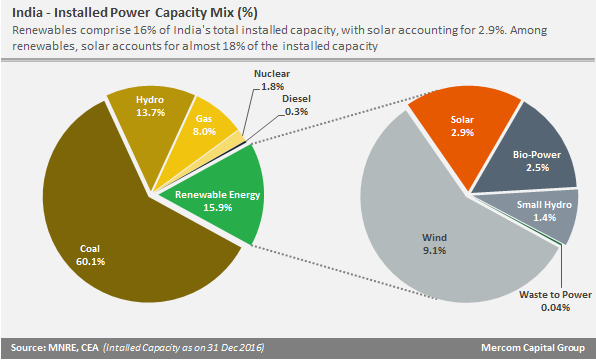 On its way to a targeted 175GW of renewable energy installations by 2022, India has now surpassed 50GW of deployment, according to data from the Ministry of New and Renewable Energy (MNRE).
Solar continues to be deployed at an extreme pace, while the wind sector is being progressed through competitive auctions, said consultancy firm Mercom Capital Group. For example, Solar Energy Corporation of India's (SECI) first 1GW wind tender was oversubscribed.
Coal-based generation accounts for 60.1% of India's total installed capacity of just more than 314GW as of 31 December 2016, according to the Ministry of Power. Meanwhile, renewable energy accounts for 16% of total generation at around 50GW. Hydro energy makes up 13.7%, with just more than 43GW.
Solar accounts for nearly 18% of all renewable energy generation, with Mercom forecasting more than 9GW of deployment to come up in the year 2017.