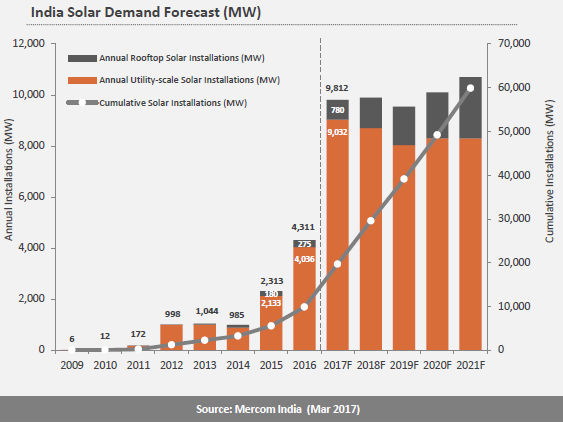 Mercom Capital Group has forecasted India to add 9,812MW of solar PV this year, well up from its previous projection of 9,020MW in January.
This would also be a 130% increase year-over-year compared to the 4.3GW India installed last year, and the Asian country is widely expected to become the world's third largest PV market during 2017.
The consultancy's latest quarterly market said that overall deployment had reached 12.8GW by the end of Q1 this year. Meanwhile, the pipeline of utility-scale projects under development stands at roughly 12.6GW, with around 6.1GW of tenders awaiting auctions.
The pipeline is still primarily being driven by the flagship programme National Solar Mission (NSM), which has seen significant capacities tendered. State-level policies and tenders were the second main driver.
Southern states are dominating the pipeline with Karnataka, Andhra Pradesh and Telangana all having more than 2GW in development or ready for auction.
Mercom noted a continued slide in Chinese module prices, which have fallen around 33% over a 12-month period. The industry expects module prices to decline slightly in Q2, followed by a more prolific decline in the second half of the year once Chinese installations slow down in June. Mercom cited these cost declines as a key enabler of recent record low tariffs in Madhya Pradesh and Andhra Pradesh.
Chinese module average selling prices (ASPs) came to US$0.32/W (INR20.68) in Q1. Whereas, average Indian module prices were about 14% higher in this period.