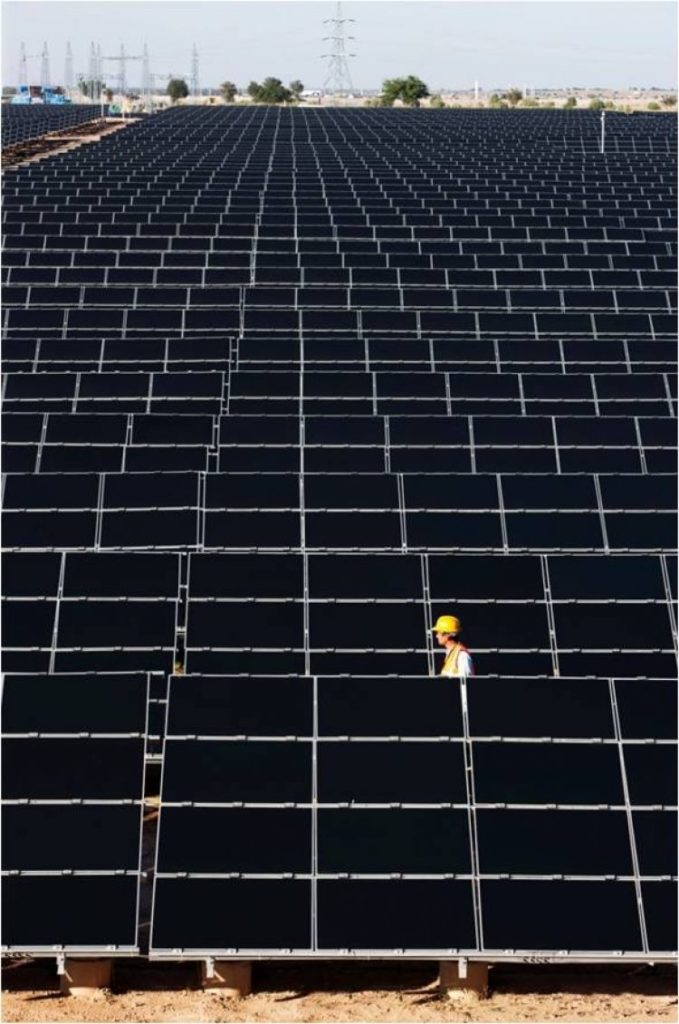 India has big solar ambitions. While the latest Bridge to India report showed that solar deployment was faltering because of high module prices, the country still installed more than 2GW of solar in Q3 of this year, with the International Energy Agency (IEA) describing the growth of solar in the country as "spectacular".
And, in its recently updated climate commitments submitted to the UN – its Nationally Determined Contribution – India set a target of 500GW of renewables by 2030, with much of this coming from solar.
India has also publicly expressed its desire to challenge China's dominance when it comes to solar manufacturing, with its minister for New and Renewable Energy (MNRE), RK Singh, calling the industry's reliance on Chinese products "unhealthy".
But what government schemes and incentives are in place to spur the growth of solar deployment and manufacturing? PV Tech Premium spoke with an expert on India solar to clearly lay out the avenues and mechanisms available to companies wanting to engage in this key growth market.
Supporting a manufacturing base
At present, India has an annual installed solar capacity of 3GW for solar PV cells, 10-15GW for modules and 5GW for inverters, according to the India Energy Outlook report. In order for it to hit its UN targets, India needs to install more than 250GW of renewable energy capacity in 10 years, which requires a strong domestic manufacturing base, especially in light of recently price volatility.
"The government has been trying to ramp up domestic manufacturing through various steps but, at present, India's domestic manufacturing capacity is not enough to fulfil the demand for the installation of 25GW solar power capacity every year," says Saon Ray, senior fellow at the Indian Council for Research on International Economic Relations (ICRIER).
Ray says that to achieve this goal India needs to develop its own domestic manufacturing capabilities and reduce its dependence on imports, which at present is close to 90% (80% of which comes from China).
The country's central government has established two mechanisms in order to do this: its Production Linked Incentive (PLI) scheme and the Basic Customs Duty (BCD). One seeks to spur domestic manufacturing, while the other to offer protection against cheap imports.
In April, the MNRE established a production-linked incentive (PLI) programme that aimed to incentivise companies setting up integrated, higher capacity, high efficiency solar module plants in India.
In June 2021, the Indian Renewable Energy Development Agency (IREDA) – a non-banking, dedicated financial institution established by the government to promote renewable energy projects through financial assistance – invited bids from solar module manufacturers for setting up solar manufacturing units under the PLI scheme, which the government has backed to the tune of Rs.4,500 crore (US$616.8 million), Ray explains.
"The focus on achieving self-reliance has taken India toward the decision of scaling up domestic manufacturing which would also enable India to export solar modules. This would also provide other countries an alternative avenue for procuring solar modules," says Ray.
India, however, lacks access to certain key minerals needed in PV manufacturing and is trying to solve this via joint venture agreements, she adds.
To ensure that domestic products are not undercut on price, the Indian government will also implement a 40% BCD on solar modules and 25% of solar cells from outside the country.
This was due to take effect in April but the Indian government is now considering a delay to the BCD after industry players wrote to Singh asking for an extended deadline in light of soaring modules costs that have caused delays to projects.
But, even if the BCD did take effect in April, "there is a gap of about nine months during which imports are expected to rise", says Ray.
Schemes to support rooftop deployment
In Q2 India added 521MW of rooftop solar, an increase of 517% compared to the same quarter last year, according to a Mercom India report.
These additions, however, were not spread evenly across the country, with 10 Indian states accounting for 83% of the cumulative rooftop installations. They were concentrated in the north and western richer states of Gujarat, Maharashtra and Rajasthan.
In July 2021, to encourage rooftop solar, especially in rural regions, the MNRE unveiled plans for a 'Rooftop Solar Programme Phase II', which aims to install more than 4GW of rooftop capacity in the residential sector by 2022 via a subsidy provision.
Both the central government as well as State Nodal Agencies (SNAs) offer subsidy schemes for installing rooftop PV systems. According to the MNRE, the central government pays 30% of the benchmarked installation cost for rooftop PV systems.
This subsidy is applicable in states that are in the 'general' category. However, a subsidy of up to 70% of the benchmarked installation cost is offered in some states that lie in the 'special' category, where the government wants to see more deployment.
The subsidy system is applicable for the institutional, residential and social sectors but not to the commercial, industrial and public sectors.
For consumers, installing rooftop solar comes with several perks: they can get private sector loans of around US$10,000 from nationalised banks, they are also eligible for generation-based incentives that pay them Rs.2 per unit of electricity generated and they can sell any excess electricity back to the grid for a predetermined price.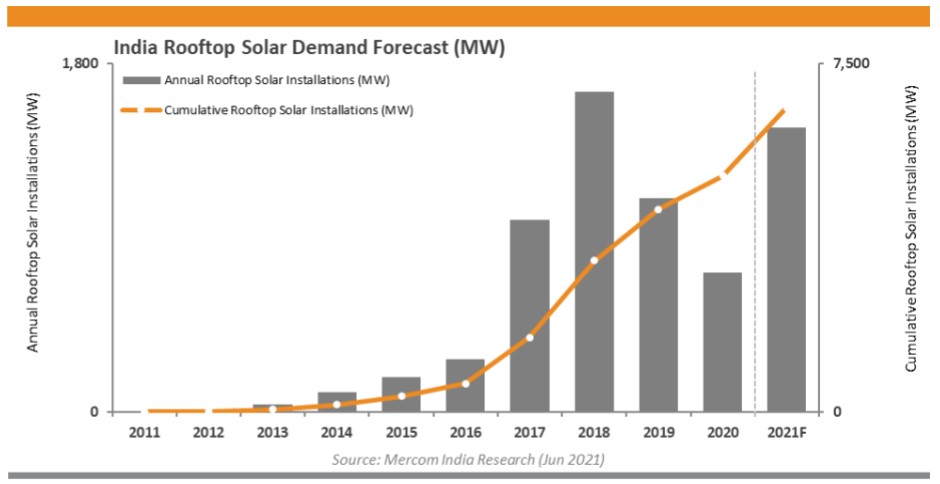 Other support schemes and organisations
Between January and September, India installed around 8.8GW of solar, a 280% increase on the same period in 2020, according to JMK Research & Analytics, with the government keen to continue the roll-out.
Outside those that have already been discussed, there are a number of other support schemes and sources of finance for companies wanting to invest in India's solar industry.
Organisations such as the Power Finance Corporation (PFC), Rural Electrification Corporation (REC) and National Bank for Agricultural and Rural Development (NABARD) are the key government agencies providing required finance for the renewable energy sector, says Ray.
Meanwhile, "there has been a transition from publicly supported incentive mechanisms for renewable energy development in the country to more of a competitively based incentive regime," she says.
The Reserve Bank of India (RBI) has categorised the renewable energy sector as a 'priority sector' for lending. Its guidelines suggest that 40% of the net credit of banks should be lent out to the priority sectors.
"In addition, there are a gamut of policy instruments, such as renewable portfolio obligations (RPO), renewable energy certificates (REC), and feed-in tariff (FiT) schemes to drive the renewable energy sector in the country," explains Ray.
Another such instrument is the National Clean Energy and Environment Fund (NCEEF) to support renewable energy financing in India. The fund was created to support entrepreneurial ventures and research in clean energy technologies.
Crucially, Ray says, "Financing of renewable energy in India continues to face multiple conundrums, largely entangled with the nature of the financial market of India in general, such as short tenure of loans, high capital costs, and lack of adequate debt financing."
While this needs to be overcome for greater PV deployment, "India's financial support will be aimed at promoting generation and infrastructure creation, and not just capacity creation," Ray concludes.