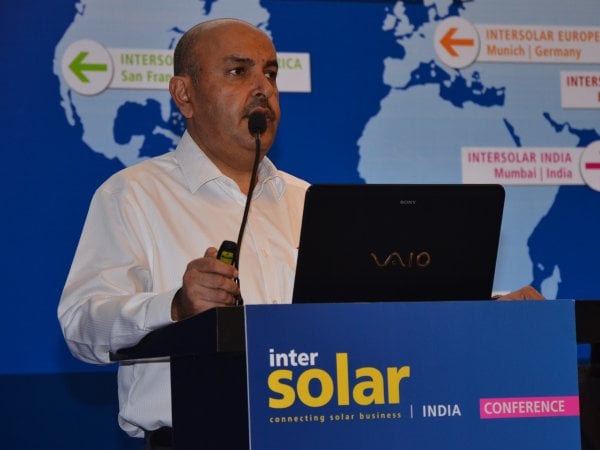 India's Ministry of New and Renewable Energy (MNRE) put in a request with the Department of Revenue for renewable energy to be exempted from some effects of the Goods and Services Tax (GST) bill, should it be passed in parliament, MNRE joint secretary Tarun Kapoor has confirmed to PV Tech.
The GST is a comprehensive nation-wide tax levy on the manufacture, sale and consumption of goods and services, which is planned to come into force from 1 April this year. One of the key aims is to bring India's market under one umbrella and to integrate the economies of India's many different states.
However, there are industry concerns about the effect of the GST on renewable energy prices, because of changes in how import duties are levied on bringing equipment into India and how taxes on sale of equipment are levied on goods traded within India.
Tarun Kapoor said that if the GST is introduced, the cost of solar and other renewables would go up as a result of the higher taxes to be paid.
He added: "In the GST there is a provision for some items to be exempted, so we have asked for renewable energy to be in the exempted list."
However, Kapoor also said it is not entirely clear yet what the full effects that the GST might have on the renewable energy industry – adding: "There might be advantages somewhere to manufacturers."
MNRE commissioned a study to assess the effects of the GST on the renewables industry. A local report from the Economic Times of India recently found that the MNRE had shared findings of the report with the Department of Revenue, forecasting a 12-16% increase in the costs of grid-connected solar projects in India and a 16-20% increase for off-grid solar.
However Kapoor said that MNRE has not yet gone through all the details on the effects of the GST.
There also another plan in India, which is separate from the GST, to rationalize India's corporate taxes and bring that down from 33% to 25% and this requires removal of some tax exemptions and holidays that the solar industry benefits from.
Mudit Jain, consultant at analyst firm Bridge to India, told PV Tech that under this plan, the benefits under Section 80IA of the Income tax Act, which provides a 10-year income tax exemption for solar projects, could be removed and this would "impact all solar projects".
However, as the Minimum Alternate Tax (MAT), a minimum tax for most India-based companies, is already applicable, Jain forecasts that the net impact on solar tariffs will only be around 4-5% or less.
Accelerated depreciation benefit, which is also threatened by this plan, often results in cost benefits to the tune of 12-15% for solar tariffs, added Jain. However, under the fiercely competitive bidding processes for solar capacity seen in recent months, the market is increasingly witnessing a trend where bidders are not opting for this benefit.
For example, major PV players such as SunEdison, Softbank, Renew, Mytrah and Skypower are all winning solar auctions without claiming accelerated depreciation benefits.
Jain Said: "Removal of accelerated depreciation benefit will not impact most big tenders. However, the private PPA-based market will certainly take a hit as this market is dominated by accelerated depreciation investors."
Bridge to India recently forecast that India would install 4.8GW of utility-scale solar in 2016, up from 2GW in 2015.
This article has been revised to remove connection of GST to tax holidays, 80IA, or MAT. Instead there is a separate plan to rationalize India's corporate taxes.