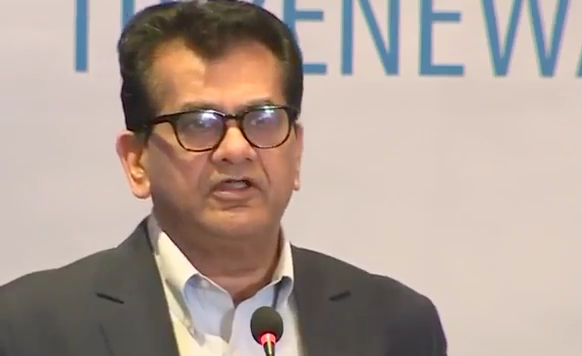 India's distribution companies (Discoms) are the biggest hurdle to the proliferation of clean energy micro-grids, the head of the premier Indian government think tank and senior adviser to prime minister Narendra Modi has said.
A key task for the government has been to provide power to every village in India. The milestone was achieved to some extent back in April 2018 – depending on one's definition of what makes a village electrified – although a few extremely remote locations certainly remained unplugged.
However, Amitabh Kant, CEO of NITI Aayog, which provides both directional and policy inputs to the central government, has said the real challenge now lies in getting power to every Indian household, especially in challenging geographies on islands or at remote villages. The "key ingredient" for increased economic activity and improved healthcare in these underprivileged areas is the introduction of power, Kant claimed.
With this in mind, in 2016 India's Ministry of New and Renewable Energy (MNRE) set out a target to install 10,000 micro-grids and mini-grids with a cumulative capacity of 500MW by 2021. However, the country's ailing Discoms are seen as a major barrier to micro-grids' success.
"Left to these Discoms nothing will happen," said Kant. "They need to go bust before micro-grids in India can take off… We need to ensure that they become the facilitators, they become the catalysts for growth of micro-grids in India."
He called for single-window clearance for all micro-grid regulatory approvals, including right-of-way, as well as fast dispute resolution. He also called for provisions made by Discoms for grid connection to enable the sale of microgrid power.
Kant said the roll-out of micro- and mini-grids across India would create vast numbers of green jobs, energise rural enterprises, provide irrigation to local farmers and clean water to local communities, all while avoiding the crises of pollution now confronting many of India's metropolises like New Delhi.
Indeed, a micro-grid combining biomass, solar and storage, visited by PV Tech in March 2018, also provided clean drinking water at low prices for villagers, as well as incense-making local business and work opportunities.
William Brent, director of energy access coalition Power For All, told PV Tech that Kant's comments were directing Discoms to get out of the way to allow the private sector to take over the role of last-mile distribution. The comments, Brent said, were also in line with a growing consensus that Discoms have failed again after their latest government bailout.
Kant was speaking at an event celebrating the partnership of energy giant Tata Power and the Rockefeller Foundation on a new clean energy microgrid operation they claim will deliver power to five million Indian households with 10,000 grids over the next decade. Tata has already set up mini-grids in far-flung destinations like the northern state of Bihar, while Rockefeller Foundation has installed 178 renewable energy grids across 6MW of capacity, with many powering micro-enterprises, Kant said.
Besides Tata, there are plenty of other smaller players active or ready to take part in the market, Brent said.
India drafted a national policy on micro-grids in 2016 but this was shelved. With Indian authorities currently in the process of finalising a new energy policy, it is possible that the government may be re-evaluating its position on micro-grids and may look to carve out a niche for such private enterprises, Brent said.
Preceding this potential trend, the government of Odisha, an East Indian state, last month privatised four state-owned Discoms, which local news outlet Livement said was the first such move in India's power sector for two decades.
"Discoms are not merely inefficient, but they create the biggest hurdle for the creation of micro-grids," Kant added.