India's renewable energy deployment is expected grow by 50% year-on-year in 2019 with a total of 15,860MW of installations, according to a report by consultancy firm Bridge to India.
The 'India RE 2019 Outlook report' described 2018 as a "forgettable year" for the Indian renewables sector, lifted only by a surge in auctions with more than 20GW of capacity awarded, however, there were also several major tender cancellations in the year.
Utility-scale PV deployment is set to hit 10,902MW in 2019, surpassing 10GW in a single year for the first time, and well up from 6,833MW in 2018.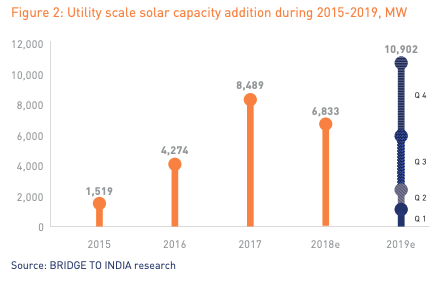 Meanwhile, rooftop solar will grow robustly by nearly 50% to 2,368MW, up from 1,588MW in 2018. Open Access solar, on the other hand, will drop by 63%.
About 290MW of off-grid capacity – mainly solar pump installations – is also expected to be added in 2019.
For the less established technologies, floating PV is expected to see auctions of up to 5GW issued and developers are expected to start adopting monocrystalline modules and microinverters in greater numbers. Meanwhile, energy storage will be supported by the expected announcement of the National Storage Mission and more solar-plus-storage tenders.
Bridge to India also expects module prices to fall further to an average US$0.19/W, down 26% over mid-2018 prices.
The consultancy expects no significant uplift in the domestic PV manufacturing sector, with total module manufacturing volume to remain at about 3GW.
Wind is expected to increase to 2.3GW, up 18% over 2018, with land and transmission bottlenecks the main drawbacks.
The report described most of the problems of 2018 as self-inflicted, with the GST tax, safeguard duty and BIS standards causing major frustration.
The forthcoming general elections this year will be the most important event for the sector in 2019, and as a result, little progress on the policy front is expected and Bridge to India fears that Indian renewables are "getting stuck in the slow lane" with decisive policy action needed to alleviate this. It also said that India's plans to tender 60GW of solar and 20GW of wind by March 2020 were implausible.
Vinay Rustagi, managing director of Bridge to India, added: "2019 would bring some much-needed respite after the slowdown last year. Capacity addition is expected to jump sharply but this is more due to volatility in tender issuance time-table rather than a sustainable surge. Overall, the sector is bound to continue its struggles with GST, safeguard duty, funding availability and transmission connectivity. Crucially, in an election year, politics is likely to dominate over reforms and swift resolution of sector problems is unlikely. On the plus side, we don't expect any retreat in push for RE irrespective of who comes to power."