Bidding in the Indian solar industry has been deemed irrationally aggressive by 70% of CEOs responding to a survey from consultancy firm Bridge to India, however, sentiment remains upbeat about growth prospects and the overall industry.
The 'India RE CEO Survey 2018' tapped opinions from 44 domestic and international companies. On average, these company heads expect India to reach 66GW of installed solar capacity by March 2022, well short of the original 100GW target set under the National Solar Mission (NSM). Just 7% of respondents believe the 100GW target will be surpassed on time.
They also forecast rooftop PV to reach only 10GW by 2022 (the original 40GW target has been reduced), and for wind capacity to reach 52GW, just short of the 60GW target.
As expected the key concerns included the looming threat of safeguard duty imposition, for which a 70% duty has been recommended and a final decision is pending. This nuisance for the downstream PV sector is compounded by the fact that 77% of CEOs are also unenthusiastic about the progress of domestic manufacturing – which the Safeguard Duty aims to protect – believing that total manufacturing capacity will be less than 3GW by 2022.
Other major anxieties related to uncertainty at the policy level and the ailing finances of the distribution companies (Discoms).
Bridge to India has made known its belief that bidding levels have been too aggressive for some time. It said that tariffs ought to be raised given the increasing number of tender issuances, but it remains to be seen if Discoms will be willing to accept higher prices. Just 3% of the CEOs surveyed said the bidding levels have been balanced.
The latest auctions saw L1 tariffs in the range of INR2.71-2.73 (US$0.04) in Andhra Pradesh and Maharashtra.
The most attractive states were as follows: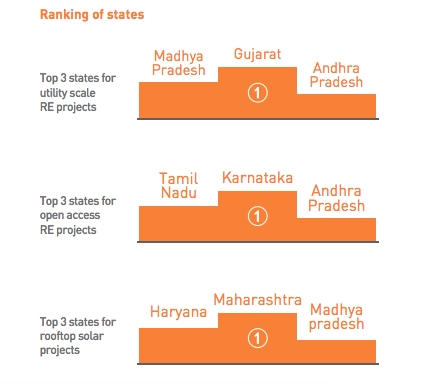 Most respondents felt that India will add about 6-10 GW of open access power by March 2022.
Vinay Rustagi, managing director, Bridge to India, said: "The Indian RE market, currently about 10GW per annum, is rapidly acquiring scale and maturity. The latest edition of [the] 'India RE CEO Survey' highlights that notwithstanding some major policy issues including safeguard duties and [the] poor financial condition of Discoms, the industry remains optimistic about future growth prospects. An aggressive bidding environment and [the] possible imposition of safeguard duty are major worries for the sector."
Energy storage has yet to "find acceptance" in India, said the consultancy, with lack of techno-commercial understanding, lack of enabling policy environment and high cost all being cited as key challenges.