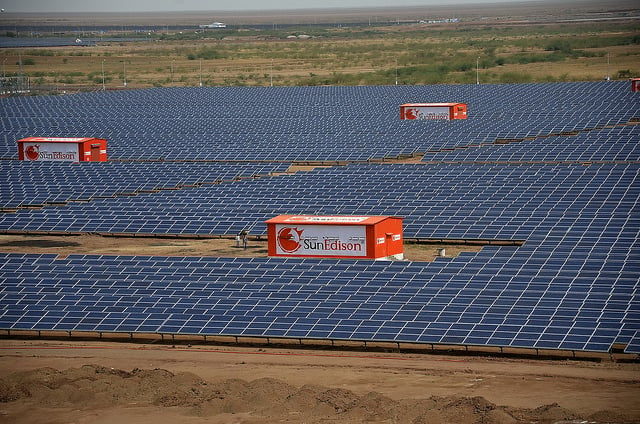 Solar development in India is being held back by delays in preparing the 20GW of solar park capacity planned by the central government, according to consultancy firm Mercom Capital Group.
Concerns around major solar tenders being carried out before solar park infrastructure is completed have been aired for some time and now developers are facing poor accessibility to certain parks and a lack of clarity around land allocations, Mercom said.
Some developers that are ready to construct solar projects won under the National Solar Mission cannot progress due to this lack of infrastructure. This has been partly responsible for the multiple extensions to bid-submission deadlines for tenders, which has been a common theme on the Solar Energy corporation of India (SECI) website during 2016. SECI has formed joint ventures with state renewable energy agencies to construct many of these solar parks.
Invitations to tenders before solar park completion can lead to 4-5 months of delays before the auction takes place. Meanwhile, developers who have paid fees for the park infrastructure are often having to build the infrastructure themselves, while also paying to clean land and build roads. Even when projects are complete, some have to wait for transmission infrastructure to catch up.
Mercom stated: "All of this can seriously affect project costs and profitability."
Nevertheless, solar parks have been a major factor in bringing solar prices down to record lows in Andhra Pradesh and Rajasthan particularly, while a developer also told Mercom that the parks are attractive to international investors.
Officials at government agencies told Mercom that development of solar parks is in its early stages and state nodal agencies are dealing with issues when they arise.
Raj Prabhu, chief executive of Mercom Capital Group, said: "The issues around solar parks are typical to the Indian solar sector. Most policies are well-intentioned with top-down goal setting, but the problem usually is on the execution side."
MNRE even plans to double the solar park programme to hit 40GW, up from the current 20GW.