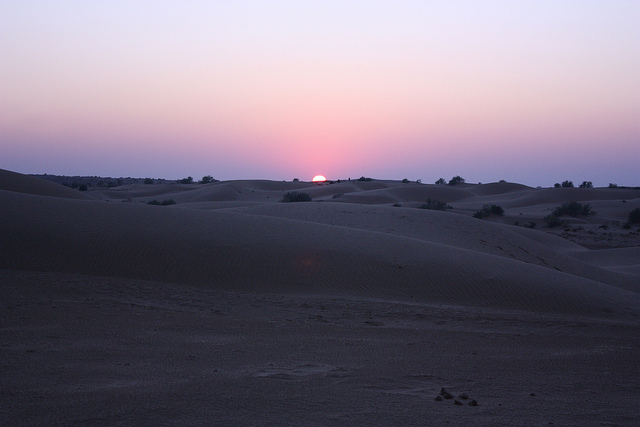 India's fiercely competitive solar auctions have driven bids down to another surprise low with Finland-based developer Fortum Finnsurya Energy winning 70MW capacity in Rajasthan at a price of INR4.34/kWh (US$0.064), which is a drop of more than a 6% from the previous Indian record of INR4.63/kWh.
Four developers won capacity, each with bids reaching significantly lower than anything seen in the country's solar auctions so far.
Fortum Finnsurya Energy (70MW), INR4.34/kWh
Rising Sun Energy (2x70MW), INR4.35/kWh
Solairedirect Energy India (2x70MW), INR4.35/kWh
Yarrow Infrastructure (70MW), INR4.36/kWh
The previous record tariff was INR4.63/kWh awarded to PV developers SunEdison (500MW) and SoftBank's JV with Foxconn and Bharti Enterprises (350MW) in two separate auctions for capacity in solar parks in Andhra Pradesh.
In this latest Rajasthan auction, there were five other companies, who were also willing to bid lower than the previous records including ACME Solar, Hero Solar Energy, Energon Soleq India power Resources, Reliance CleanGen and NEEPCO.
Jasmeet Khurana, associate director, consulting, at Bridge to India, told PV Tech that the results were "surprising" yet again – adding "we never expect the prices to go to these levels, but clearly with so many companies bidding in this range there must be some rationale behind it, which we fail to understand as of now."
In a recent in-depth analysis, PV tech investigated the potential strategies being used to drive prices down in India's 'cutthroat solar auctions'.
Bridge to India had already forecast that bids under the National Solar Mission (NSM) for capacity within solar parks would go lower in Rajasthan than in Andhra Pradesh due to the state's higher irradiation levels, lower solar park charges and increased competition, however, Khurana said the latest bids came in far lower than expected.
Furthermore, these Rajasthan project sizes are far smaller, which means they don't benefit from the same economies of scale of those projects in Andhra Pradesh. This suggests the latest bids are even more aggressive.
Jai Sharda, founding partner at research body Equitorials, told PV tech that the trend of decreasing prices is in line with the expectations of the Institute for Energy Economics and Financial Analysis (IEEFA) for a 5-8% decline in the cost of solar power in India, however "the pace of decline in prices is much faster than anticipated".
The Ministry of New and Renewable Energy (MNRE) recently announced that India had surpassed 5GW of cumulative installed PV capacity, with Rajasthan leading individual state deployment figures.