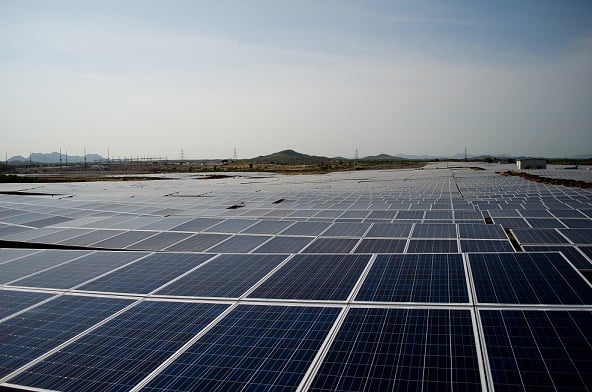 India's largest utility NTPC has issued a tender for up to 923MW of solar capacity under a programme that focuses on domestically-made PV modules deployed for public sector organisations.
Part of CPSU Scheme Phase-II Tranche-II, NTPC's contract requires the design, engineering, manufacturing, supply, packing and forwarding, transportation, unloading, storage, installation and commissioning of the grid-connected capacity.
Projects can be located anywhere in India and must be within the range of 50-300MW (going up in multiples of 10MW) in size, with cells and modules sourced locally. A single bidder can be awarded a maximum of 300MW. Players must also have already deployed 40MW of solar to be eligible and with at least one 10MW plant in operation for more than six months.
Operation and maintenance (O&M) of the projects, including the switchyard and transmission system, will be required for a period of three years.
The deadline for bid submissions is 3 January 2020.
The news comes shortly after 'Solar Module Super League' (SMSL) member LONGi Solar, a Chinese manufacturer, signed a framework sales agreement with India's Adani Green Energy to supply up to 1,200MW of its high-performance p-Type monocrystalline modules through 2020.
In September, Solar Energy Corporation of India (SECI) allocated 922.4MW out of a 2GW tender under the CPSU scheme, where NTPC was the biggest winner. India has continued to experiment with new ways of guaranteeing business for its PV manufacturers, while most of the downstream industry relies heavily on cheaper imports from China and elsewhere.
While the US vs India spat over India's original Domestic Content Requirement (DCR) had appeared dead and buried for some time, it reared its head again over the summer, with New Delhi challenging specific parts of the ruling given by the World Trade Organization (WTO).
Separately, NTPC has also issued a tender this week for the purchase of power from up to 100MW of solar PV capacity for a period of two months. The deadline for bid submissions is 27 December.