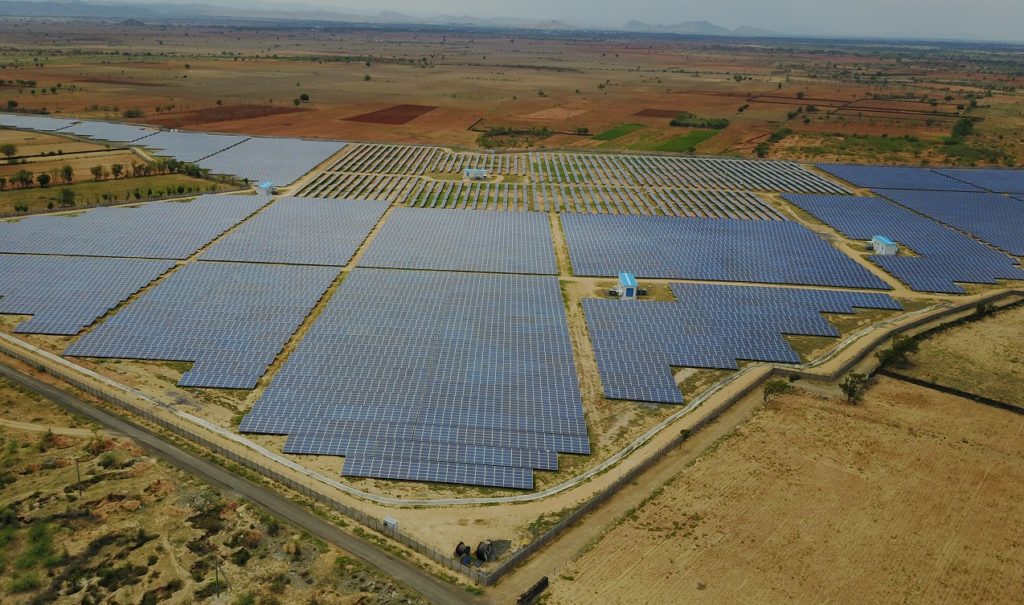 The Commercial and Industrial (C&I) renewables market in India is expected to grow by 47GW over the next five years, as policy tailwinds and decarbonisation targets spur growth.
The latest report from energy analyst firm Bridge To India – the India Corporate Renewable Market March 2023 report – said that whilst direct renewable energy procurement currently accounts for just 6% of corporate electricity consumption in India, many corporate customers are looking to increase their renewables purchases. Corporate customers account for 51% of the country's total consumption, the report said, and thus the potential demand base is significant.
India is looking to install 450GW of solar capacity by 2030, and its corporate sector will play a large part in that. Many companies are looking to fulfil RE100 pledges and net zero emissions targets as well, for which solar and wind will be the primary solutions.
Of the options available to customers, "open access" (OA) and rooftop solar are the most promising. Open access solar in India denotes generation from grid-connected projects that is then channeled through the infrastructure to large consumers. Bridge to India predicts a 23% compound annual growth rate in corporate renewables additions through 2027 – reaching 47GW of total new capacity – with the vast majority being fulfilled by OA solar.
India has been experiencing well-documented module supply shortages of late as its basic customs duty (BCD) import tax and approved list of models and manufacturers (ALMM) scheme continue to constrain supply. Given this, the report suggests that growth will be slow over the remainder of this year but 2024 and beyond will see the numbers begin to rise more quickly. 2023 is forecast to see 6.5GW of corporate renewable capacity added, whilst 2024 will hit over 9GW.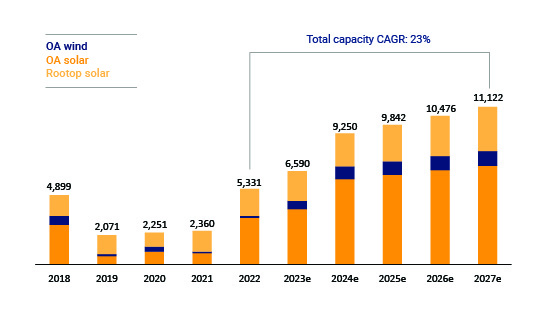 In January PV Tech Premium spoke with Bridge to India's Vinay Rustagi – one of the authors of this report – about the outlook for the country's solar industry in light of module shortages. He echoed the findings of this report, suggesting that the challenges that have plagued the sector over recent years will begin to fade by 2024.
Another point that Rustagi touched on in conversation with this magazine was the inconsistency of legislation and renewables uptake across the country's different states. The Corporate Renewable Market Report suggests that, at least in the C&I sector, central policies may be asserting themselves to positive effect.
The introduction of the single window application process for OA projects – which groups all approval applications from corporate customers in one place – is expected to increase corporate uptake, as well as the government's decision to waive inter-state transmission charges, which will open the market up.
One of the challenges to this has been the reluctance within certain states to lose dedicated and profitable distribution company (DISCOM) business. PV Tech reported on the ongoing financial woes of Indian DISCOMs last year.
Bridge to India also said that state government guidelines have allowed multiple grid-connectivity options for rooftop solar customers – including both net metering and feed-in-tariff schemes – which it expects to drive adoption in the corporate sector.
The corporate market seems to be finding its own solutions as well. New business models are also being seen in India's C&I renewables market, such as the emergence of virtual power purchase agreements (VPPA), which can increase net renewables penetration and circumvent certain challenges legal, physical or otherwise. There's also been increased curiosity in co-located wind and solar projects, as opposed to India's traditionally solar-dominated renewables mix, all of which speaks to a market sector willing to innovate and find flexible ways to grow.