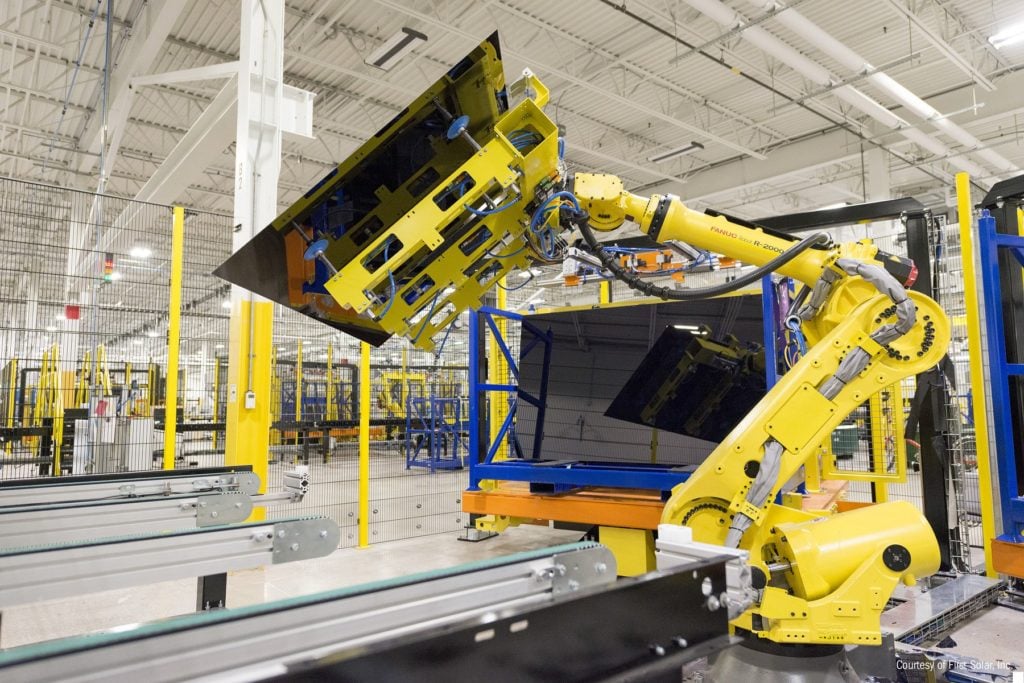 'Solar Module Super League' (SMSL) member First Solar is in the final phase of shifting all manufacturing plants to its large-area CdTe Series 6 modules, but has continued to experience intense competition from the dominance of p-type monocrystalline Passivated Emitter Rear Cell (PERC) technology that is rapidly transitioning to large-area mono and bifacial module formats, threatening First Solar's cost per-Watt and yield performance advantages.
In early February 2021, First Solar started ramping its second Series 6 module manufacturing plant in Malaysia, having stopped Series 4 production in 2020 to complete equipment and layout changes.
All six production plants (two in the US, two in Malaysia and two in Vietnam) are now Series 6 production only, which is expected to enable the company to produce up to 7.6GW of Series 6 modules in 2021, compared to 5.5GW of global Series 6 nameplate production capacity at the end of 2019.
Production transition issues
The company's transition to the much larger form factor did not go as smoothly has the company had expected, despite its once industry leading R&D expenditure and thin film manufacturing expertise, unequalled in the PV sector.
PV Tech highlighted in mid-2018 that First Solar had revealed that it was having Series 6 production issues at its lead Ohio factory. At that time, the company discussed the issue in detail in an earnings call with analysts, explaining it to centre around a yield issue at a specific tool/process at the upstream cell level. This then impacted downstream assembly throughput, aggravated by insufficient buffer stations.
However, the yield issue led to the shutting down of specific tools to diagnose, fix and recalibrate before testing and restarting that production step.
A year later, module manufacturing yields and throughput levels were improving. First Solar had said that production per day had increased 152%, compared to 2018, while utilisation rates, adjusted for planned downtime had increased over 50% and stood at 100% by the end of 2019. Production yield was also said to be up 32 percentage points to 94%.
Jump forward to the end of 2020, and First Solar said in its most recent earnings call with financial analysts for full-year 2020 results that across all production sites/lines, capacity utilisation rates had reached 117%, an increase of 20 percentage points, year-on-year.
First Solar also noted in the call that Series 6 production yield had reached 97.6%, an increase of 3.2 percentage points, year-on-year.
At some point, First Solar should reset its line capacity levels higher and ditch the original nameplate capacity levels expected of Series 6 production lines, bringing back utilisation rates to 100%. Typically, operating for any length of time at above 100% utilisation rates simply means original nameplate capacity levels are irrelevant.
It is also not uncommon for PV manufacturers to be coy on actual nameplate capacity levels, especially when demand may decline and capacity utilisation rates drop further than outsiders would be aware. Lower utilisation rates can impact gross margins so there can be an incentive to obscure the real impact of lower utilisation rates on gross margins.
More importantly, running at above nameplate capacities for extended periods can lead to lower yields and lower throughput events due to tool/line constraints as they are run above expected performance levels.
In First Solar's presentation slides for its 2020 full year results, issued last week, a slide titled 'Module Segment Update' noted that MWs produced per day per line in 2020 had reached 17.3MW. But the small print included the detail that from February 1, 2021 through to February 23, 2020, this had reached 19.8MW per day. That same small print did also note, however, that production yield in that period had declined to 96.6%, compared to 97.5% in the first month of the year.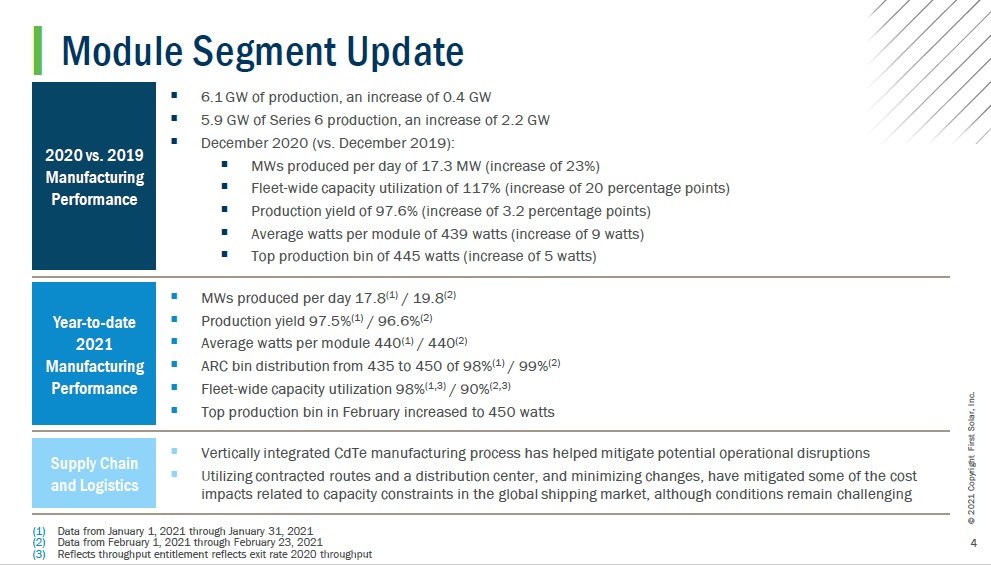 PV Tech had previously noted that First Solar's two Ohio fabs had above 100% utilisation rates in the third quarter of 2020. The company had stated that additional tools would be installed at both facilities with the aim of reducing the manufacturing cost per watt as these plants had the highest production costs against its facilities in Malaysia and Vietnam.
The Ohio facilities were also said to have lower overall fleet average module yields and so the new tools being installed would support the Ohio fabs' cost per-watt premium to narrow to US$0.02 over time.
From a manufacturing optimisation perspective, First Solar would operate both facilities as a 'virtual' single facility that is expected to initially improve nameplate capacity by more than 25%, or around 600MW. This would equate to the Ohio fabs' unified annual nameplate capacity reaching 2.4GW by the end of 2021, according to the company. Ohio 1 fab had an initial nameplate capacity of 600MW, while Fab 2 was built with 1.2GW of nameplate capacity, a combined 1.8GW.
Capacity expansions update
First Solar had also noted in 2020 that new capacity expansions were likely to occur in countries such as Germany and India, as new expansions in the US would not achieve the lowest average production costs per-watt.
The attraction of Germany was due to previously operating two manufacturing plants in the country, coupled with the European Union's new Green Deal, and the aim of being a carbon neutral economy by 2050 providing significant long-term support for solar installations.
But a quarter later, First Solar management noted that no immediate plans have been put in place for further overseas expansions.
As such, management emphasised that by the end of 2021, nameplate capacity would reach a total of 8.7GW, which would include 2.6GW of capacity in the virtual integrated Ohio facility and 6.1GW of capacity from the two facilities in Malaysia and two in Vietnam.
This would equate to a capacity increase of 2.4GW from the end of 2020. However, outside the second Malaysia fab ramp with Series 6 modules, the rest of the capacity additions are coming from planned improvements in average watts per module and increased throughput across its manufacturing plants.
"By the end of 2022, we anticipate increasing throughput by 12% compared to our rebated throughput entitlement and expect continued improvements in our average watts per module and manufacturing yield," noted CEO Mark Widmar in the latest earnings call.
The focus on optimisation of its existing fleet of manufacturing lines is expected to extend through to the end of 2022 (See chart below).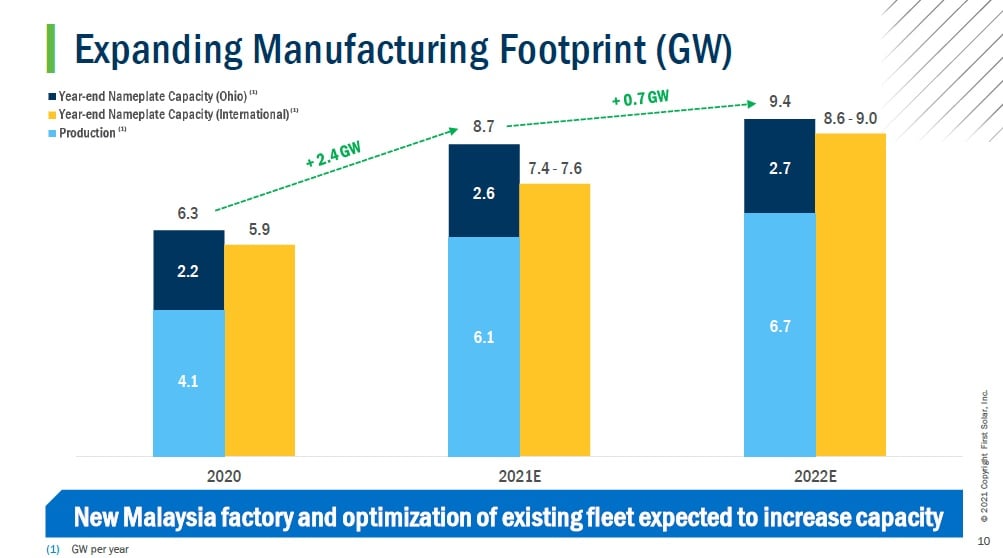 According to First Solar's manufacturing footprint update, the company is expecting further optimisation strategies to take total capacity to 9.4GW by the end of 2022, which includes 2.7GW in Ohio (up 100MW) and 6.7GW in total (up 600MW) from facilities in Malaysia and Vietnam.
"While we have made no such decisions at this time, any greenfield capacity additions are unlikely to contribute to our 2022 production plan. From our production perspective, in 2021, we expect to produce approximately 7.4 to 7.6GW, which is within the 7.3 to 7.7GW range we provided at this time during the last February guidance call," added Widmar. "In 2022, with the addition of the fully ramped factory in Malaysia and ongoing improvements across the fleet, we expect to produce 8.6 to 9.0GW."
This leaves its near-term geographical manufacturing footprint static through the end of 2022.
Technology shift
The most significant change is major updates to First Solar's volume manufacturing processes. The company plans to implement a 'Series 6 plus' improvements strategy across the entire production line fleet over the course of 2021, which will include more than three weeks of downtime across the fleet to implement technology and throughput upgrades which require additional manufacturing equipment.
These plans require significant capital expenditure outside 2020's spending on stopping Series 4 production and changing to Series 6 production at its second Malaysian facility.
First Solar reported capital expenditure of US$417 million in 2020, compared to US$669 million in 2019, primarily due to the Series 6 transition.
However, First Solar noted that capital expenditure in 2021 was expected to be in the range of US$425 million to US$475 million to implement Series 6 plus and cover ramp-up costs at the second Malaysian facility.
The results of the Series 6 plus updates through to the end of 2022 includes plans to take the top module production bin from 445W reached in December 2020, to a top production bin of 475W-480W. The mid-term plan is to achieve a top production bin of around 500W.
The throughput improvements were said to target an increase of 12% from 2020 levels, which are down to additional tools and further debottlenecking programs.
Copper Replacement (CuRe) program
Starting in the fourth quarter of 2021 will be the initial implementation of First Solar's Copper Replacement (CuRe) program at its lead line, described as the key to further efficiency gains, lower degradation levels and further temperature coefficient improvements.
Small quantities of copper and chlorine have always been used in CdTe cell formation in volume production as the copper helps form the p-junction and limits the effective acceptor concentration, while the use of chlorine provides an increase in carrier lifetime due to grain boundary modification.
The trade-off with copper doping are defects and instability that can cause efficiency losses and higher degradation rates.
However, there are finite limits of these materials' ability to increase cell efficiency and work has been ongoing in a number of research institutes to completely replace copper and chlorine with specific Group V elements, notably antimony, arsenic and phosphorus.
The major stumbling block in the past was the need for high-temperature processes that would melt the glass substrate. The breakthrough would seem to be a high temperature mixing process called vapor transport deposition (VTD) followed by a rapid cooling step, freezing the CdTe growth.
"Accordingly, by the end of 2021, we anticipate our top production bin will reach 460 to 465W with an expected 30-year warranty degraded rate, approximately 50% below our existing baseline. Given PV power plants have an expected useful life of up to 40 years, our reduction in a module of long-term degradation is expected to be a material benefit to project economics, as it increases energy density of the module and life cycle energy generation," noted Widmar.
First Solar said that the expected improved module efficiency and temperature coefficient of the CuRe process would result in a 7% higher energy density in the first year and the long-term degradation rate could increase to 20% in year 40, which First Solar said would represent a 13% improvement over the life of the asset. These developments are behind Series 6 modules achieving top production bin levels of 475W to 480W by the end of 2022.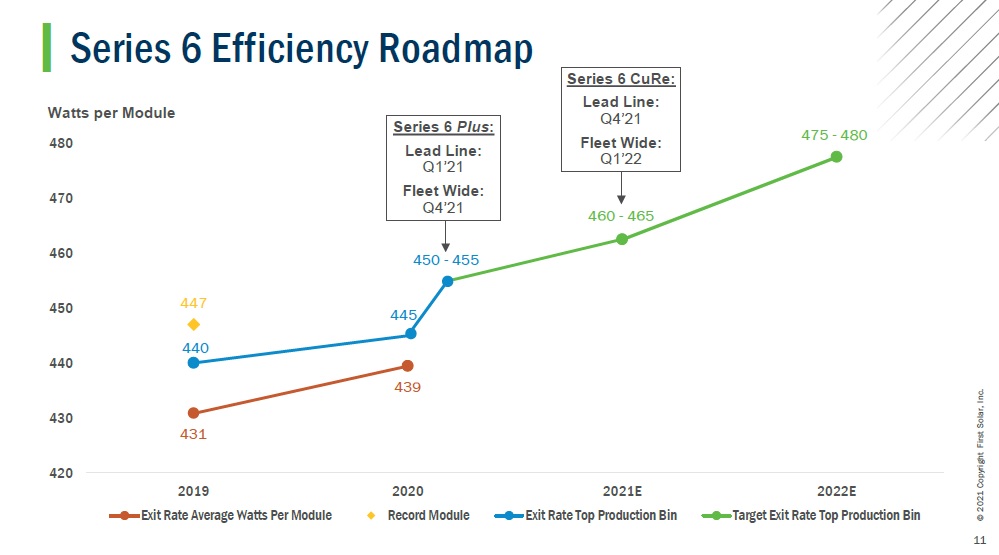 "Finally, we continue to focus on advanced research and development under evaluating the potential to move beyond a single junction device and leverage the high-band gap advantages of CdTe in a multi-junction device. A multi-junction device has the potential to be disruptive high efficiency, low cost module within advantage energy generation profile. Well, the evaluation for this technology is in early development, we are aiming to utilize many of the product enhancements in our existing CdTe roadmap," concluded Widmar.
As p-type mono PERC technologies near conversion efficiency limits from cost competitive production processes, silicon-based PV manufacturers are increasingly focusing R&D and pilot line projects on TOPcon, Heterojunction (HJT) and IBC cell technologies. Also in the mix is tandem junction cells featuring HJT and perovskites pushing conversion efficiencies well beyond 25%.
Increasingly, First Solar's competitive position is being challenged by large-area bifacial modules, not just because of the increased yield over monofacial silicon-based modules but also the energy yield profile that is more in line with Series 6 modules.
As far as CuRe CdTe conversion efficiencies, a NREL and First Solar white paper in 2019 detailed the achievements in reaching cell efficiencies of 20.8%, so there is clearly more to come from ongoing R&D.