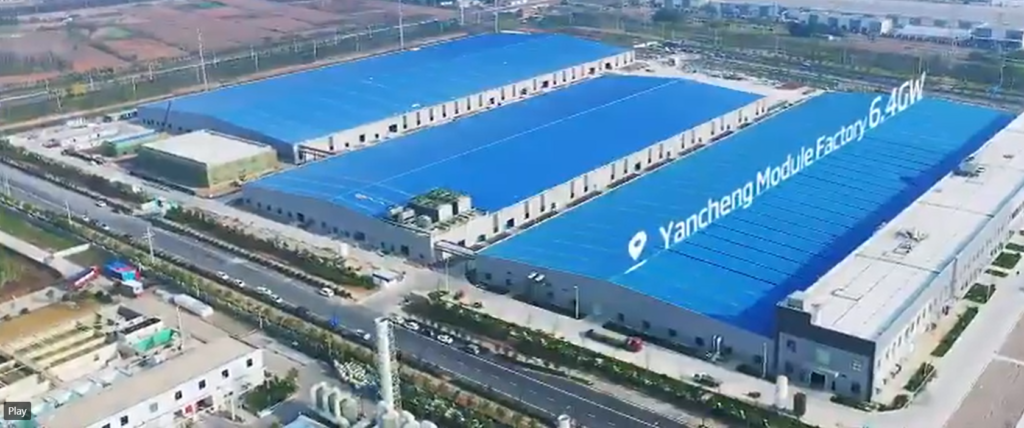 'Solar Module Super League' (SMSL) member JA Solar expects to be operating 40GW of module assembly capacity by the end of 2021.
The manufacturer made a number of capacity expansion announcements in 2020, spread across ingot/wafer, solar cell and module assembly, while a further three expansions are planned for the first three quarters of 2021.
JA Solar is one of the only highly integrated PV manufacturers, having closely balanced in-house nameplate capacity across the three key manufacturing process segments.
In 2020, JA Solar announced over 50GW of ingot/wafer expansion plans. Those included existing facility upgrades that added up to over 10GW of capacity, and major new projects including Qujing Phase II (20GW) of both ingot and wafer capacity and the Baotou Phase III project, which is to add a further 20GW of ingot and wafer capacity.
The major expansions are all multi-year projects. A case in point is the 20GW Baotou Phase III project, which was initially announced in December 2020. Plans were approved by the company's board of directors for an investment of RMB5.024 billion (US$765 million) at the end of February 2021. The project is expected to take two years to complete.
JA Solar also announced around 25.5GW of solar cell capacity expansions in 2020. These included a 3.5GW cell expansion in Vietnam in September 2020.
Major cell projects included Yiwu Phase I (10GW) and Yiwu Phase II (10GW), both of which were announced in the first quarter of 2020 and approved for investment by the company in early March 2020. The total investment planned for these expansions is RMB10.2 billion (US$1.55 billion).
However, the construction timelines of these projects would be completed within a five year period.
As far as module assembly capacity expansions are concerned, JA Solar announced around 27.7GW of new projects over five separate announcements.
Major projects included the Yiwu Phase I (5GW) and Yiwu Phase II (5GW) expansions, unveiled in the first quarter of 2020, as well as the Yangzhou (6GW) project which was confirmed in December 2020. The company also announced a 3.5GW expansion of module assembly capacity at its plant in Vietnam.
However, in early 2021, JA Solar approved a total Yangzhou project expansion of 10GW, an upgrade compared to the initial plans of a 6GW expansion. Then, in March 2021, JA Solar announced its largest single module assembly capacity expansion of 20GW in Qidong City, Jiangsu province.
As a result, JA Solar has announced module assembly expansion plans of at least 51.7GW in the last 15 months.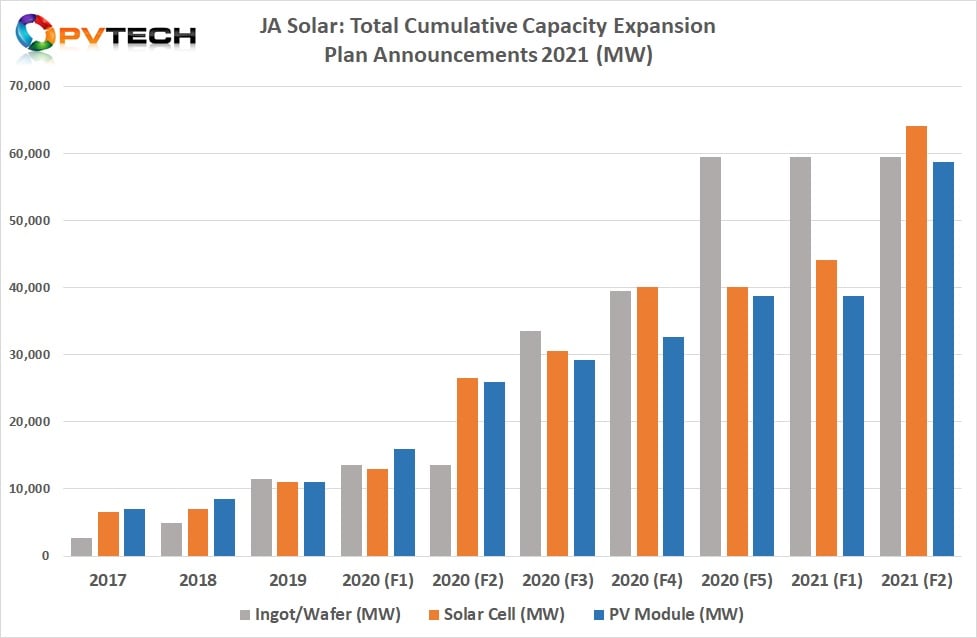 Nameplate capacity update
Tracking PV companies' capacity expansion announcements is not without its challenges, not least in how initial plans can be later ratified for investment at higher capacity levels.
Public companies are increasingly turning to raising funds for projects via bonds and these can be difficult to correlate to previous expansion announcements as they can include partial project fund raising as well as non-manufacturing investments, such as PV power plant projects.
However, JA Solar's previous statements put ingot/wafer, solar cell and module assembly nameplate capacity level at around 11GW each at the end of 2019.
In 2020, JA Solar could (in simple terms) have almost doubled capacity across those three manufacturing segments. This would mean JA Solar could have a nameplate capacity of 20GW to 22GW, across the three segments. Obtaining a definitive figure may take some time as the company's just announced 2020 annual report is all of 251 pages.
Helping certify that is the confirmation in JA Solar's latest annual report that PV module shipments topped 15.88GW in 2020, compared to 10.26GW in 2019.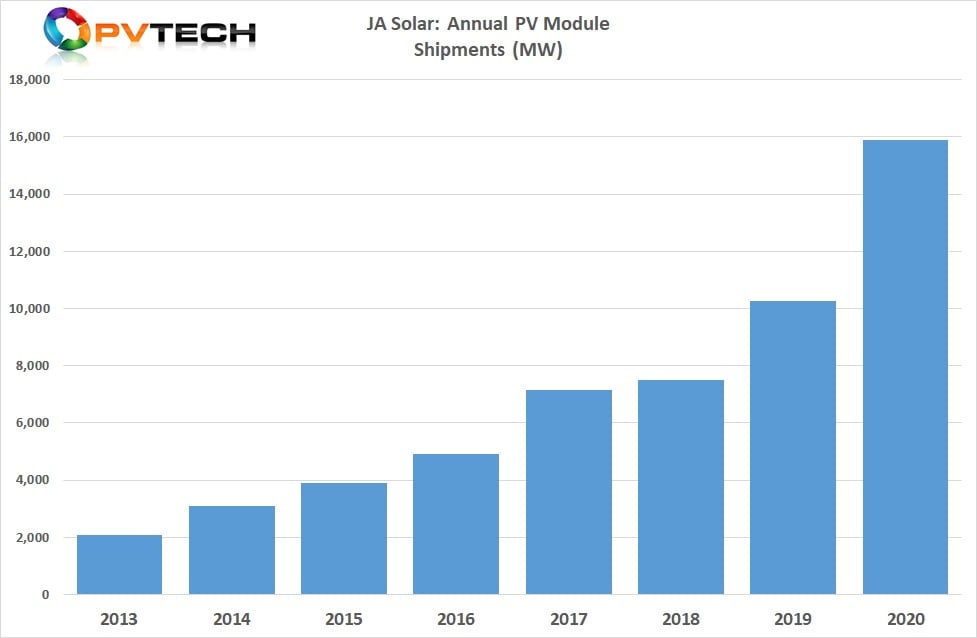 The company also guided module assembly nameplate capacity would reach 40GW by the end of 2021, while ingot/wafer and solar cell nameplate capacity would be roughly 80% (32GW) of the 40GW of module assembly capacity.
Clearly, there is a significant leap in module assembly capacity planned for 2021, compared with PV module shipments in 2020 that increased by over 5GW, year-on-year, reaching almost 16GW.
JA Solar has not yet guided PV module shipments for 2021, but further strong growth is expected, and this is supported by recent market forecasters expecting global PV demand to be over 180GW this year.
SMSL members have also been gaining market share over much smaller rivals in recent years as bankability factors, coupled to significant economies of scale, have proved to be a huge competitive advantage, not least in module average selling prices (ASPs) being at a small premium, while manufacturing costs are the lowest in the industry.
JA Solar's target of 40GW of module assembly capacity being reached by the end of the year means greater attention will be paid to its module shipments data, not least because utilisation rates could be very low, which would in turn have a negative impact on manufacturing costs.
Of course, almost doubling module shipments to around 30GW in 2021 would basically offset that happening for JA Solar.