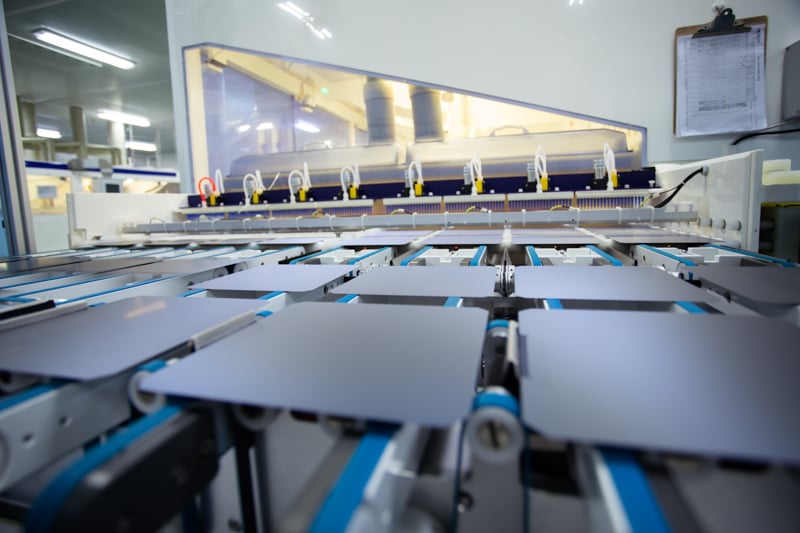 Solar manufacturer LONGi Green Energy started the year by announcing an important capacity expansion plan and signing cooperation contracts for 100GW mono wafers and 50GW of cells.
On January 17, LONGi Green Energy said that according to the company's business strategy and capacity planning, it had signed investment cooperation agreements with authorities in China's Shaanxi Province. The company reached deals to invest and construct an annual output of 100GW mono wafer and an annual output of 50GW mono cell projects in Xixian New Area of Shaanxi Province.
The project will be constructed and put into production in phases, taking about 18 months in total. According to the agreement, the construction time of each phase shall not exceed six months and be put into production within 24 months, starting from the date when relevant parties of each phase sign all the project transition documents.
LONGi's grand capacity expansion instantly attracted industry attention and speculation. Its chosen location for the installation is not necessarily the best choice for such large-scale expansion. After all, Inner Mongolia, Yunnan and other regions with relatively cheap electricity prices are more attractive for large manufacturing sites.
LONGi said the investment agreements are in line with its future capacity planning, will help the company to give full play to its technology and product advantages, further enhance its capacity scale and improve its market competitiveness.
The new 100GW silicon wafer and 50GW cell project at least will make it much superior than its peers in terms of cost. Previously, LONGi announced the capacity expansion from 15GW to 29GW for its Xi'an project in Shaanxi Province, where the cell technology will be imported into the company's independently developed hybrid passivated back contact (HPBC) cell technology.
With the original 14GW and additional HPBC cell capacity, the two expansions combined add up to 100GW wafers and 64GW cells, achieving a great leap forward for LONGi's PV production in Xi'an.
According to an official announcement, by the end of 2021 LONGi's silicon wafer production capacity was 105GW and cell capacity was 37GW. Projections by the end of 2022 showed that LONGi's wafer capacity would reach 150GW, cell capacity would reach 60GW and mono module capacity would reach 85GW.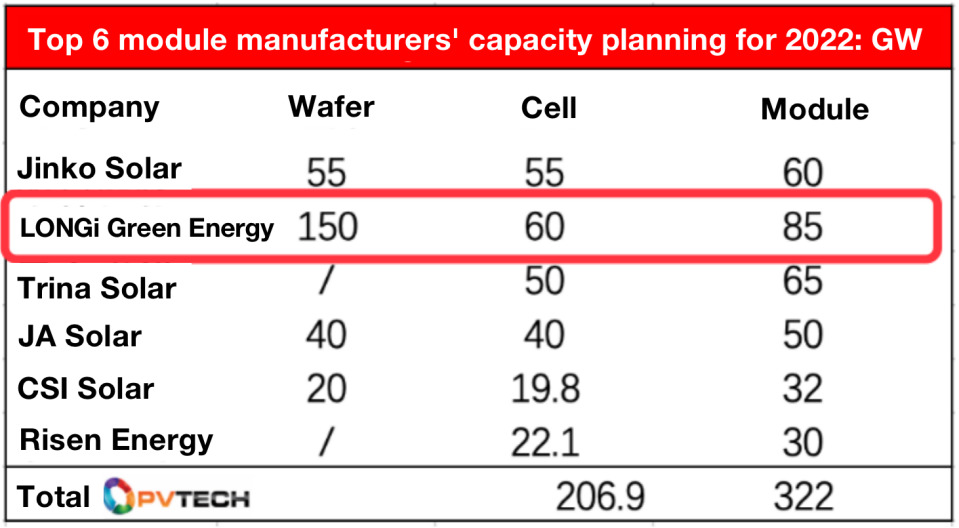 If LONGi's officially announced capacity in January will be fully implemented, it will become the largest production expansion of the company so far, agitating the entire PV industry.
Given that the PV industry has seen new manufacturers aim to gain more of a foothold in the last year, the expansion could be seen as a move by LONGi to expand its advantages.
In the silicon wafer segment, LONGi's rivals include TCL Zhonghuan, Gaojing and Shangji Automation, but the company also faces price control from leading silicon material manufacturers in the upstream.
In the past year, the price competition between the upstream and downstream of the PV industry chain has been fierce, with constant disputes over wafers.
Wafer prices fell sharply in the fourth quarter. Rumours of destocking excessive inventory spread and wafer companies have greatly cut prices. On the other hand, there were huge capacity expansions and manufacturing competition has intensified.
On 17 January, the wafer prices of a leading manufacturer in China jumped up sharply again, with 182mm wafers rising to RMB4.45 (US$0.656) per piece and 210mm wafers jumping to RMB5.8 per piece. Frequent and unexpected price fluctuations may have been manipulated by the top players.
For modules, although LONGi's product shipments remained top of the ranking in the last two years, from this year's shipment data there was a smaller gap among the leading four manufacturers, especially for the top three, which were all above 40GW. With the gap narrowed from a dozen gigawatts to just several gigawatts, LONGi's advantage is being squeezed.