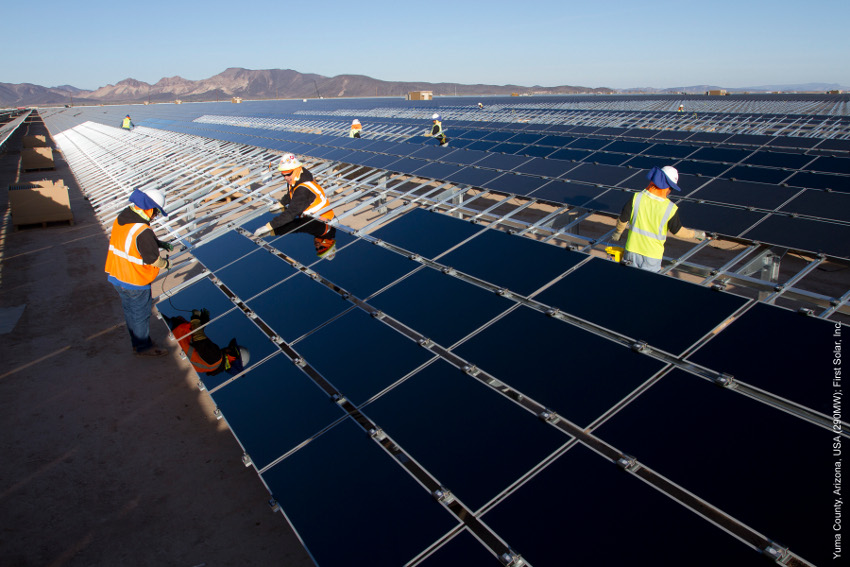 The expected ITC extension will open the door to utility-scale solar below four cents per kWh, according to GTM's vice president of research Shayle Kann.
Speaking to PV Tech, Kann said the momentum of solar procurement outside of renewable portfolio standards will now continue apace.
"What's interesting about the extension for utility-scale, is what it does to this trend we had seen in the past 18 months, of significant procurement outside of mandates. Now that will just be extended. You can easily imagine that PPAs for utility-scale solar are going to start being regularly signed below four cents a kWh and below," he said.
So far this price level has been a freak result rather than the norm.
Legislation has been passed to Congress that would keep the 30% rate till 2019 before falling to 26% the following year and 22% in 2021 before remaining permanently at 10% thereafter. The new deadlines will only require projects to have commenced construction, not to have been grid-connected as is currently the case.
"With a 30% ITC extension you have a lot of states for which solar is going to be the most economic option for utilities looking to procure any kind of new generation. You have places like the mountain states, which have some pretty aggressive Clean Power Plan targets, you could see a lot of demand in those states, Montana, Utah, the Dakotas. Some of the south east states too where we have already seen meaningful procurement, you could see that picking up substantially now," said Kann.
Since speaking to PV Tech, GTM has since released preliminary new forecast for US demand predicting a 54% uptick till 2020 compared to the no extension scenario.
"The ITC extension currently written into the omnibus spending bill will result in a 20GW annual solar market in the US by 2020," said Kann in a press statement released alongside the figures. "At that rate, more solar will be installed each year than was added to the grid cumulatively through 2014."