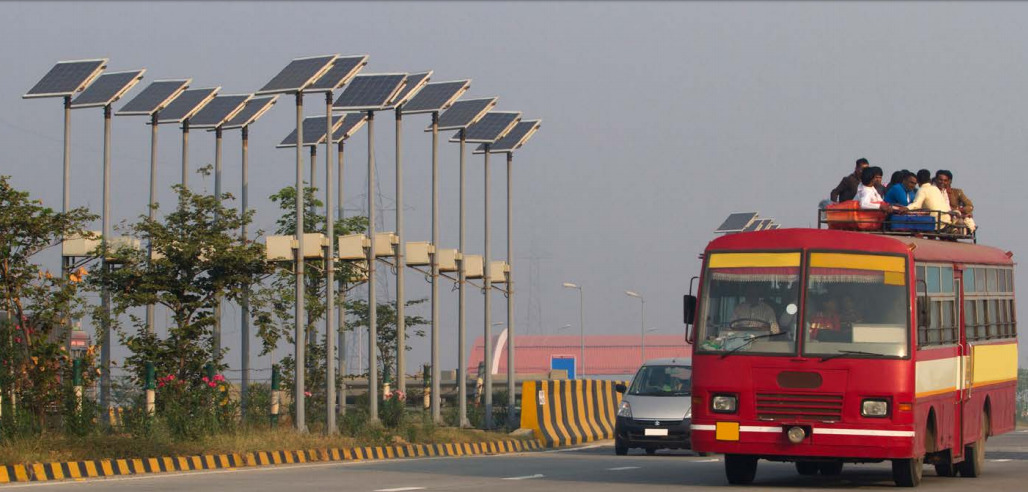 It now makes economic sense for most corporates in India to look for a cheaper source of power, particularly through renewable energy, according to a new report from The World Business Council for Sustainable Development (WBCSD).
India is expected to add significant levels of power capacity in coming years and much of this demand is likely to come from businesses, so with the cost of renewables decreasing, commercial and industrial (C&I) consumers can tap renewable electricity to reduce their expenses from using grid power.
The 'Accelerating corporate procurement of renewable energy in India' report seeks to inform C&I consumers about the various hurdles and opportunities of corporate power purchase agreements (PPAs), open access renewable energy consumption, and how to get financing.
Jasmeet Khurana, manager, REmobility, WBCSD, told PV Tech that when looking at individual states in India, one obvious factor to take acocunt of is the grid tariff versus the landed solar tariff for C&I consumers, because this shows potential savings, as shwon in the table below: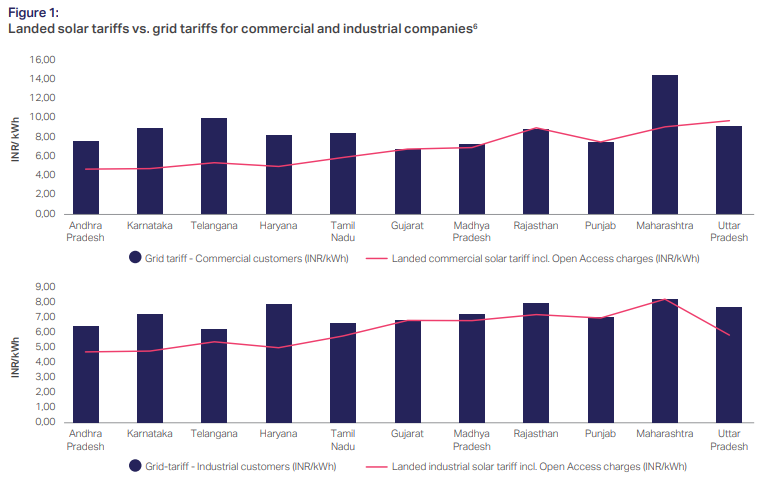 However, more important is ease of access to the grid and the cost of that access in each state.
Khurana said: "States which have waived off some of these charges and have an easier process to get open access approval are the ones that you want to focus on initially, because that makes sense from an ease of doing business perspective but also economic perspective."
He listed Telangana, Andhra Pradesh, Karnataka as states where some charges have been waived off.
According the report, Maharashtra's commercial power tariffs are particularly high compared to potential renewable energy tariffs. Khurana said every geography has its unique power costs. Hilly states tend to have cheap power due to an abundance of hydroelectricity, Eastern states have a lot of thermal plants so they also have slightly cheaper power, while Maharashtra has had higher costs of procurement since its utility, Mahagenco, is one of the only Indian utilities making a profit off its power sold.
Choosing the right developer for C&I projects is also important as in the past there have been cases of parties negotiating contracts, only for the developer to be unable to raise finance and the projects could not go through, added Khurana.
The report also looks at regulations like net metering, open access, PPA parameters, operational challenges as well as projected costs of solar systems in the future: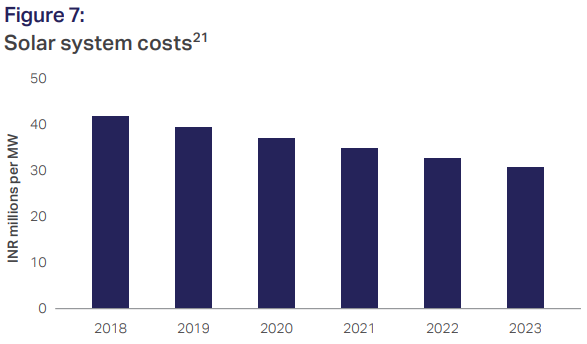 "The right use of PPA mechanisms can enable companies – from small and medium enterprises to major energy-intensive corporations – to improve their competitiveness and sustainability by purchasing cost-effective renewable energy," said Milagros Rivas Saiz, manager at IFC Cross Industry Advisory. "PPAs in India have proven to be successful thus far with 1.8GW of solar PPAs in place by the end of 2017, but challenges remain in further increasing such efforts."