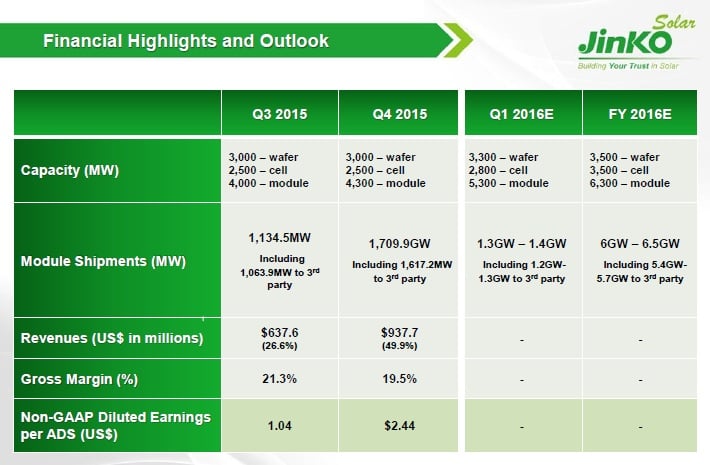 'Silicon Module Super League' (SMSL) member JinkoSolar is adding 1GW of solar module capacity per quarter through to the end of the first-half of 2016 to meet the 'minimum' expected demand for its products.
Comments by management and presentation materials for its fourth quarter earnings call highlight the continued rate of capacity expansions and overall rate of business growth JinkoSolar and other SMSL members can be expected to achieve in 2016.
Capacity added in 2016
JinkoSolar noted that it would be adding 300MW of wafer capacity in the first quarter of 2016, followed by a further 200MW in the second quarter, taking nameplate in-house wafer capacity from 3GW at the end of 2015 to 3.5GW by the end of the first half of 2016.
Solar cell capacity, JinkoSolar's weakest link with respect to in-house nameplate capacity is planned to be expanded by 200MW in the first quarter of 2016 and by a further 700MW by the end of the second quarter of 2016. Total nameplate capacity by mid-year is expected to reach 3.5GW, up 900MW from 2.5GW at the end of 2015.
Not surprisingly, the company is expanding module assembly to much higher levels than wafer and cell combined.
JinkoSolar is adding 1GW of nameplate module capacity in the first quarter of 2016, and a further 1GW by the end of the second quarter of 2016. The company plans to reach 6.3GW of nameplate module capacity by the end of the first half of the year, up from 4.3GW at the end of 2015.
It should be noted that JinkoSolar management treated these capacity expansions as the 'minimum' required to meet expected demand in 2016. The company guided total module shipments in 2016 to be in the range of 6GW to 6.5GW.
PV Tech's initial analysis of these planned expansions and production ramp rates, indicate that the company could be purchasing over 3GW of third-party solar cells in 2016 and more than 1GW of third-party modules to meet shipment guidance this year.
In the earnings call management were reluctant to provide financial analysts with clear details regarding where the capacity expansions were being undertaken. In its third quarter earnings call, management guided 500MW of solar cell capacity expansions, noting that it would confirm at a later date whether the expansions were planned in China or at its new manufacturing hub in Malaysia. The company said the same in its latest earnings call about the new expansions.
US shipment momentum
JinkoSolar noted in the call that it had achieved over 1GW of module shipments to the US in 2015, exceeding guidance of 800MW to 900MW, and guided expected shipments to the US in 2016 of 1.5GW.
The company noted that gross margins on US destined PV module if produced at its Malaysian plant would be in excess of 30%. Indeed the high level of module shipments to the US in the second-half of 2015 impacted overall margins for the company.
Therefore, despite any details on where the solar cell and module capacity expansions are taking place, Malaysia would be deemed an obvious choice for at least a further 500MW of cell and module capacity expansion within the first half of 2016, avoiding up-front anti-dumping duties on potentially two thirds of guided shipments for the year.
JinkoSolar has been highly frugal with capex in 2015, notching-up spending of only US$121 million for expansions as these were dominated by module assembly. However, with 900MW of cell capacity to be added, capex in 2016 should be around double 2015 levels. Surprisingly, no financial analyst on the latest earnings call asked about capex spend in 2016, despite the significant expansions overall.
As an SMSL member, JinkoSolar is further extending its production capacity to meet demand and outpace global market growth levels for the third consecutive year. Other leading SMSL members are expected to follow.