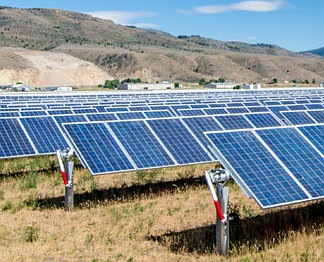 As part of its goal of utilising 100% of renewable energy by 2025, health-care company Kaiser Permanente celebrated the opening of the Blythe Solar Energy Center in Riverside County, California — which will help Kaiser cut its greenhouse gas emissions by more than 15%.
Kaiser Permanente allowed the construction of the energy center as part of a 20-year agreement with the installation's owner and operator — NextEra Energy Resources. Due to the agreement, Kaiser Permanente is expected to purchase 110MW worth of green energy from the site, which stands as the equivalent of powering more than 50,000 homes.
Kathy Gerwig, Kaiser Permanente's environmental stewardship officer, said: "Climate change is inextricably linked to the health of our communities. Increased rates of asthma and other lung ailments, economically crippling droughts and the trauma of extreme weather events are some examples of the impacts we're already seeing. As a health care provider, we must be a leader in eliminating practices that can negatively impact environmental and human health."
The 110MW of renewable energy Kaiser Permanente is purchasing from the Blythe Solar Energy Center will prevent more than 140,000 tonnes of carbon dioxide emissions from being released into the atmosphere annually.
Ramé Hemstreet, chief sustainable resources officer for Kaiser Permanente, added: "This solar energy project is a tangible example of our commitment to the total health of the communities we serve. Climate change is already impacting the health of our members. By greening our energy supply, we reduce our contribution to the greenhouse gases that cause climate change."