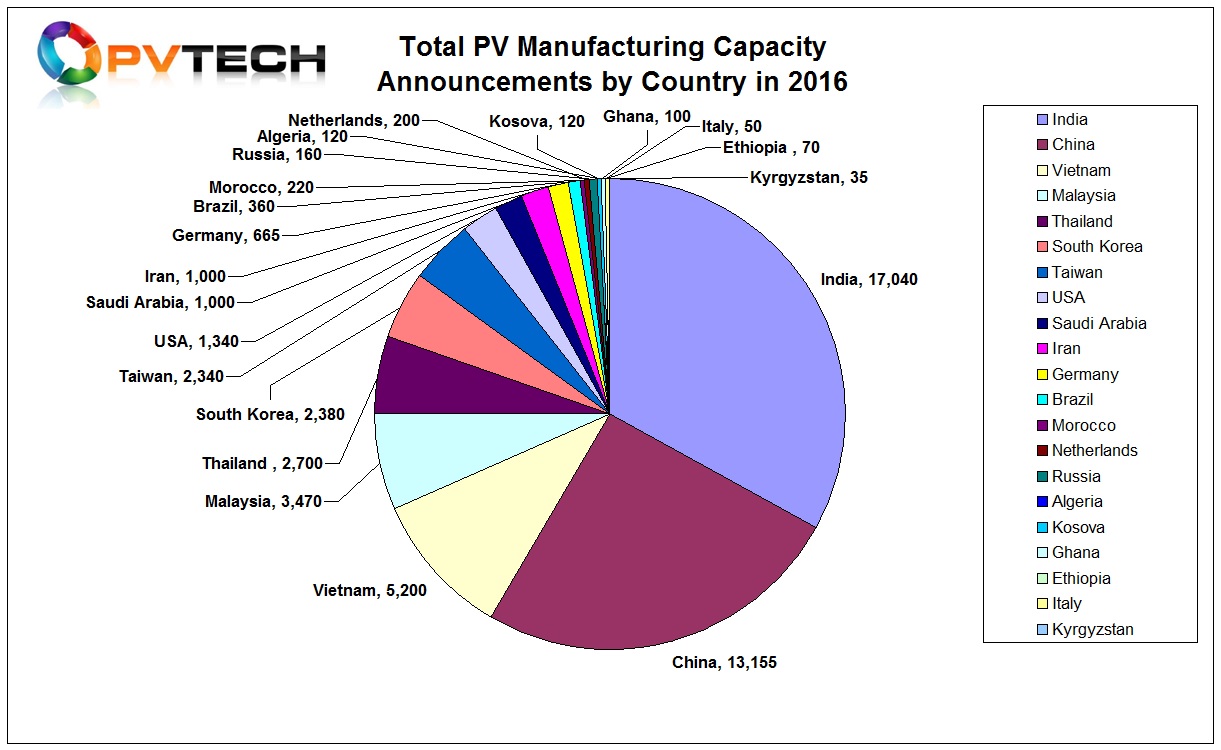 As part of PV Tech's ongoing analysis of global PV manufacturing capacity expansion announcements, an important aspect remains the ever evolving geographical footprint of the upstream market of dedicated solar cell, module assembly, thin film and c-Si integrated facilities.
Asia has continued to dominate planned new PV manufacturing capacity expansions in 2016. The top seven countries (India, China, Vietnam, Malaysia, Thailand, South Korea and Taiwan) are all in Asia and accounted for around 46.2GW of new production plans from a total of around 49.2GW, globally or almost 94%.
Capacity expansions were announced in 21 countries in 2016, compared to 20 countries in 2015. However, the concentration of announcements in Asia has increased as Asia accounted for the top five selected destinations in 2015.
India surpassed China for the first time in 2016, accounting for just over 17GW of total announcements. New capacity plans in India increased by around 118%, compared with 2015.
However, the disparity between announcements and 'effective' capacity in India remain significantly high with much of the 7.8GW of announcements made in India in 2015, still unrealised into effective manufacturing capacity.
Capacity expansion announcements in China have slowed slightly in the last two years. Having peaked in 2014 at over 19GW, announcements fell to around 17.5GW in 2015 and topped 17GW in 2016.
Basically all of the 2016 announcements in China were made in the first half of 2016 with less than 50MW announced in the second half of the year. This is in contrast to 2015 when the majority of announcements were made in the second half of the year, providing over 34GW of announcements in a straight 12 month period.
However, China-based companies did not stop making announcements altogether in these periods of non-activity in China. Instead, plans were being announced by Chinese manufacturers for production plants outside China, predominantly in Vietnam, Malaysia and Thailand.
Perhaps the surprise location for capacity expansion announcements in 2016 was Vietnam which totalled almost 4GW, driven by some of the leading Chinese PV manufacturers such as JA Solar, Trina Solar, Canadian Solar and GCL System (GCLS).
Strong competition between Malaysia and Thailand as a major destination for PV manufacturing in Asia continued in 2016. Thailand (2.2GW) just topped Malaysia (2.1GW) in 2015, while the positions were reversed in 2016 with Malaysia attracting nearly 2.9GW of new capacity plans and Thailand 2.7GW.
The two other Asia countries accounting for the major share of announcements in 2016 was South Korea and Taiwan, both with over 2.3GW of expansion plans.
Despite the continued decline in the European downstream market, new PV manufacturing capacity plans are still being announced.
In 2016, European Union member countries announced just of 900MW of planned expansions, which included the acquisition and re-start of solar cell production by Trina Solar at the former Solland Solar facility in the Netherlands.
Within the EU, Germany remained the key destination with over 650MW of primarily re-instated module assembly capacity but significantly below the near 1,500MW announced in 2015.
Overall, European capacity expansions announcements reached around 1,200MW in 2016, down from over 1,700MW in 2015.
Although Latin America is becoming a key emerging downstream market, manufacturing announcements remain limited in both number and scale, compared to emerging markets such as India.
In 2016, only Brazil announced new manufacturing capacity (360MW) plans, compared to nearly 1,200MW in 2015. However, very few plans from 2015 materialised into effective capacity in 2016, yet indications are that some of the plans previously announced could materialise in 2017.
Other emerging markets such as MENA are also starting from scratch. In 2015, around 150MW of initial module assembly plans were announced in Egypt only. However, 2016 indicated over 2,300MW of manufacturing plans were being considered in the MENA region. The bulk of this comes from two 1,000MW planned facilities in Saudi Arabia and Iran. However, less ambitious plans exist in Morocco (220MW) and Algeria (120MW).
The vast majority of capacity expansion announcements in 2016 that have either been converted to effective capacity or are expected to become effective capacity in 2016 are located in China, Vietnam, Malaysia, Thailand, South Korea and Taiwan.
Although expansion announcements in India have been significant in both 2015 and 2016, many remain highly speculative at this time. However, with plans previously announced by the likes of Adani now becoming effective capacity, 2017 should see further conversions as the downstream market matures in India.
Outside of the seven key Asia countries, both Europe and the US expansion plans have a high probability of becoming effective capacity in 2017. A key measure will be the eventual manufacturing ramp at the Tesla/SolarCity/Panasonic facility this year.
With only around 7,600MW of new capacity expansions announced in the second half of 2016, compared to over 47,500MW in the first half of the year, due to renewed fears of a new cycle of industry overcapacity, a period of digestion, restructuring and consolidation looks underway.
On a geographical basis the emphasis in 2017 may turn to emerging markets and companies establishing local manufacturing albeit at small-scale capacity levels. However, as seen already in late 2016, manufacturing curtailment has already started and previous announced expansion plans being put on hold or cancelled outright may become the norm, regardless of location.