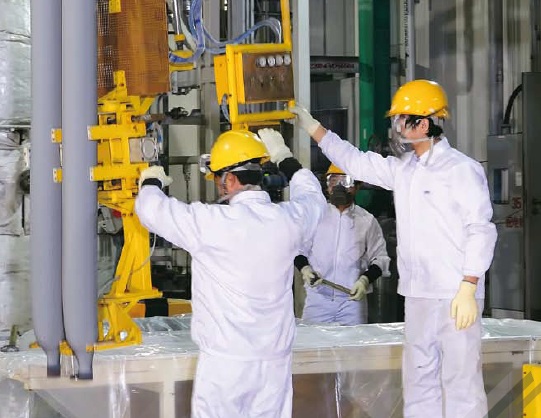 Former China-based integrated PV manufacturer LDK Solar, which entered liquidation proceedings in the Cayman Islands and bankruptcy in mainland China has resulted in major creditor losses and its wafer and cell production operations being acquired.
The Cayman Islands registered LDK Solar entity previously entered bankruptcy proceedings in early 2014 after failing to repay a US convertible bond. After a lengthy restructuring the company exited insolvency proceedings in April, 2015 only to be liquidated a few months later and its China-based operations filed for restructuring proceedings with total liabilities of around US$5.2 billion and a deficit of over US$2.4 billion (as per 1H 2015), when the last financial statements were published.
The company had short-term borrowings, primarily with Chinese banks of over US$2.7 billion of which over US$1.4 billion had been outstanding as of June 30, 2015.
Although Chinese banks are expected to have taken the largest hit in respect to the collapse, Kin-Ming Cheng, the owner of investment firm Fulai and major shareholder of Shunfeng International Clean Energy (SFCE) had also been an investor in LDK Solar's China operations.
Creditors were said to expect to lose around 80% of their investments in the company.
However, instead of the expected acquisition of LDK Solar's assets, which included two idled polysilicon plants, wafer (4GW) and module assembly (1.5GW) capacity by SFCE, its wafer and module assets have be acquired by Henan Yicheng New Energy Co, which is a major supplier of wafer cutting materials.
SFCE recently announced that it was seeking to sell its solar PV manufacturing operations (Wuxi Suntech) to major shareholder Kin Ming Cheng for around RMB 5 billion (US$760 million).
During LDK Solar's restructuring several other potential buyers were identified, which included GCL and JinkoSolar as well as former LDK founder, Peng Xiaofeng and chairmen of PV project developer, SPI Energy a former subsidiary of LDK Solar and separately listed on NASDAQ.
It is not clear what the plans are for LDK Solar's manufacturing operations under publically listed Yicheng New Energy and it remains unclear whether LDK Solar's idled polysilicon plants would secure a buyer.