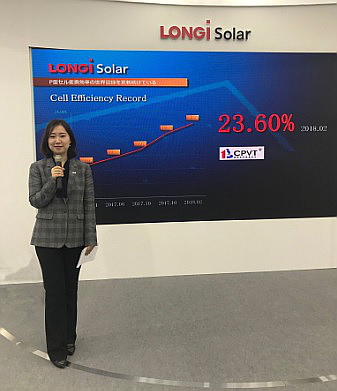 'Silicon Module Super League' (SMSL) member LONGi Solar, a subsidiary of LONGI Green Energy Technology, has hit 23.6% conversion efficiency with its P-type monocrystalline passivated emitter rear cell (PERC) solar cells – a new industry record.
The results were certified by China's National Center of Supervision and Inspection on Solar Photovoltaic Product Quality (CPVT).
An increasing number of manufacturers worldwide are migrating towards toward higher efficiency mono PERC cells.
Dr. Li Hua, vice president of research and development at LONGi Solar, said: "Since October 2017, LONGi Solar has broken the world record three times in terms of conversion efficiency of monocrystalline solar cells. The company achieved a new world record of 23.6% in efficiency at the beginning of 2018, after having announced on October 27, 2017 that it had reached a world record of 23.26%, exceeding the highest efficiency that industry analysts believe PERC cells can achieve. This achievement is another testament to LONGi Solar's leading technology in monocrystalline cells."
"LONGi Solar's plans are to continue to invest heavily in monocrystalline PERC cells, to quickly expand production to meet the increasing demand for high-efficiency cells and to achieve the mass production of cells with a conversion efficiency exceeding 22%, delivering more value to its customers," stated LONGi Solar president Li Wenxue.
Last December, LONGi also reported a record bifaciality reading of 82.15% for its 'Hi-MO2' mono PERC (Passivated Emitter Rear Cell) bifacial module. Meanwhile, the firm has also set a strategic plan to triple monocrystalline ingot and wafer capacity to 45GW in 2020.