Leading fully-integrated high-efficiency monocrystalline module manufacturer LONGi Green Energy Technology recently reported record total shipments and revenue for 2016, making it the fastest growing PV manufacturer in the industry.
Ahead of releasing full-year 2016 financial results, LONGi Green Energy Technology (formerly Xi'an LONGi Silicon Materials Co), which includes its solar cell and module manufacturing subsidiary, LONGi Solar (formerly LERRI Solar) undertook a major rebranding exercise that was intended to bring both its historical monocrystalline silicon ingot and wafer operations and previously acquired cell and module operations (LERRI, in 2014) under the LONGi name, as well as position the parent company as a 'green energy' business, reflecting the move downstream to also build PV power plants.
LONGi has come a long way very quickly. Annual revenue in 2013, which came solely from selling mono c-Si wafers was around US$330 million but skyrocketed to approximately US$1.67 billion in 2016, almost a 94% increase over the previous year, which had itself generated a revenue growth of around 61%.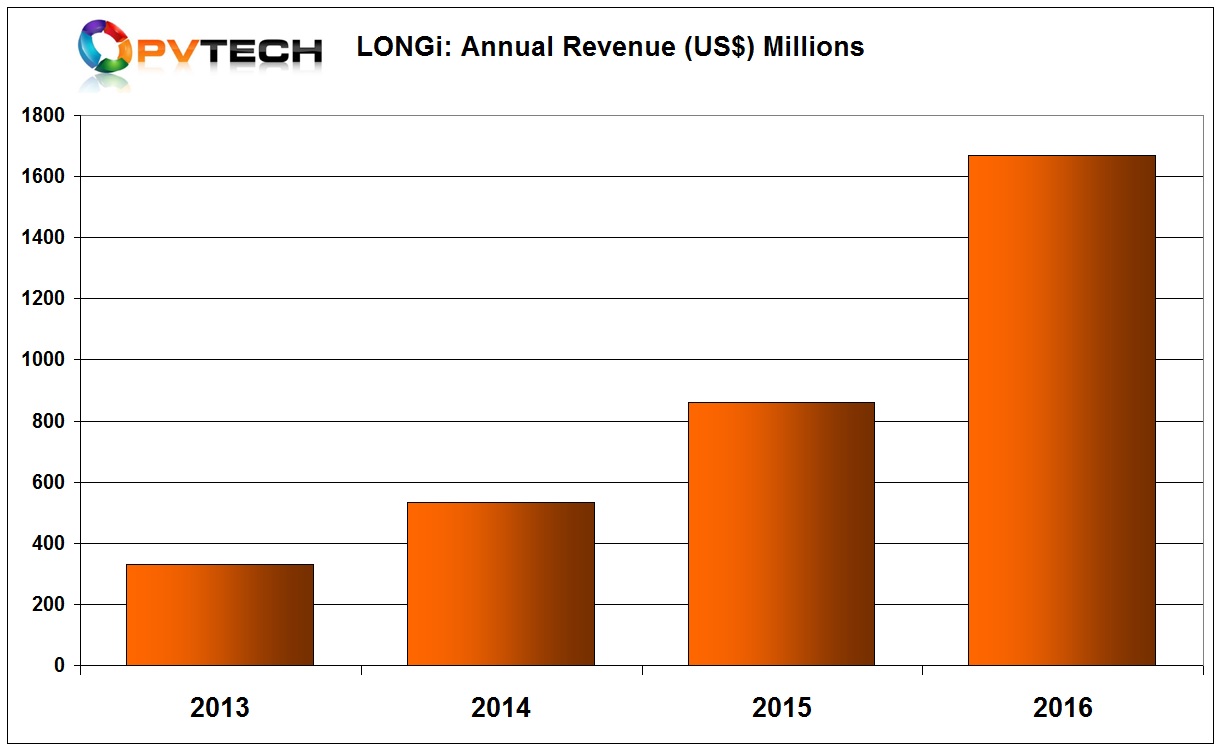 The significant increase was due to aggressive capacity expansion at the ingot/wafer, cell and module segments that were perfectly timed with China's downstream end-market growth that resulted in 34.54GW being installed in the country in 2016.
So far the majority of mono wafer sales are both in-house to LONGi Solar and other China-based cell/module producers, while modules are also primarily used in in-house downstream projects and supplied to downstream project developers in China.
However, given LONGi's growth and position as the largest dedicated fully-integrated mono PV manufacturer, ambitions also rely on rapid overseas expansion.
Such has been the rapid transformation and sales success in the high-efficiency mono module segment that module sales reached RMB5.70 billion (US$826.4 million) in 2016, surpassing wafer sales of RMB5.07 billion (US$724.9 million), for the first time.
LONGi also posted a net profit of RMB1.547 billion (US$224.3 million, a significant increase of 197.36% from 2015. The company also reported a consolidated gross profit margin of 27.48%, up 7.11 percentage points from the previous year.
LONGi said its module business gross margin in 2016 was 27.2%, compared to a 28.16% margin for its wafer business. It would seem that LONGi's integrated and dedicated mono manufacturing approach has resulted in achieving the highest module margins in the industry in 2016, despite industry ASP declines of around 30% last year.
Mono c-Si wafer volume shipments topped 1.518 billion pieces (6.4GW approx), which included in-house consumption volume of 529 million pieces and 989 million pieces of external sales.
Total mono c-Si module shipments were 2,340.8MW in 2016, which included external shipments of 1,847.45MW. Total shipments increased by nearly 98%, compared to around 900MW of shipments in 2015.
PV Tech's analysis of leading PV module manufacturers' guided shipments for 2016 puts the average growth rate in the 30% range, while leading Silicon Module Super League (SMSL) member Jinko Solar reported 6.65GW of module shipments in 2016, an increase of 47.5% from 4.5GW in 2015. Jinko Solar has also been on a rapid growth trajectory over the past three years with similar growth rates.
Manufacturing expansions
Fuelling the strong financials and shipment growth is the fact that LONGi has an aggressive capacity expansion plan that includes both domestic and overseas territories, intended to meet significant shifts in demand towards high-efficiency mono c-Si and mono c-Si PERC (Passivated Emitter Rear Contact) cells and modules in key markets globally.
Information was garnered from LONGi's 2016 annual report, coupled with recent meetings with Richard For and Dr Mark Song, LONGi Solar's VP global sales and marketing and VP technology management respectively, as well as presentations by Dr. Hongbin Fang, director of technical marketing at LONGi Solar and Tian Xie from LONGi Green Energy Technology at the recently held PV CellTech conference in Penang, Malaysia. This provides the most current update to the company's manufacturing and technology roadmap plans, out through 2018.
Critical to LONGi's long-term business plan is the continued expansion of P-type mono c-Si ingot/wafer capacity. Not only is this critical to its in-house cell and module expansion, but also to meet demand for the large-area (156.75mm x 156.75mm) wafers in M1 and M2 specifications from a growing number of PV manufacturers shifting capacity to mono c-Si and mono c-Si PERC production.
The company is estimated to already have around 42% of the global mono wafer market at the end of 2016 with around 7.5GW of capacity. Plans previously laid out in 2016 included multiple GW phases over several years, including two major greenfield projects that included a 5GW dedicated mono ingot facility and a 5GW combined ingot and wafer plant with plans to extend, based on market demand, to 10GW.
Ingot and wafer expansions in 2017 are impressive. After completing a 1.5GW wafer expansion in the fourth quarter of 2016, LONGi expects to add a further 1.7GW in the first quarter of 2017, followed by another 2.2GW in the second quarter of the year. In the second half of 2017, total wafer capacity is expected to be in the region of 12GW.
Initially such major plans were to be funded in-house via a variety of ways that included shares, bonds and bank loans, some of which were subsequently secured, such as the 3GW ingot wafer plant in Yinchuan, via several Chinese banks.
However, in January 2017 the company also announced that Trina Solar and Tongwei, via its polysilicon subsidiary, Sichuan Yongxiang were to form a Joint Venture (JV) to own and operate a 5GW monocrystalline silicon ingot pulling production plant in Lijiang City, Yunnan Province, previously planned by LONGi.
In financial filings LONGi said that it would retain a 60% ownership in the planned production plant, while Trina Solar would hold a 25% interest and Sichuan Yongxiang a 15% stake. The plant is expected to take more than a year to build and to start ramping sometime in 2018.
Talking with LONGi Solar's Richard For, it was clear that a strategic cooperation on such a major wafer project demonstrated the competitiveness of mono technology with multi and the need for further collaboration in the industry.
The JV also provided a captive end-user in the form of Trina Solar and lessened the dependency on LONGi's in-house demand from LONGi Solar. With demand for high-efficiency mono wafers exceeding demand, the JV would enable the new expansion to proceed earlier than previously planned and provide Trina Solar with guaranteed supply.
"We believe the mono percentage of the China market to be around 35% [versus multi] in 2017", noted Richard For. "The 35% is not because the demand is not enough to catch the supply, actually it's due to the challenges of being able to supply. Mono wafer supply is a big shortage. If mono wafer supply was available we could see as much as a fifty/fifty multi to mono installation mix."
Also in January 2017, Comtec Solar Systems Group said it planned to sell its Malaysian facility and some of the installed production equipment to LONGi. This came after LONGi had also acquired the Malaysia-based mono wafer operations of bankrupt renewables firm SunEdison in 2016. According to For, the facilities are almost next-door to each other.
"Combined, we will have 1 gigawatt of mono wafer capacity in Malaysia this year. The Comtec facility has a lot of land for expansion and will be upgraded to our large area ingot and wafer technology," added For.
Tian Xie from LONGi Green Energy Technology noted in his presentation at PV CellTech that the company believed there was a serious mono wafer shortage globally that was estimated to be around 8GW currently and could expand further due to demand in China alone for using mono modules in the 'Top Runner' program.
Xie believed that the mono market share in China was principally limited by mono wafer supply in 2017.
However, the shortages in the mono supply chain do not end at the wafer. For noted that there was also a shortage of high-quality polysilicon from China for high-efficiency mono-PERC cell production, due to purity and density requirements.
"We are seeing that China polysilicon producers are improving their poly quality, due to the demand coming for mono wafers. We have seen a big improvement there already," For continued. "We expect new entrants into poly that will specifically focus on the mono demand."
In Xie's PV CellTech presentation, he highlighted that the focus on improved quality and continued decrease in mono ingot impurities such as oxygen content enabled higher cell efficiencies, especially in next generation cell technologies.
Only days after meetings with LONGi and during PV CellTech, the company announced it would extend its recently announced mono ingot partnership with Tongwei and establish a major polysilicon plant in Leshan City using hydro electric power with a nameplate capacity of 50,000MT. Phase I of the plant would be 25,000MT with production ramp due late 2018, indicating plans were well underway ahead of the announcement.
Indeed, higher purity polysilicon requirements were behind the recent announcement that China-based polysilicon producer Daqo New Energy was experiencing a shift in the PV industry towards P-type mono wafers and cells that required upgrades at its facilities to further remove impurities and improve the quality of its polysilicon product.
"In particular, we are seeing a shift in industry trend, with rising demand and increasing manufacturing capacities for high-efficiency mono crystalline solar wafers and solar cells," Gongda Yao, CEO of Daqo New Energy said during the company's recent fourth quarter and full-year earnings call. "This has translated to increased demand for high-purity semiconductor-grade polysilicon, which only very few Chinese domestic manufacturers are able to supply.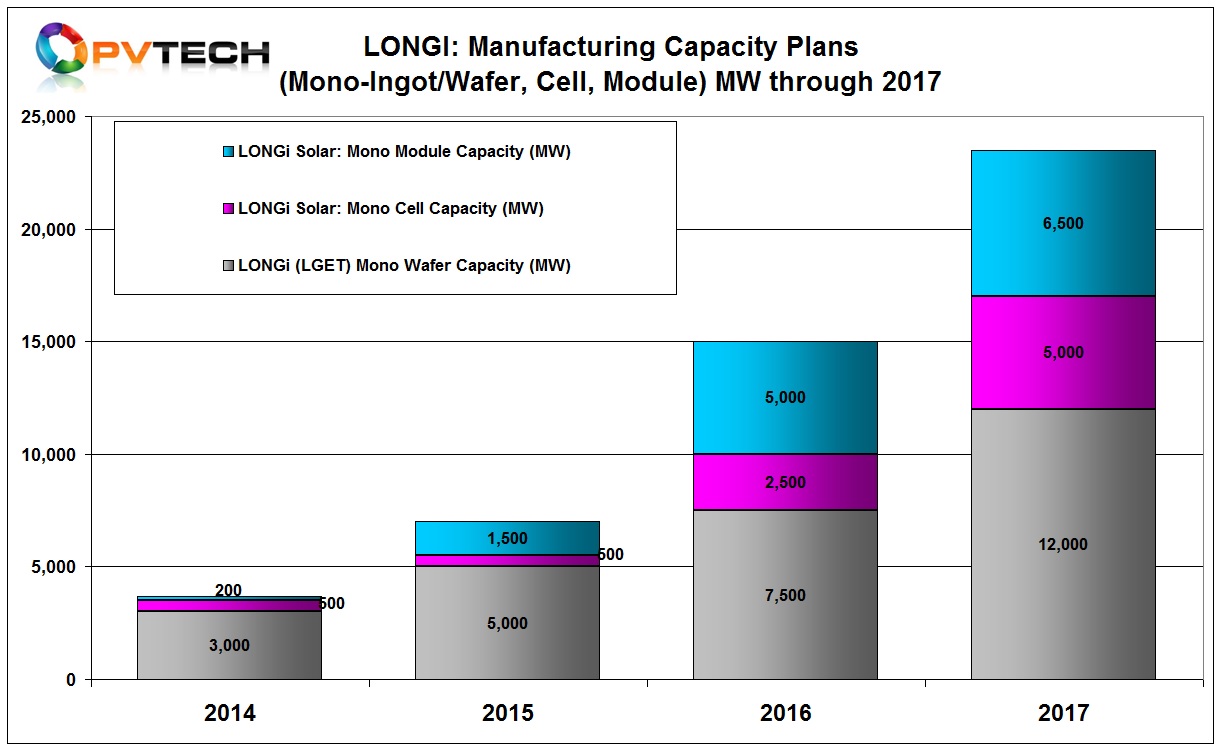 Cell and module expansions
With intense expansion activity at the polysilicon, ingot and wafer segments supported by several key partnerships, LONGi also plans to expand at the solar cell and module segments, which include overseas production.
Having reached around 2.5GW of cell capacity and 5GW of module capacity in 2016, LONGi Solar is expected to add a further 1.5GW of cell capacity in 2017. This is comprised of ongoing expansions at its 2GW nameplate mono-PERC cell facility in Taizhou, China and establishment of a 500MW solar cell and module facility in India.
LONGi's vertically integrated ingot/wafer/cell/module facility in Kuching, Malaysia, includes around 500MW of dedicated cell and module production.
At the end of 2017, LONGi expects to have approximately 4GW of mono cell production capacity in-house and 6.5GW of in-house module assembly capacity.
According to Dr. Hongbin Fang's presentation at PV CellTech, LONGi Solar had around 800MW of domestic mono-PERC cell production in 2016, achieving average cell conversion efficiencies of 21%. This would expand to around 1.4GW in 2017, with 300MW from its Malaysian facility providing total mono-PERC cell capacity of around 1.7GW. Average cell conversion efficiencies are expected to reach 21.3% in 2017.
By the end of 2018, LONGi expects mono-PERC cell capacity to reach around 5GW, with domestic capacity at 4.5GW and overseas mono-PERC cell capacity at 500MW.
The company also expects to transition to 5 busbar technology for improved cell conversion efficiencies and CTM losses that should provide a 2W gain at the module, as well as introducing half-cut cell design and shingling technology to enable a power gain of more than 5W for both mono and mono-PERC modules.
Fang also noted in his presentation that its next-generation PERC cell efficiencies had achieved an average 21.6% on LONGi's pilot line that included best cell efficiencies of 21.93%.
Of course, at the module level, LONGi has achieved 290/300Wp 60-cell module performance and is targeting 310Wp in 2017, having already demonstrated a 316Wp 60 cell mono-PERC module tested by TUV Rheinland.
With the 72-cell module configuration, LONGi achieved almost 360Wp with a mono-PERC module and is targeting >372/Wp in 2017.
Not surprisingly, LONGi is making significant financial commitments to R&D. According to its 2016 annual report, investments in R&D were around RMB 563 million (US$81.7 million), which is historically higher than the vast majority of its industry rivals. As of the end of 2016, the company had received a total of 201 patents in China.
With a shift by a growing number of PV manufacturers to embrace high-efficiency mono products to meet downstream demand, LONGi has set itself a path to become the dominant player in this field for many years to come.
LONGi guided module shipments in 2017 to be in the range of 4.3GW to 4.5GW, which would consolidate its position both as a member of the Silicon Module Super League (SMSL) and the only pure-play mono producer in the SMSL.
For LONGi, the future is purely mono.