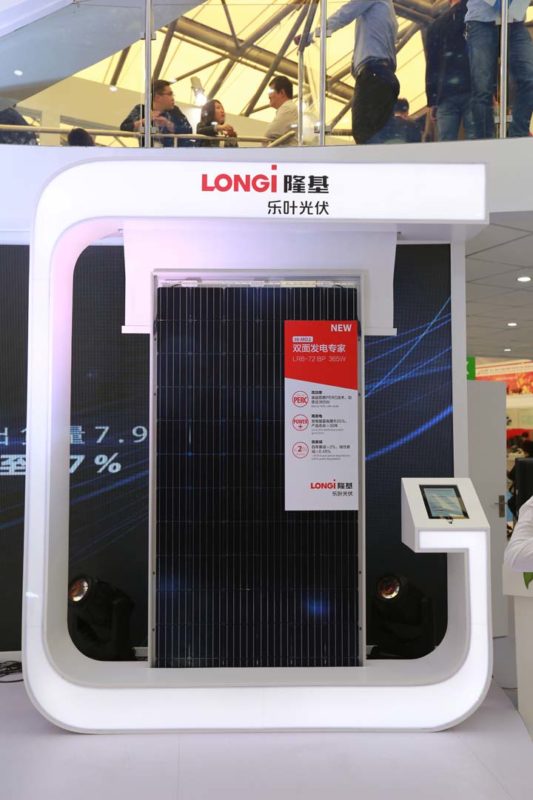 The leading mono-crystalline solar cell and module manufacturer LONGi Solar has introduced its first high-performance mono-PERC (Pasivated Emitter Rear Cell) bifacial module series that comes in both 60-cell and 72-cell configurations. LONGi Solar's 365W Hi-MO2 module has reached mass production.
Problem
Conventional mono-facial Al-BSF solar cells are reaching efficiency limitations and PERC cells provide both higher efficiencies and can be cost effectively converted to bifacial for dual glass PV modules, providing between a 10% and 30% efficiency gain by harnessing defused light on the rear side of the cell, resulting higher kWh produced electricity generation and lower levelized cost of electricity (LCOE).
Solution
Hi-MO2 extends the strengths of mono-PERC to the backside of the module, and can achieve higher power and higher energy yield without increasing costs, which will help decrease the LCOE, and bring more value for PV power plant investors. The power of the 72-cell module reaches 360-365W, while the power of the 60-cell module reaches 300-305W. The front side is equivalent to conventional PERC with cell efficiency exceeding 21%. The back side adopts a glass package, achieving bifacial light reception and power generation. Backside efficiency is no less than 75% that of the front side. The backside can increase energy yield up to 25% (varying with the design and background condition of the PV system), and can bring higher returns.
Applications
Hi-MO2 is used in large scale utility power plant, commercial rooftop, fishery-PV integrated floating power plant and other distributed PV projects.
Platform
Last year, LONGi Solar launched Hi-MO1 based on advanced PERC cell technology and mono-Si low LID solution. The Hi-MO2 developed on the basis of Hi-MO1's low LID technology and bifacial PERC technology can achieve first-year degradation of less than 2%, and average annual degradation less than 0.45%, both superior to conventional modules, according to the company. Hi-MO2 module series has power of the 72-cell module reaches 360-365W, while the power of the 60-cell module reaches 300-305W.
Availability
April 2017, onwards.