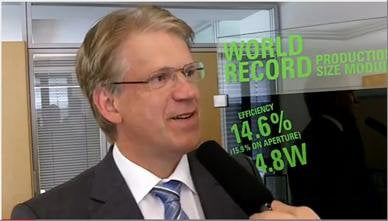 PV and electronics equipment manufacturing and automation specialist Manz has reported revenue in the first nine months of 2015 of €169 million, in line with lower guidance due to order delays and cancellations of around €140 million.
Manz actually reported improved sales in its Solar segment for the reporting period. The company generated revenue of around €17.2 million, compared to €9.3 million in the prior-year period. Solar segment sales accounted for 10.2% of the company's total in the first nine months of 2015, up from 3.7% in the prior-year period.
Dieter Manz, CEO and founder of Manz, said: "Our original planning envisaged a rise in revenues to around 320 million to 340 million euros. We therefore focused our group structures on growth with corresponding ramifications on our cost structure. Using this constellation – significantly lower revenues than planned and a simultaneous increased cost basis – our operating result was also heavily impacted."
Manz said that EBITDA in the reporting period was negative €20.6 million and a negative EBIT of €30.1 million.
Restructuring
As a result of the lowered revenue expectations for the year, Manz noted it would provide an update to restructuring efforts on 10 December 2015.
The company said key measures would be around lowering its cost structure in order to achieve a break-even for the year 2016 as well as looking at options for its CIGSfab technology, which has yet to garner a single customer. Manz noted that negotiations concerning the sale of a CIGSfab had experienced further delays.
"We intend to turn a profit from the potentials of Manz AG and our markets. I continue to assess our prospects in our strategic target industries as positive and see definite opportunities for our company to be able to grow again in this environment. In the course of the restructuring program, it will be essential to the success of our company that we significantly increase planning reliability, transparency and flexibility within the Group so that we can better manage the risks associated with cancellations of large-scale orders," added Manz.