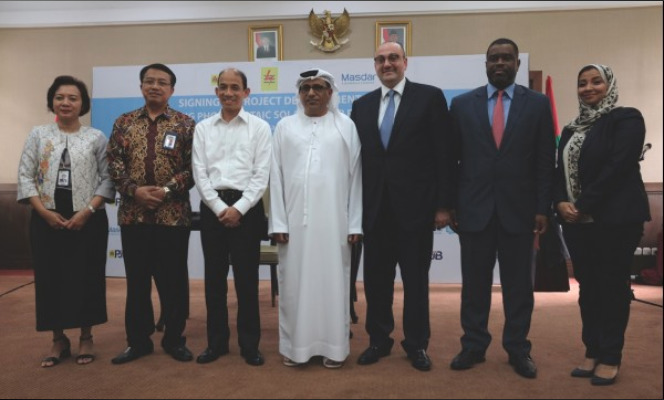 Indonesian power company PT Pembangkitan Jawa-Bali (PT PJB), a subsidiary of state utility PLN, and the UAE's Masdar have signed an agreement to develop the world's largest floating solar project with a capacity of 200MW in Indonesia.
This would be twice the size of a 100MW floating PV plant planned by Hanwha and five times larger than the current largest project of 40MW built by Sungrow in Anhui Province, China. Sungrow and Chinese firm CECEC are also constructing 150MW and 70MW projects respectively in the same region of China.
The newly-announced plant will cover an area of 225 hectares on top of the Cirata Reservoir in the West Java province of Indonesia. The 6,000-hectare Cirata Reservoir powers a 1GW hydroelectric power station.
Iwan Agung Firstantara, president director of PT PJB, said: "This 200MW project will be the largest project of its kind in Indonesia and PJB-Masdar will be a pioneer of floating PV technology. Inshallah, developing this project will be a great success and a proud achievement for Indonesia."
Mohamed Jameel Al Ramahi, chief executive of Masdar, said: "Today's signing marks the entry of Masdar into Southeast Asia and our first project in floating solar power."
The Southeast Asia region is already struggling with land restrictions for large-scale solar, and as a result, floating solar was a key topic at last week's Solar and Off-Grid Renewables Southeast Asia (SORSEA) conference in Bangkok. Hydro dams were picked out as a key opportunity for this technology given that such dams already have transmission infrastructure.
A Masdar statement said that if the Cirata project was successful it would pave the way for the installation of floating solar systems on another 60 reservoirs across Indonesia.
It will require 700,000 floats anchored to the bed of the Cirata reservoir and connected by electrical cables to an onshore high-voltage substation. Besides producing clean power, the facility will provide shading against the sun, reducing evaporation from the reservoir and limiting the growth of algae.
PT PJB and Masdar had already signed an agreement in July to collaborate on finding sustainable solutions to Indonesia's rapidly growing energy demand, with a focus on projects in the Java-Bali and Sumatra regions.
Masdar has been prolific in its development of renewable energy projects. Last year, a Masdar-led consortium was appointed to build the 800MW third phase of the Mohamed Bin Rashid Al Maktoum Solar Park in Dubai, quoting what was at the time a record low price for solar power generation.
South Korean 100MW
Earlier this month, Korean firm Hanwha Group announced it had won a bid to construst a 100MW floating solar plant in South Korea to supply enough energy for 140,000 people.
Hanwha General Chemical and its partner KOMIPO (Korea Midland Power Co., Ltd.), were selected to construct the solar power farm on the Seokmun Lake in Dangjin, Chungcheongnam-do province of South Korea, a project led by the Korea Rural Community Corporation.
Approximately 80% will be built by Hanwha General Chemical in partnership with KOMIPO, and the remaining 20% by the Korea Rural Community Corporation.
"Hanwha Group is committed to delivering solar technology to every corner of the world by leveraging its industrial leadership not only in solar power generation on land but also in floating solar farms worldwide," said Moon Hwan Cha, CEO of Hanwha Solar Power, the solar arm of Hanwha General Chemical.