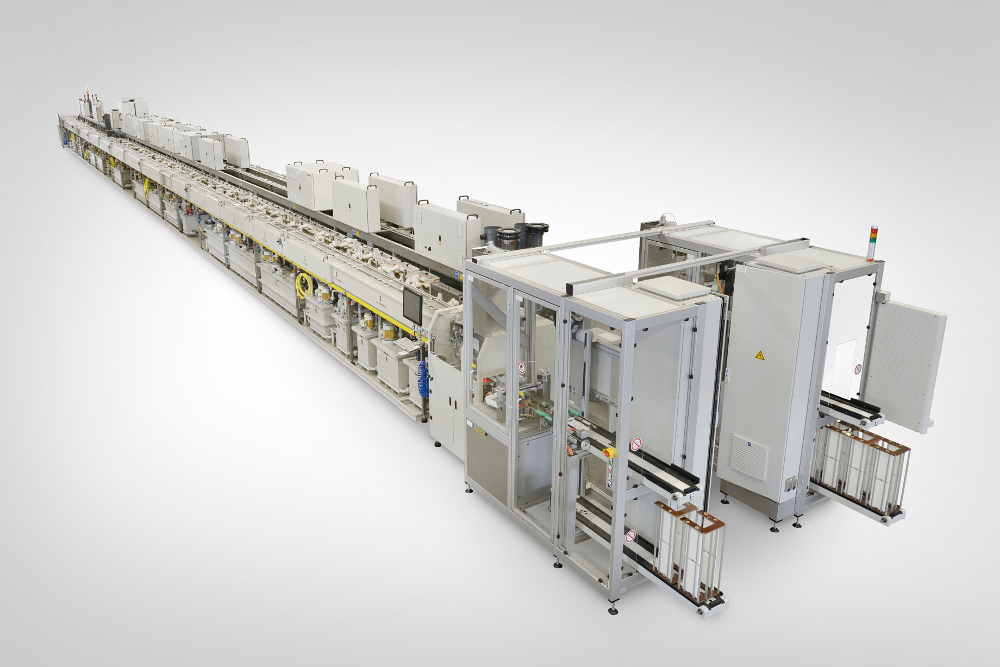 Meco Equipment Engineers, a subsidiary of BE Semiconductor Industries provides its Cell Plating Line (CPL) for a wide variety of next-generation solar cell architectures migrating from silver to copper contacts, which drastically reduces the high metallization costs associated with Interdigitated Back Contact (IBC) and heterojunction cells.
Problem
Typically screen printed contact fingers are printed 90-100 micron wide to obtain sufficient electrical conductance. To further increase the cell efficiency the contact finger width can be reduced as the active area of the cell increases (less shading). However, cell efficiency improvement is limited as the poor aspect ratio of screen printed contact fingers leads to an increase of the contact finger resistance value at the same time.
Solution
Meco offers a solution for continued solar cell efficiency improvement with the Meco CPL. The process starts on a narrow and thin seed layer of Ag paste where the electrical conductance of the contact finger is further enhanced by electroplating either Ag or Ni-Cu-Sn onto it. This gives a narrow contact finger while the resistance value is also improved at the same time. With the CPL, an overall absolute cell efficiency improvement of 0.3 – 0.5% can be obtained and also expensive Ag paste can be saved as only a narrow and thin seed layer is required. Therefore with the CPL a RoI (Return on Investment of < 1 year can be achieved.
Applications
Copper plating of Heterojunction cells, IBC cells, bi-facial cells, PERC and MWT cells as well as the capability to plate on both sides of the cell at the same time.
Platform
The total CPL throughput is from 100 WPH (pilot line) and 1,500 to 3,000 cells/hour in the high volume manufacturing line configuration. The Meco CPL is based on vertical wafer transportation providing minimum drag-out of chemicals and waste discharge and has seamless integration with cassette transfer systems. Metal options include Ag, Ni-Cu-Sn, Cu-Sn (for IBC) cells. Modules with Cu plated cells have successfully passed IEC61215 life tests.
Availability
Currently available.