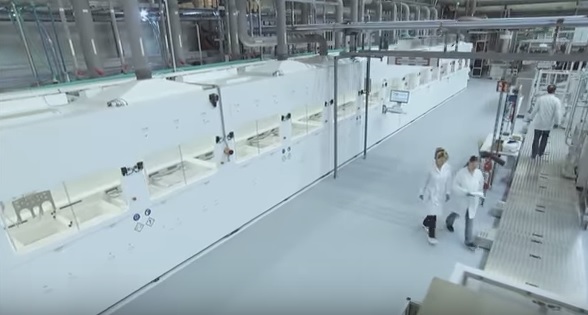 Leading PV manufacturing equipment supplier Meyer Burger Technology has secured a major order from an unidentified North American start-up for its core Heterojunction (HJT) equipment.
Meyer Burger said that it expected to recognize the order intake with an initial contractual down payment at the beginning of the fourth quarter of 2019. The total order was said to be valued at around CHF 100 million (US$101 million).
Panasonic is currently the only HJT cell and module manufacturer in North America, via its partnership with Tesla at Gigafactory 2 in Buffalo, New York state.
Several start-ups has recently opted to place orders with Meyer Burger on a turnkey basis for HJT production, including Turkish company EkoRE, which broke ground on the world's first vertically integrated HJT module factory in Turkey in March, 2019, with an expected initial nameplate capacity of 1GW.
Meyer Burger also noted that the North American start-up had been founded by solar industry veterans.
1H 2019 Financials
Despite Mayer Burger's latest HJT equipment order, the company noted in its preliminary first half year financial results that margins remained under pressure due to a continued decline in ASPs for standard PV cell and module equipment, notably in the PERC (Passivated Emitter Rear Cell) business.
New order completions for HJT were also delayed, despite further potential customer sales.
Meyer Burger said that it expected to report first half 2019, orders of approximately CHF 94 million (US$95.7 million), down from CHF 122 million in prior year period. EBITDA is expected to be negative CHF -14 million (US$14.2 million).
Meyer Burger's total order backlog was said to be CHF 166 million (US$169 million) as of 30 June 2019.

Dr Hans Brändle, Meyer Burger CEO said, "I am disappointed with our half-year results. We have however achieved a decisive breakthrough with the delivery of our Heterojunction and SmartWire cell connection technologies to REC. At the Intersolar in May 2019, they introduced their groundbreaking new solar module with an energy yield that leaves the PERC competition far behind. The pioneering module is manufactured with our technology at very competitive costs while achieving an industry-leading module performance. The first production line will soon be fully ramped up and the modules are already enjoying strong demand in the high-end segment. This success opens up new strategic opportunities for us."
The consolidated half-year results 2019 are expected to be published on 15 August 2019.