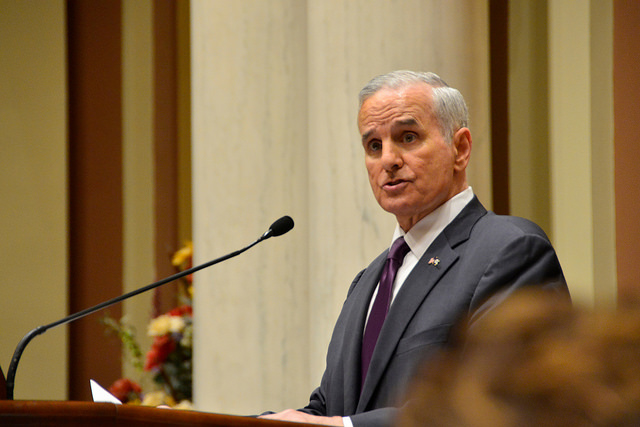 Minnesota is battling a new bill that would allow state electric utilities to be exempt from regulation by the Public Utilities Commission (PUC) with respect to net metering.
HF 234, as it is known, would allow such utilities to implement their own law and allow them to pay smaller fees to independent small renewable electricity generators, which could result in less compensation for solar users selling power back to the grid.
The bill also exempts municipal utilities from PUC jurisdiction with respect to resolving net metering disputes.
Ultimately, the legislation could significantly harm Minnesota's residential solar industry by enabling utilities to impose higher fees for solar users and limit their ability to fight back, according to Sean Gallagher, the Solar Energy Industries Association's vice president of state affairs:
"Under governor Dayton's leadership, Minnesota has transformed into a national leader in solar energy with nearly 3,000 solar jobs in the state. However, HF 234/SF 141 risks slowing that progress. This bill would enable cooperative utilities to target solar customers with unfair fees and limit their ability to fight back, making it more difficult for Minnesota residents to go solar.
"This is consistent with a larger nationwide trend by entrenched interests to discourage customers' electricity choice with unreasonable fixed fees designed to reduce customers' ability to control their electric bills and stifle competition from the burgeoning solar industry. Existing law provides for a fair review of such proposals by utility regulators. We urge governor Dayton to veto this legislation so solar's economic contribution can continue to grow, not contract, in Minnesota."
A lot is at stake for Minnesota. The state has one of the nation's most successful community solar markets, alongside Massachusetts and Maryland. The Dayton administration also recently proposed a greater renewable portfolio standard (RPS) at 50% renewables by 2030, up from 25% by 2025.
The bill would evidently derail progress to reach that more aggressive RPS – a move that would help drive down the cost of clean energy while creating thousands of new jobs.