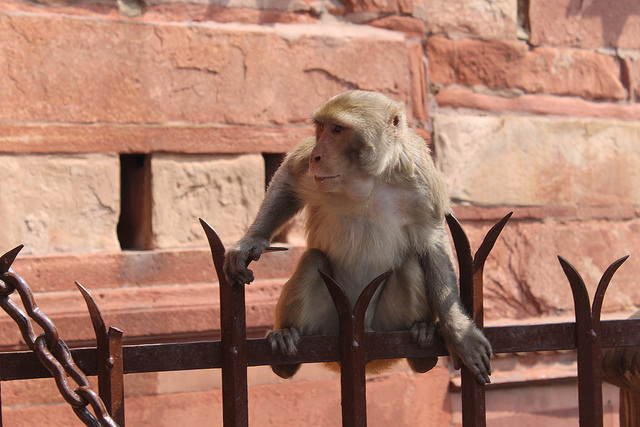 India's prowling monkeys are infamous for thieving cameras off unsuspecting tourists at the Hanuman temples of Hampi and the mountain city of Shimla, but they've now found a new target – the rooftop solar sector. A Reuters report yesterday shamed the primates for toying with residential solar systems, running away with connector cables and even "bullying dogs".
Seeing the monkeys akin to incumbent power firms hell-bent on delaying the roll out of disruptive renewable technologies, the sector is even considering offering insurance cover specific to this simian solar damage.
This trouble concentrated in North India is not the only quirk to the country's ambitious solar expansion. Doing business in India is not about getting to grips with one country, but rather 29 individual and quite unique states, says Vineet Mittal, co-founder and managing director of pioneering Indian solar firm Welspun Energy, which has now been taken over by Tata Power. Engaging the local communities as a developer is paramount in order to avoid some ugly scenes.
Reclining against PV
A case in the state of Maharashtra saw machines coming in to construct a solar park blocked by residents lying in the street. Tractors could not get through for months; an unwelcome prospect for any developer signed up to the National Solar Mission with its tight deadlines of up to 18 months to get projects commissioned. Meanwhile, an EPC firm has cited the need for religious sensitivity, after one PV project was split in to 10 units after failing to consolidate the land. The great significance of a specific plot of land for the local community had been overlooked, causing disruption to the whole model.
The government's solar parks initiative is meant to alleviate the stresses to acquiring land, but these parks can be more expensive. Furthermore, while land acquisition is often cited as a key challenge specific to India, some developers are adamant that this is greatly exaggerated as land is a key issue in any geography on the planet.
European and US companies were barely capable of setting up a few Gigawatts of thermal power in India several years ago, says Mittal, as India's infrastructure sector is a tough nut to crack. Having to set up PV projects across multiple states only magnifies this challenge, however, foreign firms do look set to install vast amounts of solar in the coming years.
'Capsicum' project
Solar installers usually get sight of a building's rooftop and employ various methods to measure its suitability for solar, whether it be shading from other buildings, ease of installation or angles facing the sun. So it is a strange spectacle for wanderers in Karnataka when they come across solar panels erected 10-12 feet off the ground with no building underneath them. Under the tongue-in-cheek title 'Capsicum Project', solar PPAs have been signed in many locations even if the building hasn't been constructed.
The programme was designed to have people grow capsicums with sheds and solar panels on those sheds, only in many cases, there was no shed. The programme was abused resulting in these 'skeleton' solar systems and shut down by the government within four months.
Rupees
High cost of capital is always a trouble for the solar industry, which requires large amounts of upfront capital, so with domestic interest rates hovering around 11-12%, financing is tricky. The government was also touting the idea of introducing dollar-denominated bonds to reduce the currency risk, but things have gone quiet of late.
Minister of power, coal, new and renewable energy and mines Piyush Goyal, who has only just had the mining industry added to his remit, was recently reported to have said he is not in favour of excluding renewable energy equipment imports from the Goods and Services Tax Bill (GST). The GST, which has been in discussion in parliament for a long time, seeks to address the issue of complex indirect tax discrepancies between central and state government and to stop issues such as tax on tax. However, an MNRE report found the implementation of the tax would increase the levelised tariff and cost of setting up and operating grid-connected solar PV by between 12-16%, meanwhile it would increase costs for off-grid solar by 16-20%.
Rathi Roy, director of the National Institute of Public Finance and Policy (NIPFP) recently claimed: "I am 99% sure India's Goods and Services Tax Bill (GST) will be passed by first week of August."
Discoms and coal
Many commentators have feared delayed payments for solar PV projects from the heavily debt-laden distribution companies (Discoms), but this has yet to affect the industry. Nevertheless, the wind sector has been hit by this problem and it is far larger in capacity in India at present, so it could trouble solar as capacity grows. Meanwhile, it remains to be seen how effective the government's UDAY scheme will be in sorting out the Discoms' financial woes.
India remains a booming solar market and rumour has it that some of the firms that won projects with record low tariffs of below five rupees per unit are beginning to move forward and even obtain financing.
Still, with Piyush Goyal's new role in mining, we may see an attempt to synergise domestic coal mining with the rush to install coal-fired power plants, electrify every single remote village and halt foreign coal imports.
Solar in India has won all the headlines, but the coal juggernaut has this year grown faster than ever, although we've yet to hear of any coal lorries waylaid by monkey thefts.