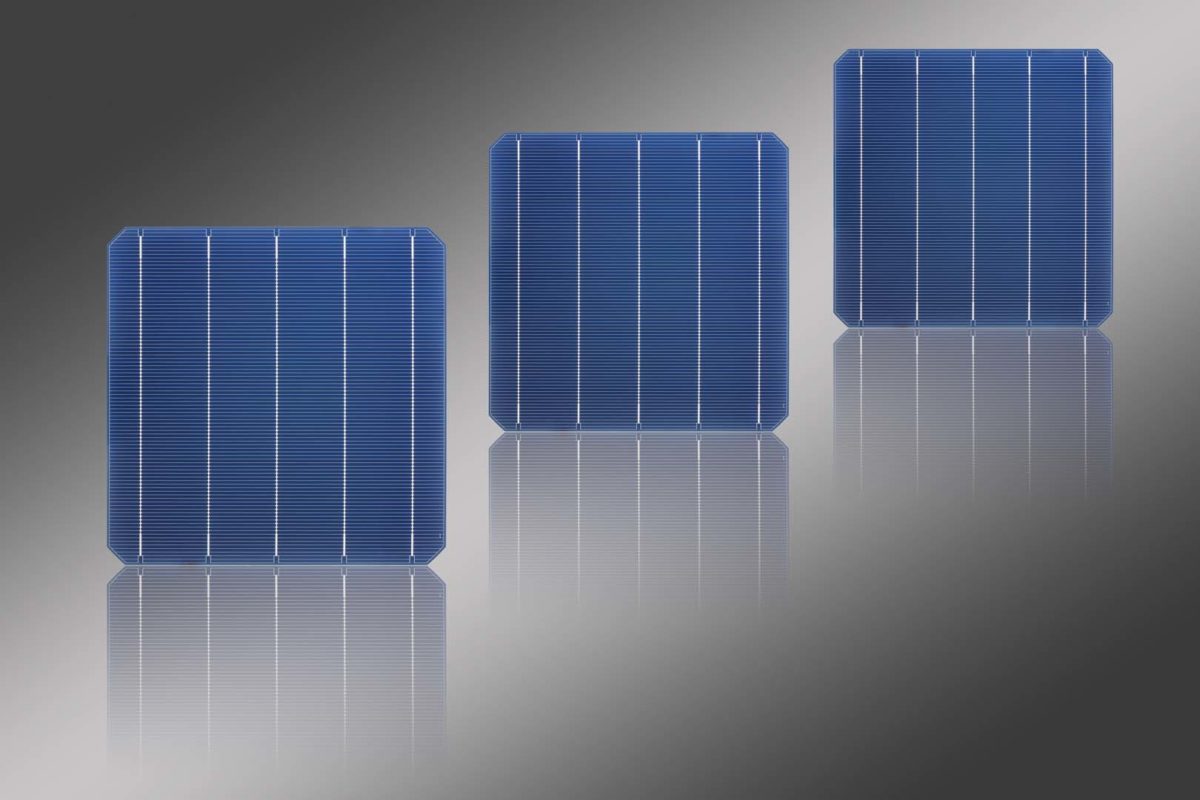 Back in 2014, p-type mono PERC cell production was less than 1GW. During 2019, production is forecast to exceed 60GW as the dominant technology type deployed by the solar industry for module assembly.
The dramatic growth in production has also been matched by continuous cell efficiency and module power improvements, including a new record (24.06%) in the past few days announced by LONGi Solar.
This article discusses the factors that have led to the dramatic growth in p-type mono PERC production in the past few years, cell efficiency increases, and how p-type mono PERC performance will continue to set the benchmarks for new n-type entrants in China over the next 12-18 months.
The topics covered in this article will also be featured in the forthcoming PV CellTech 2019 conference in Penang, Malaysia on 12-13 March 2019, in which many of the CTO's and head-of-R&D will be presenting on company technology roadmaps for the coming years.
Growth of p-mono PERC
The use of rear passivation layers had originally been confined to highly advanced cell concepts such as heterojunction and interdigitated back-contact cells, with mainstream p-type cells using the established screen-printed Al-BSF method.
Depositing passivation layers on p-type cells was well established in the research community however, but was not justified before based on equipment cost and the additional complexity in cell lines. Moving away from screen-printing was recognized as key in opening up the rear surface for additional benefits such as bifaciality, not to mention any industry move to wafer thicknesses being reduced to below about 120 microns.
After the solar industry went into a capex downturn in 2012 (prior to which there had been strong Asian investments into p-type multi cell lines), attention focused on efficiency optimization on existing lines and removing cost.
During 2012 to 2014, front pastes improved significantly, with increased bus-bar formation also driving efficiencies higher with minimal capex. Once front surface cell processing had gone through these improvement phases, it was time for the industry to focus on the rear surface, with the first evidence that rear passivation layers would quickly move to mainstream status.
While initial efforts came from European-originated research that flowed into production lines in Malaysia (Hanwha Q-CELLS) and Singapore (REC Solar), the big change happened during 2016-2017 as mono wafer supply moved from niche semiconductor-pulling tools to multi-GW mono pulling factories in China (almost entirely down to LONGi's aggressive push to commoditize mono wafer supply on a par with multi in China).
The graphic below illustrates how much PERC has been adopted by p-mono cell producers. Indeed, during 2019, more than 50% of cell production in the industry will be from p-mono PERC; a dramatic growth trajectory rarely seen so quickly in the PV industry before.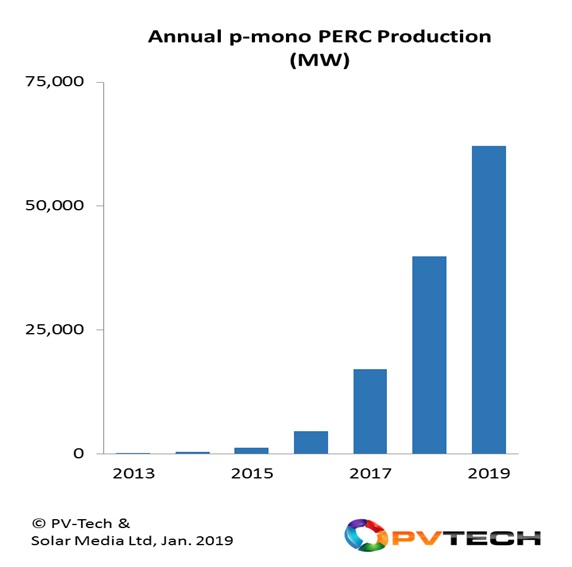 Efficiency improvements
The growth in cell production has also been matched by a collective drive from the industry to push R&D and mass-production cell efficiencies well above the 20% level, and into territories previously considered by market observers to be the sole domain of n-type variants.
Average cell efficiencies in mass production for p-mono PERC cells have moved from initial levels of about 19% to over 21% at the end of 2018, with record levels from commercial pilot-line or R&D lines on full-size cells at levels well above this.
Indeed, most recently, LONGi Solar reported another world record for full-cell size p-mono PERC cells at above 24%, covered on PV-Tech earlier this week.
Setting the benchmark for n-type cell additions
The continued capacity expansions and efficiency increases seen from p-mono PERC based cell producers is coming also at a time when investments in n-type alternative (in particular n-PERT and HJT) are being seen in the industry.
While in the past, any new n-type entrant would benchmark performance against the two existing cell makers of n-type advanced cells (SunPower and Panasonic), today it is p-type mono PERC (and bifacial variants) that is setting the levels that these new n-type entrants need to match at a bare minimum, to justify their existence.
This is creating a fascinating dynamic, and one that is set to be explored fully at the forthcoming PV CellTech 2019 event in Penang, Malaysia on 12-13 March 2019. Leading p-mono PERC producers, including the new holder of the world-record cited above, LONGi Solar, will be presenting latest production results and future roadmaps at the event. To learn more about PV CellTech 2019, or to register to attend, please follow the link here.