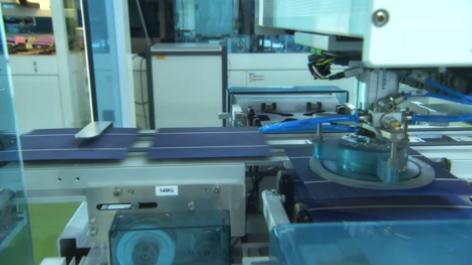 Leading Taiwanese solar cell and module manufacturer Motech Industries said it was entering into a Joint Venture (JV) with metallisation paste supplier, Giga Solar Materials Corp to establish a solar module assembly plant in Taiwan to meet future domestic demand.
Motech said in a Taiwan Stock Exchange (TSE) filing that it would establish 'Taiwan Solar Module Manufacturing Corporation' with a registered capital of NT$1.0 billion (US$33.1 million).
Motech would issue 180,000 shares at a unit price of NT $10 to hold a 90% stake in the JV for a value of around US$5.96 million. Motech did not provide further information on the proposed module manufacturing plans.
Motech recently reported preliminary unaudited third quarter 2017 revenue of around NT$ 6,268 million, (US$206.4 million) compared to NT$ 5,596 million in the second quarter of 2017.
The company is estimated to reach around 3.6GW of annual solar cell capacity in 2017, which currently includes 1.6GW in China and 2GW in Taiwan.
A separate TSE filing from Giga Solar Materials Corp only mentioned its Board of Directors, were planning to sign a JV contract with Motech. The aim would be to produce PV modules for the Taiwanese market, according to the filing.
Solar cell manufacturing has been the dominant segment of the supply chain in Taiwan, due to the early success of key merchant manufacturers such as Motech, Gintech and NSP. However, primarily due to high land costs and low margins for module assembly, little module production at scale has been undertaken on the island.
Taiwan Government policies towards the solar sector have changed dramatically in the last few years as solar is being promoted at a time when the country plans to close its nuclear power plants and shift to renewable sources.
However, according to Taiwan-based market research firm EnergyTrend, PV capacity installed in the first half of 2017 only totalled 130MW.
The planned JV between Motech and Giga Solar comes a day after a major merger was announced between solar cell and module rivals, Gintech, Neo Solar Power and Solartech. The companies had also noted that it welcomed other Taiwanese companies to join forces to better compete.
Head of market research at PV Tech, Finlay Colville noted in a blog that the merged companies, renamed United Renewable Energy Co., Ltd. (or UREC), will be the fourth largest solar cell producer in the industry during 2018, placing it in an exclusive grouping of JA Solar, Hanwha Q-CELLS and JinkoSolar.
Both major announcements come ahead of Taiwan's major trade show for the solar industry, PV Taiwan being held in Taipei from Wednesday through Friday this week.