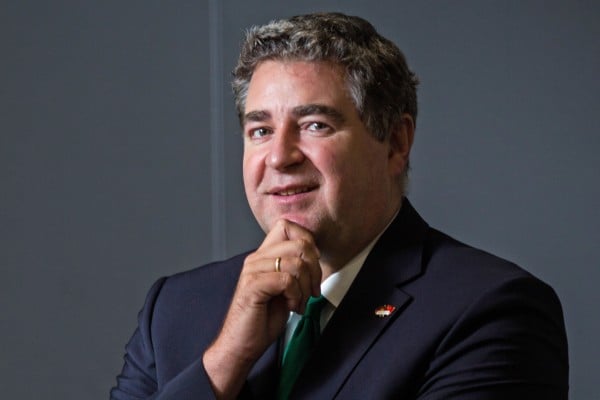 Heraeus Photovoltaics president, Andreas Liebheit has been appointed as the vice chairman of the Asian Photovoltaic Industry Association (APVIA), which was founded in Singapore in 2011.
The non-profit organisation consists of PV related enterprises, scientific institutes and related organisations in Asian countries. Liebheit relocated to China a few years ago as part of the metallization paste producers emphasis on being closer to key customers in the region.
"It is my great honor to take the role of Vice Chairman of APVIA, a leading PV industrial organization. I am committed to working with my colleagues to fulfill our mission of promoting the advancement of Asia's PV industry by enhancing bilateral relationships between governments, industries and enterprises of different countries in Asia", said Andreas Liebheit.
Board member of SMA Solar resigns
Major PV inverter manufacturer SMA Solar Technology has announced the departure of Roland Grebe, Board member for HR, IT and Service Operations, said to be due to personal reasons and is leaving the company as of December 31, 2016.
"We deeply regret Roland Grebe's decision," said Dr. Erik Ehrentraut, Chairman of the SMA Supervisory Board. "For over three decades, he has made a crucial contribution to SMA's global success and shaped its corporate culture in a remarkable way. Under his leadership in Research and Development as well as Human Resources, a wide range of innovations were generated that have significantly accelerated SMA's success. His departure is a great loss both for the Supervisory and Managing Boards and for the employees.
Roland Grebe joined SMA in 1984 and worked in various managerial positions in Development and then Human Resources.
The company said that it had appointed Ulrich Hadding, onto the Managing Board as replacement for Grebe.
"Ulrich Hadding has worked for SMA since 2009 and has demonstrated his exceptional expertise in various management roles," said Ehrentraut.
Ulrich Hadding had previously held different positions at the SCHOTT Group in Germany and abroad for ten years, most recently as Head of Legal & Compliance for SCHOTT Solar AG. He moved to SMA in 2009, initially establishing an internationally oriented Legal department and then the Compliance function.
Inovateus Solar expands board of directors as business grows
US-based EPC firm Inovateus Solar LLC said it had appointed Gary Gigot, co-founder and CEO of Vennli, and Tim Sutherland, founder, chairman and CEO of Middleburg Capital Development to its board of directors in an effort to enhance the company's plans to further expand its solar services throughout the US.
"The addition of Gary and Tim to our board of directors represents a major evolutionary milestone for Inovateus Solar," said TJ Kanczuzewski, president of Inovateus Solar. "They have a wealth of executive experience in the corporate world. They have started up and scaled companies, managed large teams, negotiated with leading banks, and secured financing for major projects."
Gary Gigot is the co-founder and CEO of Vennli, a choice visualization and analytics platform company, while Tim Sutherland is founder, chairman and CEO of Middleburg Capital Development. Before forming Middleburg Capital, he was the founder, chairman and CEO of Pace Global Energy Services, LLC, a leading global energy consulting and management firm that was established in 1976 and acquired by Siemens Industries in 2011.
Dr. Gang Dong resigns as a director of the board at SPI Energy
China-based PV project developer SPI Energy has reported the resignation Dr. Gang Dong as a director of the board, effective as of December 7, 2016, said to be for personal reasons.
"We would like to thank Dr. Dong for his dedication and contributions to the Company's successful business development and uplisting to NasdaqGS. We are grateful for Dr. Dong's strong support and cooperation during the past two years as a valued board member and wish him well in his future endeavors," said Xiaofeng Peng, Chairman and CEO of SPI Energy.
Dr. Dong had served as a director since July 2014. Dr. Dong is the Head Strategist of Head & Shoulders Asset Management Limited, an affiliate of Robust Elite.