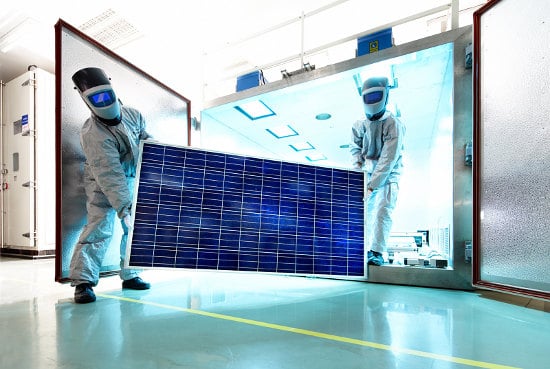 Wuxi Suntech, the PV module manufacturing arm of renewable energy group, Shunfeng International Clean Energy (SFCE) has secured insurance from Munich Re to support its 25-year module warranty scheme.
The new third-party insurance was said to provide back-up coverage of all Suntech PV modules produced in 2016 and 2017 based on an upfront unspecified lump sum premium payment for module shipped outside of China.
"Munich Re values our new partnership with Suntech as during our risk management evaluation we were very convinced of their key component suppliers, the high quality materials for its modules and its intensive quality assurance process," said Michael Schrempp, Munich Re's Head of Green Tech Solutions.
Although SFCE does breakout module shipments by country and provide geographical megawatt shipment figures, PV product shipments (wafer, cell, modules) outside China in the first half of 2016 generated around US$182 million in revenue, 31.1% of total revenue.
He Shuangquan, Executive President of Suntech said, "Our partnership with Munich Re is one of our many steps to show US customers Suntech's commitment to them and the US market and reinforce their confidence in the bankability of Suntech modules based on reliable performance over time."
The company also owns US-based PV module manufacturer Suniva, which is expected to have completed a doubling of capacity to around 430MW.