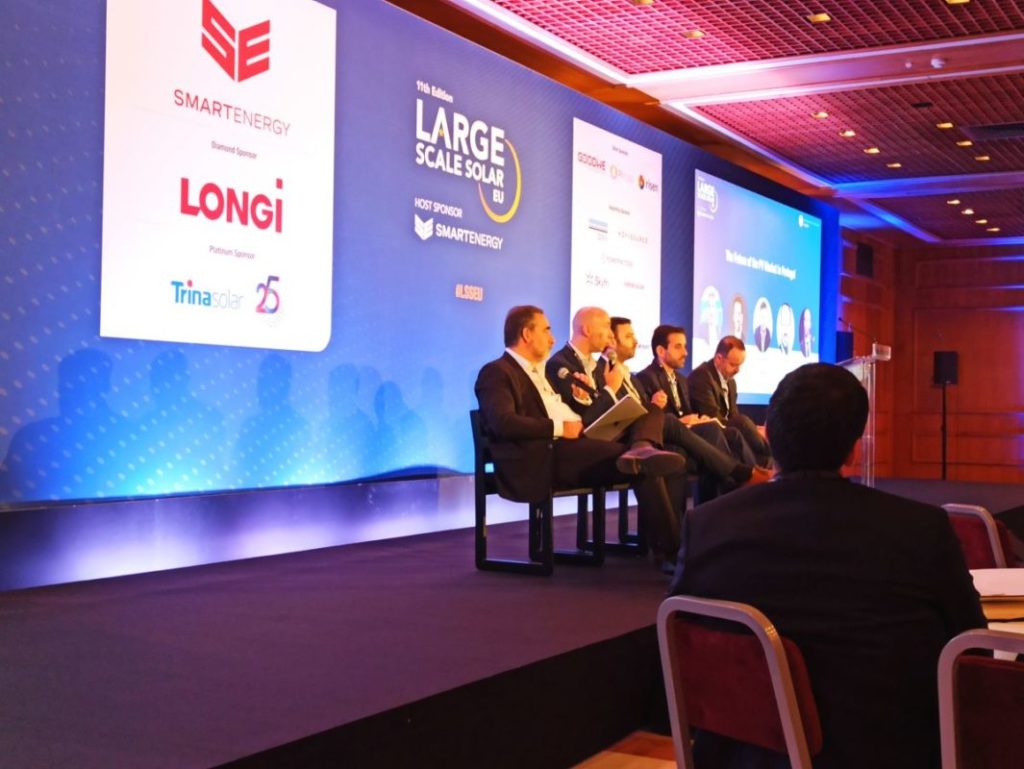 If Portugal wants to bring forward its target to have 9GW of installed capacity by 2026 rather than the end of the decade, it will need to solve one of its main barriers it faces at the moment: permitting issues.
Panellists during this week's Large Scale Solar Europe event discussed the future of the Portuguese solar market which has made several regulatory improvements – including less tight environmental assessments for projects of up to 100 hectares – in order to help accelerate the deployment of solar PV, yet more needs to be done.
"We need faster, smoother permitting," said Pedro Pereira, managing director of Southern Europe at Eurowind Energy. In 2018 Portugal only had 5GW of requested capacity waiting for permitting, which drastically increased to 250GW by the end of 2020, according to Pedro Amaral Jorge, CEO of The Portuguese Renewable Energy Association (APREN).
Furthermore, the country's national energy and climate plan (NECP) which was published in 2019 could see a revision of its targets to be increased from the current 9GW to between 15-20GW of installed solar PV capacity by 2030, according to Amaral Jorge.
With the increased demand for newer renewable capacity applied, the government needs to provide the permits for these new projects as well as withdraw the capacity that is not being implemented, added João Amaral, CTO and Portugal country manager at Voltalia.
At the end of 2022, Portugal had an installed capacity of 2.6GW for solar PV, with that year alone adding 446MW from large-scale utility and 385MW from small to medium projects. By the end of July, the country had already surpassed numbers for the whole year of 2021, as seen in the chart below.
Thus far, the country will need to treble its installation rate in order to achieve its 9GW target of installed solar PV capacity by 2026, an option that could make sense for a country that has one of the best solar irradiation in Europe and with a 50% increased production compared to other European markets, said Miguel Lobo, country head of Portugal at Lightsource bp.
Most panellists named permitting as one of the major issues the Portuguese market is currently facing, with a lack of grid capacity as another main bottleneck in the country's ambitious growth of renewables by 2030.
"The main problem that we are facing is the lack of capacity, we don't have capacity to connect our projects," said Renato Madureira, country manager in Portugal at FF Ventures, adding that the issue is not just affecting newer projects but also ones that have been awarded in previous tenders.
Reinforcing the grid would be required for older projects already awaiting to get a connection, with more work needed in order to allow Portugal to reach its newer targets of new renewable capacity by the end of the decade.
"We need investment in a smart grid", added Amaral, while Pereira added that the grid reinforcements were taking too long.
"One very important element that we should expect is new decarbonisation drivers related to Power-to-X, such as renewable gases and green fuels," said Pereira, adding that these will require new renewable capacity to power it which was not foreseen in 2019.
Green hydrogen is expected to be one of the drivers of Power-to-X with already several projects announced and with Sines placing itself as a possible hub in the country for the technology, with a US$1 billion investment from Portuguese developer Madoqua Renewables and Dutch developer Power2X and energy giants Shell and Engie among the companies leading a consortium backing a cross-border green hydrogen project connecting the ports of Sines – where the green hydrogen would be produced – and Rotterdam in Portugal and the Netherlands, respectively.
At the initial keynote of the event, Nelson Lage, chairman of the board of directors at the Portuguese Agency for Energy (ADENE), brought up the importance of self-consumption as "part of the energy future" to help Portugal add more solar capacity needed to reach the newer, increased target by 2030.